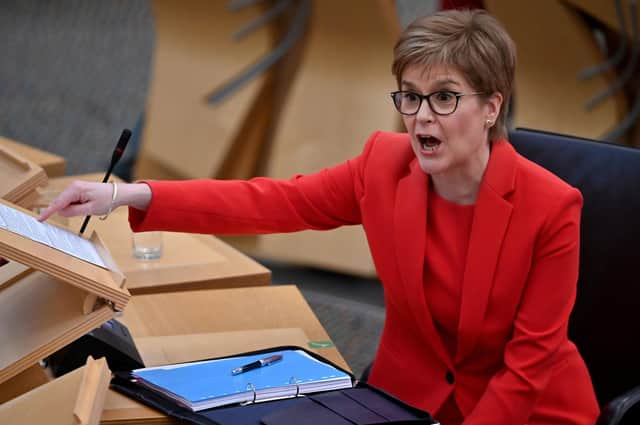 It would be more appropriate for the First Minister to publish another roadmap out of the pandemic via an efficient and timeous vaccination programme and so update the entirely irrelevant road map she published in April 2020!
The SNP chooses this time to ramp up referendum "noise" with the economy on it's knees, education in free fall, unemployment set to rise, drugs deaths rising seemingly inexorably and people's mental health being affected on a daily basis as this pandemic continues. Yet still time is found to throw some red meat at the Nationalists champing at the bit to destroy a Union with its biggest trading partner whilst crawling back to try and join a discredited European Union and so create a hard border with the rest of the UK.
The time has come that this centralised and power-crazy administration is given a "bloody nose" and by the time the May election comes I hope the electorate will have recognised this. However it might just be that Alex Salmond beats us all to it!
It is interesting to read (Letters, 23 January) the contorted arguments that are being employed by some to justify Scotland remaining in a now dysfunctional union.
First, Steuart Campbell attempts to assert that as Scotland was a founder member in 1707 of this great "Partnership of Equals" it is integral to the United Kingdom and therefore can never leave. Second, Peter Hopkins attempts to draw a parallel between Scotland and Texas which according to Mr Hopkins "was once an independent nation just like Scotland" with the same questionable "right" today to break away from the United States as Scotland has from the United Kingdom.
It appears that both these gentlemen advocate authoritarian views of what constitutes a "union" and the meaning of the word "united", which may be consistent with the views of Donald Trump and Boris Johnson, but such views are not shared by most of the people of Scotland who through decades of rejecting the Conservative and Unionist Party at the ballot box have repeatedly expressed the desire to build an egalitarian society.
Jim Duffy points out that electric cars may not actually be good for the environment (Scotsman, 22 January), but his article hardly scratches the surface.
It is estimated that for the UK alone to be provided with enough batteries for new all-electric cars from 2030, current annual global production of cobalt, lithium and nickel will have to at least double. For the global car industry, the increase is mind-boggling. The mining and refining of these metals is expensive, energy-intensive, and potentially devastating to the environment and human health.
Two-thirds of the world's cobalt comes from the war-torn Democratic Republic of the Congo. Health, safety and environmental legislation is virtually non-existent, allowing western and Chinese mining companies to make vast fortunes. Working conditions for miners, including children, would have been unacceptable here in the 19th century. Life expectancy for is short. Environmental and ecological damage is ignored. The huge increase in demand will only make things worse. And when environmental campaigners fight to prevent used batteries being dumped in western landfill, they will inevitably be shipped to other poor countries for apparent recycling, becoming a health and environmental nightmare for people not afforded the health, safety and environmental legislation we take for granted.
And for what gain? Across their mining-to-recycling lifecycle, electric cars will emit at least as much, if not more, CO2 as petrol or diesel cars. We are simply relocating the problem.
Although well-intentioned, the dash for diesel made no detectable impact on emissions of CO2 but the unintended consequences are increased inner-city environmental health problems from diesel exhaust pollution. Politicians making laws to prohibit the sale of petrol and diesel cars post-2030 are equally well intentioned, but the road to hell is often paved with good intentions.
Crosskirk Crescent, Strathaven
Intent on sabotaging Scottish industry, Guy Johnson (Letters, 22 January) urges us to "keep up the pressure on those companies that manufacture nuclear weapons and support systems, some based in Scotland, by pressing banks, public bodies and pension funds to stop investing in and lending to these companies".
The defence sector in Scotland provides jobs for 12,600 people – that's 2,000 more than are employed in whisky distilling. No doubt those working in defence industries (and their families) will be most grateful for the efforts that Mr Johnson and Don't Bank on the Bomb Scotland are making to ensure their redundancy.
It's a fairly safe bet that Russia, China and North Korea are unlikely to sign the UN's TPNW treaty any time soon. But if we beat them to it in a disarmament race, surely these states would never be so unsporting as to use their weapons of mass destruction against us?
Littlejohn Road, Edinburgh
As a lifelong ex-player and rugby supporter I fear we may soon need to "take a knee", like other groups, to highlight our plight.
I refer to the Scotsman article "Scotland in the 1980s. Sporting highlights from Scotland's golden generation" (January 22). In 67 lines of text, football is given the first 46, with detailed references to Aberdeen, Dundee United and the Scotland national team.
Rugby is even upstaged by world darts champion Jocky Wilson, and then we get barely four lines: "In rugby, Scotland won the Grand Slam, Triple Crown & Calcutta Cup at the 1984 Five Nations."
As a brief finale, other Scotland greats get a passing mention – Allan Wells, Liz McColgan, Sandy Lyle and Willie Carson.
I despair of this type of coverage, and am practising my knee bend as I write.
Alastair Dalton (Scotsman, 22 January) says he wants the name of Edinburgh's central railway station – Waverley – to be "an educational surprise" to visitors.
The name on a station nameboard is simply to tell railway travellers where they are.
They may have journeyed from thousands of miles away, and seeing 'Edinburgh Waverley' on a station platform they might – quite reasonably – think it is a suburban station, and that the main station is a bit further along the line.
A similar piece of nonsense is the recent addition of Gaelic translations to every station's name. What possible use to any traveller is that? What a waste of money, which can only serve to confuse non-local travellers. Except perhaps at Armadale, which has been put into Gaelic as "Armadal".
Having returned from overseas in the second week of the first lockdown, I was very struck by how empty the streets of Edinburgh were: hardly any traffic and hardly any people.
Now, with Covid statistics at terrifying levels, it is sometimes a case of "Lockdown? What lockdown?". I wonder who these people are who think that restrictions are a thing of the past and that it is now OK not to observe social distancing or wear a face covering in public places.
We are now regularly seeing on our television screens harrowing depictions of life and death in intensive care units, with some patients being willing to talk about their experiences. Who could fail to be moved by these ?
Would it be possible to do what I understand happens in some countries, namely ask patients if they would be willing to say how and where they think they may have caught the virus? I realise that this may not be an exact science but it might give viewers pause for thought and persuade some people to abandon behaviours which they had not previously thought were risky.
As an exile south of the Border I was asked to translate the excellent and learned Professor Linda Bauld's comment about being "scunnerd" on BBC Breakfast TV.
It was a breath of fresh, or even old, air to hear what is surely one of the most apt and onomatopoeic words that describes how such a lot of folks are feeling at present.
I look forward to further interviews with the professor and hope to hear more encouraging views heralded by "jings" and "crivens".
Meadow Lane, Beadnell, Northumberland
Instead of the oddly-shaped and oversized erection proposed to change forever the potentially-pleasant open space of Edinburgh's Festival Square, could the old Royal High School – no doubt with some modifications – not accommodate both a new Filmhouse and the Scottish National Photography Centre?
As John McLellan reminds us (Scotsman, 23 January), the late great Sir Sean Connery supported a plan for the SNPC moving to the old school; and there is obvious connection and synergy between the two art forms.
Once life settles into a "new normal", other sites will surely become redundant for their current uses and will be available for a new music school.
Horseleys Park, St Andrews