Readers' Letters: People with autism being left behind
As we all struggle in the current crisis much of the domestic social policy failure of the past Holyrood years are (conveniently?) off the front page. Many of these issues predate Covid by a distance and as the usual campaign machines from all parties have deemed it appropriate to embark upon a new campaign, then records also require to be reviewed.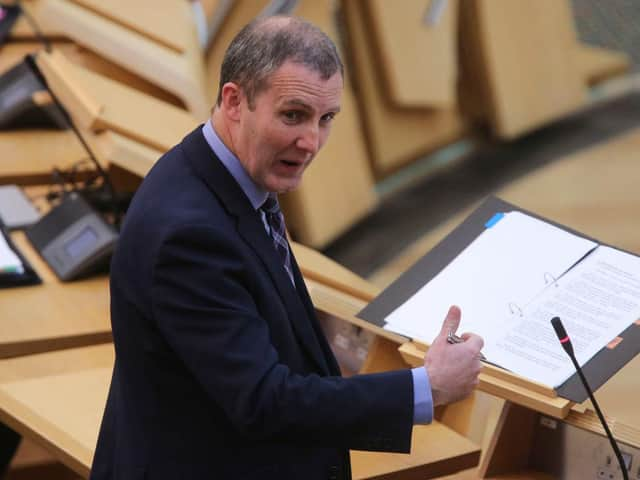 Michael Matheson MSP promised help for families affected by autism
My now 14-year-old severely autistic son is blissfully unaware of the current situation. He was also unaware and not at all culpable for the enforced austerity agenda. He has, however, suffered from the removal of services and supports and the lack of fit for purpose pathways through his young life to this point, and no doubt beyond. His future in a system that will claim he is an adult in little over a year's time is terrifyingly uncertain and follows the failure of a not fit for purpose children's system.
It is now a decade since Michael Matheson et al unveiled their ten-year Scottish Autism Strategy giving hope to families like ours. Targets were set for two years, five years and ten years, and although the language used was often such that it is difficult to quantify I don't think anyone involved could claim any level of success surely? Such was the lack of interim success, the goals were changed to even more vague outcomes as the policy makers ran out of time. Perhaps the government of the day in 2010 thought they would not still be in power and so not be accountable at this point. It's a well-used strategy, after all. In Argyll the strategy simply ceased to be and then after challenges it was "relaunched" with the blessing of Holyrood by two highly paid professionals whose shortlived efforts led to comparisons to a comedy duo from the past! Like Mr. Matheson, they have moved on to new pastures. There has never been any independent or real scrutiny of performance or the use of scarce public funding.
Meaningless vanity projects like the Autism Strategy have simply been an insult to autistic people and families. Always based on providing "guidance, guidance and more guidance" to services that don't exist is an underhanded approach to autistic people. The only response to the pandemic and the huge extra burden this has placed on families living with autism by our Government was to fund yet another "advisory service". Advice is not improving the actual statutory services that are supposed to exist – specialist social work, respite, timely diagnostic services, autism specific support etc.
As new manifestos and promises are liberally foisted upon us, perhaps some accountability for past and current policy should be provided.
Surely it's only right that there is now some independent scrutiny to the systemic failings of this autism strategy fiasco to at least stop the same approach and outcome from the next administration?
Duncan F MacGillivray, Victoria Road, Dunoon, Argyll
There seems to be a debate on whether the May election should be put back because of the pandemic. One good reason for this is that people are mostly concerned with the medical and economic effects of the virus – in any election one thing we should be debating is the record of the government (which in this case is mediocre), but this will not be happening.
It is not as if postponing elections is something new; the 2015 Holyrood election was put back a year because it clashed with the Westminster one; I don't recall many protests then.
There are physical problems as well, such as how to organise a proper count. They must be witnessed, and there are usually hundreds of people milling around, plus hundreds of counters – how do we get around this?
William Ballantine, Dean Road, Bo'ness, West Lothian
Former Prime Minister "Gordon Brown says UK at risk of becoming failed state without reform" (your report, January 26). I have news for him. We are already living in the failed state of Scotland, courtesy of President Sturgeon. With her husband Peter Murrell at her shoulder, she rules all that she surveys, with, it appears, no checks and balances. The public broadcaster, the BBC, which, under SNP pressure, previously buckled over its decision to end her daily TV appearances, now refuses the Scotsman FOI request to reveal the number of complaints registered by the public. The Holyrood enquiry into the Salmond affair is becalmed by Ms Sturgeon's government's reluctance to hand over evidence requested by the cross party committee. This has led one highly respected lawyer, Alistair Bonnington, to comment in a legal journal, "there is a strong suspicion that this Committee was given the job precisely because it would have insufficient expertise or powers to investigate adequately". Then there is the scandal of the "malicious" prosecution of Rangers FC, admitted by the Lord Advocate and which is expected to cost the taxpayer multi million pounds in compensation.
So, in these examples, it is admitted that the law is biased; it's clear the broadcaster is cowed; and the media is blocked and frustrated. In warmer climes, these issues would normally see Scotland dismissed as a third world "Banana Republic".
Kit Fraser, Runciman Court, Dunbar
I am a Union Jack. My extended family comes from all four nations plus the Irish Republic. My family in Birmingham is not unique. I would be profoundly sad if the United Kingdom should seperate. I believe, however, that Boris Johnson's refusal to consider another Scottish referendum will only draw even more support to the SNP agenda. Gordon Brown and others have been articulating the problem. Parliament in London may be seen as an English hegemony and out of touch by the other nations but there is dissatisfaction in the English regions too.
There is going to be another referendum in Scotland – the question is, how soon? We have been together for more than 300 years so a few more will not make much difference. Let us give time a chance to reveal how Brexit works out. Possibly ten years, but not 40 as the Prime Minister suggests.
Whenever the next referendum happens it must be a UK one in which all four nations take part. There must be absolute clarity from where tax is collected and how much and where it is spent. There must be no doubt about what share of the National Debt each nation will be responsible for should they choose to be independent of the others. We can then all make an informed decision. If any nation decides to go their own way, so be it. We must move forward.
It might be polite to consult the Irish Republic because it will be they who will be picking up the bill if they inherit one of the four Nations.
Neil Thomas, Gillhurst Road, Harborne, Birmingham
Contrary to Debbie Butler's claims (Letters, January 26), Nicola Sturgeon has made it very clear that there will be no independence referendum until after Covid has been dealt with. Covid has been the Scottish Government's priority over the past year and the comparable figures for infection and mortality rates show that the SNP has done very much better than the UK government.
Ironically, on the very day I received a helpful letter from Nicola Sturgeon on Covid and NHS services, a leaflet was received from the Tories that was fixated on independence but made no mention of Brexit or Boris Johnson.
The Scottish Government set up a Covid Advisory Group on Economic Recovery which published its report in June and the Scottish Government published its response in August, with many measures taken forward in the Programme for Government announced on September 1.
Covid didn't stop the UK government setting up a Union Unit at taxpayers' expense or the UK Scotland Office ramping up its propaganda unit with the hiring of even more spin doctors. In 2014, Gordon Brown and the Unionist parties promised a near federal Scotland within two years and in 2019 the UK government set up the Dunlop Review of UK Government Union capability, but neither have seen the light of day. Meanwhile London has centralised its power grab of devolved issues, including the replacement for EU structural funds that were previously devolved.
As for Douglas Ross suggesting a boycott of a referendum, it seems he is boycotting any Scottish Parliament constituency vote by trying to get elected through the back door party list system.
Mary Thomas, Watson Crescent, Edinburgh
The Scottish Government, under the latest round of restrictions, imposed a travel ban preventing non essential journeys of more than five miles and restricting travel outwith one's local area.
The residents of East Linton over the age of 70 have begun receiving letters from the same Scottish Government inviting them to have their Covid jags in the Edinburgh International Conference Centre, a journey of 25 miles through East Lothian, Midlothian and Edinburgh, with the appointments mostly at 8:30am. This invitation was sent to people suffering from dementia who are not able to drive, as well as other unwell people. There is a perfectly good doctor's surgery in East Linton that carried out the over-80s vaccinations admirably well, and we have a brand new community hospital in Haddington. Why on earth are the Government sending us to Edinburgh.
Donald Carmichael, Orchard Court, East Linton
By having extended the second vaccine to 12 weeks the government is "imprisoning" the population unnecessarily for a further three months. As well as the impact on the economy and people's mental health, surely this delay should be challenged under Human Rights legislation?
Elizabeth Hands, Etna Court, Armadale
We welcome your thoughts. Write to [email protected] including name, address and phone number. Keep letters under 300 words, with no attachments, and avoid Letters to the Editor in your subject line.
A message from the Editor
Thank you for reading this article. We're more reliant on your support than ever as the shift in consumer habits brought about by coronavirus impacts our advertisers.
If you haven't already, please consider supporting our trusted, fact-checked journalism by taking out a digital subscription.
Want to join the conversation? Please or to comment on this article.