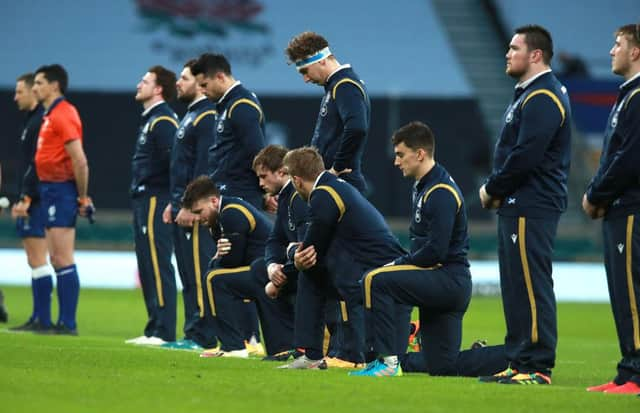 Should Scotland players be attacked for not taking the knee?
The amount of press inches and TV time spent on commenting on whether the Scottish, and indeed the English, rugby players should have "taken the knee" is frankly ridiculous but, regretfully, sums up the sort of climate and culture in which we live.
My understanding of the country I live in is that we have the fundamental choice to make our personal decisions and I, for example, can express my anti-racism views in any way I choose without "instruction" from anyone else. I noted that John Beattie, Radio host and ex-Scotland rugby internationalist, wondered "what the players had been advised to do"? The only advice that should have been proffered to the players was that they make their own choice. Whilst we are currently being told how to live our lives during this pandemic, we certainly do not need to be told how to express our personal opinions.
Richard Allison, Braehead Loan, Edinburgh
I am glad Gregor Townsend is not bothered that the Scottish Rugby Team at the Calcutta Cup match on Saturday did not "take the knee". In fact, it is high time what this greatly misrepresented gesture was about is made clear to all and banned, as it should be. The "semi-genuflection" is a gesture by a group which is, at root a thinly-disguised Black Power movement, as evinced by the raised, clenched fist adopted by adherents. Those of us of a certain age remember that from the 1968 Mexico Olympics and it does not represent brotherly love.
Following the appalling death of George Floyd, the BLM movement has been importing US injustices to the UK where they do not apply. We do not have police officers shooting black men in the back, as happens all too often in the US. We did not have the apartheid that the States had in my youth, and attempts to implicate us in the sins of those days of colour bar have no place in the UK.
Peter Hopkins, Morningside Road, Edinburgh
I would not dare attempt to detract from Scotland's historic and well-deserved Calcutta Cup victory over England at Twickenham on Saturday, but it does reinforce my theory that under the Lockdown regime the traditional home advantage in competitive sport has been somewhat diminished by the absence of largely partisan crowds being able cheer on the host side.
This is borne out by quick analysis of a comparison between the English Premier League football results for last season and this one, up to and including results of last Sunday. In the 2019/20 season, of the 380 matches played, there were 172 home wins (about 45 per cent of the total) and 116 away wins (just over 30 per cent). In the current season, of the 224 matches contested thus far, the number of home wins stands at a modest 82 (about 36½ per cent of the total) and is statistically outgunned by the 90 away wins (over 40 per cent of the total). This shows that the rate of successes by "away" sides has increased by a third since most fans were prevented from attending matches.
In the grander scheme of things, this revelation is of no importance whatsoever – but it has whiled away a few more dreary Lockdown hours. I know I should get out more, but I'm not allowed – and, in any event, my anorak is presently at the dry-cleaners.
Andy Davey, St Andrews Road, Peebles
Otto Inglis asks about the extent to which a teacher should be entitled to express religious and "socially conservative" views outside school (Letters, February 8). Any private religious belief is legitimate if kept distinct from maths lessons, but those professions in a position of influence – teachers, social workers etc – cannot with impunity proclaim that gay families are damaging to children. What if a gay child or the child of gay parents were in their class? This is not a private position Mr Lucas was tricked into revealing. It is a very public flagship ideology in his self-promoted leadership of the so-called Scottish Family Party. This is not about religious freedom. It is about protecting children from homophobic hate.
Neil Barber, Edinburgh Secular Society, Saughtonhall Drive, Edinburgh
The SNP's currency plan is not sterlingisation ("Post-Scottish independence currency plan a 'huge risk', say economists", February 9). Rather, it is that upon independence, Scotland will introduce its own currency as soon as practicable. It's widely accepted that clinging to the pound sterling after independence would be a disaster. That's why the SNP Conference in April 2019 agreed to introduce a Scottish currency a couple of months after independence. Furthermore, a poll last year suggested that 59 per cent of the public agrees with the SNP's currency policy, including half of Labour and 43 per cent of Lib Dem voters.
It's important to understand what a national currency represents. Adam Smith knew that a nation's wealth resides not in its money but in the quality of its natural and human resources. Scotland has an abundance of skilled labour and a rich natural resource base that will imbue our currency with a high exchange value so those who use this currency will have no problem exchanging it for goods and services.
Scotland would use its currency as a domestic unit of exchange just as Iceland, Norway and Sweden do. For international exchange it would easily use other currencies – the dollar, the euro and sterling. The Scottish Reserve Bank would ensure Scotland exports and imports are in balance and London has conceded we would not inherit any UK debt since we will not be the successor state. Our fictional deficit will also go away since our wealth will not continue to be siphoned off by London.Most importantly, a Scottish currency will provide greater economic stability and control over monetary policy, something we don't have as a UK region, so that we can create a fairer and more prosperous nation.
Leah Gunn Barrett, Merchiston Crescent, Edinburgh
Monday's article on the total lack of progress on re-education classes for speeding motorists was interesting. Let us change tack and just legislate that certain offences require all future insurance to be via telematics/"black box" devices. The ongoing monitoring of that data, be it good or bad driving, will directly influence their insurance costs, and lead to better compliance.
Job done, no cost to the taxpayer, and a great use of existing technology.
Iain MacDonald, Grove Road, Broughty Ferry, Dundee
On March 1 last year we took out Annual Holiday Insurance to cover a holiday in Holland in March and any subsequent holidays. Of course, Covid intervened and we could not travel. No reimbursement for the Premium was available. However, we have received a reminder that our insurance is due to expire on March 1. As it is unlikely we will require this in the near future I was about to bin the letter when I noticed, in small print on the back page, that the policy would be renewed automatically and the premium of £322.11 taken from my credit card! I immediately cancelled our insurance.Under the present Lockdown circumstances this is a very unfair situation. I would ask readers to be very careful to read all small print on what appears to be just another advertising flier.
Eleanor Lowrie, Craigleith Hill Avenue, Edinburgh
On Monday morning I was looking forward to reading all the details of Scotland's fine win in Scotsman Sport. However, when I got to Aidan Smith's comment, initially I was surprised to see a picture of the First Minister. Aidan Smith is an entertaining and thoughtful writer but why does he feel the need to devote a paragraph ingratiating himself with the First Minister? Politics have no place on the sports pages. Aidan should stick to writing about sport or perhaps spend some time usefully reading about the economic impact of the First Minister's policies on Scotland.
WA Cant, Kirk Road, Fowlis, Dundee
I thoroughly enjoyed the Heritage article about the 80 year-old origins of the Whisky Galore Ealing Comedy in Friday's Scotsman. As you state, it is an enduring story and not dissimilar to a tale from the early 1920s concerning Kintyre Technical College at Southend, the forerunner of Keil School.The college was situated right at the end of the peninsula and the North Channel roared along the shore there, frequently offering up all sorts of flotsam and jetsam. One morning the boys encountered a couple of bales of Virginia tobacco on the tideline. They quickly spirited it away and unpacked it and hung it to dry and cure in every attic space and rafter in the large school building. Plans were made, meanwhile, to process it and take it back to the various households at mid term.Unfortunately an unguarded conversation reached the ear of the local constable, who visited the headmaster in the company of the Campbeltown excise man and related their tale. The tobacco was recovered and an enterprising venture thwarted.
At least the pupils' lungs stayed in better condition than the livers of the Eriskay islanders.
Archie Burleigh, Meigle, Skelmorlie, North Ayrshire
I am surely not the only reader who almost spat their tea onto their newspaper when confronted by your headline: "Shakin' vacc: Stevens' relief at getting jab" (February 8)?
We welcome your thoughts. Write to [email protected] including name, address and phone number. Keep letters under 300 words, with no attachments, and avoid Letters to the Editor in your subject line.
A message from the Editor
Thank you for reading this article. We're more reliant on your support than ever as the shift in consumer habits brought about by coronavirus impacts our advertisers.
If you haven't already, please consider supporting our trusted, fact-checked journalism by taking out a digital subscription.