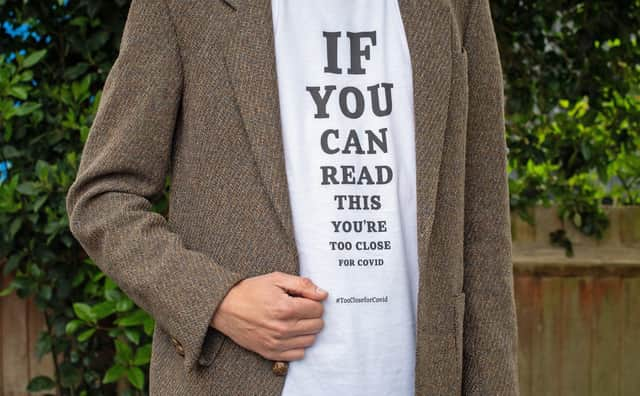 A T-shirt which include the slogan: "If you can read this, youâ€TMre too close for COVID" from a range that has been launched by the global brand transformation company FutureBrand as a not-for-profit initiative to help reinforce key social distancing guidelines as the nation emerges from the coronavirus pandemic lockdown. PA Photo. Picture date: Wednesday May 13, 2020. Photo credit should read: Dominic Lipinski/PA Wire
The UK Government wants to gradually unpick lockdown and feel its way to getting people's lives and the economy to some semblance of normality. The chancellor's extension of the furlough scheme will delay any arguments of extra cash being required for a 'slow lane' Scotland but it will force Nicola Sturgeon to be more open on the data and advice she uses to justify her approach.
I watched a BBC programme on the impact of Covid-19 on a bicycle courier, a manufacturer, a flower grower and a funeral director. All face closure apart from the funeral director, who is swamped and deeply affected by the extra workload, grief he has to deal with and the need to stockpile bodies until they can be buried or cremated.
The time for brutal decisions has come, however, as it dawns on us that more lives could be lost due to psychological and economic hardship of lockdown than the disease itself, when businesses go bust.
In 2017 the British Medical Journal paper "Effects of health and social care spending constraints on mortality in England: a time trend analysis" calculated that austerity caused 120,000 excess deaths between 2010 and 2017 and sparked much controversy.
In fact, between 2010 and 2017 the UK economy actually grew by 30 per cent, unemployment almost halved from 7.9 per cent to 4.4 per cent and the annual deficit fell from £100 billion to around £5bn.
The opposite is the case this time. At the start of Covid-19 these three figures were still good, but the effect on unemployment and lives could be much worse. The Government, already committing to billions of debt and deficit to its 'levelling up' agenda, is now forced to contemplate multiples of that number.
We're told the economy could shrink by 14 per cent this year and no-one is prepared to forecast GDP, deficit or employment figures beyond that.
If 120,000 'excess' people did indeed die when most indicators were good, arguably multiples more may be lost due to delayed revival of the UK and other economies.
It is becoming clearer by the day the pace of getting people back to work has to increase, and relying on all 66.5 million of us to 'stay alert' and use our common sense and respect for others has to be a priority.
The UK can't just, literally and metaphorically, stay at home.
Northern Ireland has a five-stage plan. The rest of the UK doesn't. You can shop in a garden centre in England and Wales. Not in Scotland. You can play golf in England but the home of golf is closed for business. When the leaders of all parts of the UK are receiving the same scientific and medical advice, why do they feel it's necessary to have their own special plan. Obvious isn't it? Because they can, and it feeds their egos. Most thinking people will acknowledge a coherent, co-ordinated UK wide strategy to, first, get the epidemic under control, then to lead us, together, step by step, to the new normal, offers the lowest risk way forward.
Regional variations based on hard scientific evidence, such as different R numbers, would justify different restrictions. But political showboating shouldn't be part of the decision making process. The only level of government that can assess the totality of the health and economic risks, and pay for the latter, is Westminster. These devolved powers should be returned to the UK government once this is over.
Whitehill Farmhouse, Cupar
The callous bean-counting bores regard a few thousand more dead – someone's parent, someone's child – as less important than the health of the sacred economy.
We will only know it is safe – truly safe – to go back to our normal daily lives when MPs feel it safe for a full seating in Parliament and company bosses no longer work only remotely.
Until then, we are just another array of test subjects.
While I have some sympathy with the First Minister's message of 'stay at home' being different to that of the UK government, she might do well to remember that it was she who jumped in very early with her so-called 'grown up conversation' paper published almost three weeks ago now, a paper that told us nothing. With a further lockdown period now in place, regretfully I remain convinced that her decision making is heavily influenced by her desire to be different to the UK Prime Minister.
She also protests that she was not consulted on the statement made by the Prime Minister on Sunday. I do wonder how much the First Minister 'consulted' with the UK government on the paper she issued, or indeed, on many of her other announcements where frankly she was 'front running' announcements she knew were soon to be made by the Prime Minister, perhaps following a Cobra meeting.
She and her Health Secretary have ultimately had to continue the lockdown due to the shambles that is Covid-19 in Scottish care homes where they have full responsibility and Nicola Sturgeon should concentrate on dealing with this immediately. It is this shambles that has resulted in the Scottish R number being likely higher than in the rest of the UK and the lockdown being extended further.
Re: the article by Henry Mcleish on his visit to death row at McAlester State Penitentiary,Oklahoma (Perspective, 12 May), I also find this practice of ending somebody's life abhorrent; as he points out, "The evolution of civilised behaviour" should be resulting in a "retreat from barbarism".
All life is sacred. Sadly there is one act of barbarism which is still practiced throughout what we consider to be the civilised world – abortion. Governments are passing laws allowing abortion up to birth. The crime? Down syndrome, cleft palate, club foot, 'wrong' sex etc. The method used to end the baby's life in these late stages of pregnancy is to inject a similar drug as that used in executions into the baby – no pain relief is offered.
Last year there were 113,000 abortions in Scotland – Nicola Sturgeon said we needed that number of immigrants to balance the population in Scotland. Maybe she should consider changing the abortion law.
We have learned in the last few days that even at a time of national crisis the four countries of the UK can pull apart and there is seemingly very little anyone can do about it. Up to now, the public response to coronavirus has been disciplined and resolute. The measures taken seemed to be working, but at the moment of maximum danger, the consensus has fallen apart.
It is not the general public who are screaming that they are confused, but a whole range of political activists, commentators and opposition politicians who are trying their best to sow the seeds of confusion. Anyone who has witnessed the social media storm of the past few days will be concerned about the general level of stupidity that is apparent among our political commentators, some of whom seem to require simple instructions to be written down in crayon for them to understand.
They need to understand this. There is no simple soundbite available for gradually relaxing the current lockdown, getting different people in different geographic locations, occupations and risk categories to do different things at different speeds according to their individual circumstances. No spin doctor could come up with such a slogan, and nobody has, but this is what is required of us.
When this is all over, constitutional reform within the UK has just become inevitable. There needs to be restraint on power at all levels, because if this can happen in regard to health, we could see similar confusion in many other areas as well in future.
I never realised, until I read Scotsman Letters how many experts there are in Scotland on coping with pandemics.
Andrew HN Gray's account of the capture of the 51st Highland Division is a travesty of the facts (Letters 12 May). I commend readers to historian Saul David's book After Dunkirk: Churchill's Sacrifice of the Highland Division'.
Mr David makes it quite clear that the Division was sacrificed for the political expediency of keeping the French in the war and stopping them, unsuccessfully, from seeking an armistice with the Germans. The commander of the Division, General Victor Fortune, was repeatedly refused permission to remove his command from the subordination of French command, even though it was clear French morale had collapsed. This was because the French feared another 'Dunkirk' and total abandonment by the British.
There is some truth in Mr Gray's account of the attempted evacuation and the confusion that surrounded it. But the fact is, it was mounted much too late and might not have been mounted at all if it had not been for the indefatigable nature of Admiral Sir William James, who refused to give up on the 51st. Unfortunately, Gen Fortune mistakenly believed that an evacuation could not take place from Dieppe. Le Havre also proved to be untenable, but some success was achieved at Saint-Valery-en-Caux, where 3,500 were rescued. So we can take a little pride in the gallantry and loyalty of the 51st Highland Division, but let's not whitewash Churchill's less than glorious part in their capture.
The Scotsman welcomes letters for publication – 300 words maximum – from all sides of public debate. Include date and page when referring to an article, avoid 'Letters to the Editor in e-mail subject line. No attachments. We reserve the right to edit letters. Send submissions, with full address and phone number, to: [email protected]
A message from the Editor:
Thank you for reading this story on our website. While I have your attention, I also have an important request to make of you.
With the coronavirus lockdown having a major impact on many of our advertisers - and consequently the revenue we receive - we are more reliant than ever on you taking out a digital subscription.
Subscribe to scotsman.com and enjoy unlimited access to Scottish news and information online and on our app. With a digital subscription, you can read more than 5 articles, see fewer ads, enjoy faster load times, and get access to exclusive newsletters and content. Visit https://www.scotsman.com/subscriptions now to sign up.
Our journalism costs money and we rely on advertising, print and digital revenues to help to support them. By supporting us, we are able to support you in providing trusted, fact-checked content for this website.