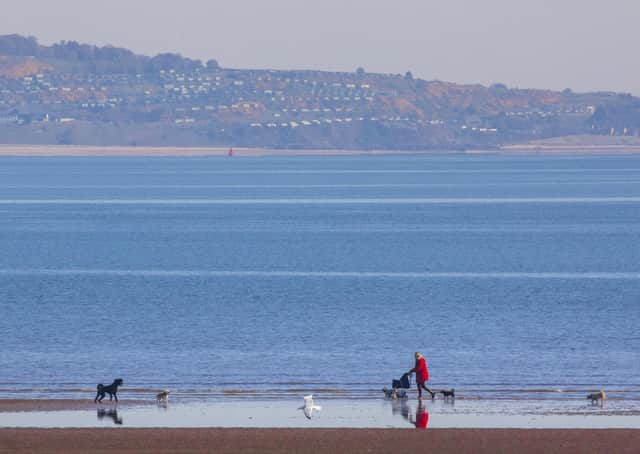 Is it time to get out and about? (Picture: SWNS)
I have a problem. I actually think that exposure to Covid-19 – on a controlled but much less restrictive basis than now – is a good thing!
Don't get me wrong – each of the deaths from Covid-19 is a personal tragedy. And in an ideal world all of these deaths would be avoided. However, there is good news also, namely that if the mortality rate is 1 per cent, and around 30,000 have died from coronavirus in the UK, then almost 3,000,000 people in the UK have had the disease, survived and built up immunity. So, contrary to public perception, a higher than average number of deaths from Covid-19 means a higher than average immunity. Non-vulnerable people have to be extremely unlucky to die from the virus. A 99 per cent chance of surviving is fantastic odds. And so, given the tiny chance of non-vulnerable people dying once they catch the virus, I – and I'm sure many others locked into their homes and not earning – feel that it is well worth taking that risk. Especially as the world governments and economies cannot afford lockdown – financially, physically or emotionally – and the only way for the world to get through this within 6-12 months (before there is a worldwide vaccine) is for as many people as possible to build up immunity.
Yet such an approach is portrayed as anathema and extremely dangerous. The governments would have you believe that if you catch the virus, you are likely to be in the 1 per cent and will either die or be on a ventilator. In reality, you are almost sure to join the 99 per cent who gain immunity. These people can go out safely without masks or PPE, and work, enjoy themselves, meet and care for people, including the people at home or in care homes desperate for human contact. And the world can start moving again.
I'm not advocating going straight back to packed commuter trains, sports stadia etc. That would swamp the NHS even with a 1 per cent mortality rate. However, we now have a significant excess of NHS beds – the Nightingale Hospital in London is lying empty, for example – and 450,000 NHS volunteers to take up the slack. So we can allow many more people to have social interaction again and still cope.
The latest Perspective article by Laura Waddell (7 May) was completely one-sided. It is an affront to call Iain Duncan Smith an idiot for writing an article saying that total deaths due to coronavirus is not the only thing that needs to be taken into account.
There are many other things, including the mental health of employers and employees, loss of jobs, cancer treatment and checking, violence in the home, education etc – none of which she mentions. She seemed more interested in calling employers cruel than in presenting a fair picture of the dilemmas faced by the government of the UK, which she does not appear to recognise. A long term lockdown would do more harm than good.
If people are at high risk or frightened, as many are, let them stay inside – nobody is forcing them to go back to work or go outside at all. I am sure most people could get food delivered by friends or supermarkets.
I will not call Ms Waddell an idiot as that is not my way; but I would ask her not to call the people who disagree with her idiots in future and to perhaps acknowledge that others have views that can be justified.
I would be easier to get a single UK message on lockdown agreed than to have mixed messages, so I ask the SNP to keep us in step with England.
I wonder how many people share my view that the Scottish Government should issue an edict to ban smokers from lighting up in the current social distancing queues to get into shops.
It just beggars belief for me when you see these selfish and thoughtless individuals smoking cigarettes in these queues in close proximity to other people during this "breath particle-induced" virus epidemic. They are exhaling their nicotine filled fumes at five times the normal breathing out exhalation rate, all over other people!
You can smell the smoke and feel yourself breathing in their fag smoke and it's disgusting and disconcerting.
I have witnessed this regularly in supermarket queues over the past six weeks. Get a grip, you selfish inconsiderate and irresponsible bunch. The Government must issue guidance to these people.
I respect their right to smoke ( thank God I managed to stop the habit 30 years ago!) but could they please do it in a more remote area where they are not polluting other people's airspace nearby... especially in these times when we are all (apart from smokers) aware of what we are breathing in to our lungs!
The NHS's new contact tracing app has fundamental flaws that are likely to make it worse than useless.
As the app relies on self-reporting it is wide open to abuse. A single malicious user or a hypochondriac could cause dozens or hundreds of people to self-isolate for nothing. The behaviour of various protest groups shows that there are people in our society who want to cause chaos.
The NHS is notorious for its history of IT failure. Tech savvy people have pointed out that the app is battery hungry, cannot communicate with locked phones and is not compatible with other countries' systems.
The app involves all the data being held centrally with all the dangers relating to cyber-security, privacy and mission creep.
Wiser governments are using apps based on the Apple Google framework, in which data is held locally on the user's own mobile.
It is time the government abandoned the mentality of central control and downloaded the 21st century.
It's a funny old world when our First Minister expects ordinary citizens and especially senior ones to endure lockdown restrictions with this coronavirus pandemic, when we read that her Justice Secretary, Humza Yousaf, has approved unlocking prison cell doors early to allow the release of short-term inmates. Last month the death of one prisoner from the virus was reported but he was serving a sentence for sex offences and presumably would not have qualified for early release anyway; still, the authorities had better exercise nous with judgment.
Police in London were reporting that crime there, not least in drug dealing, has been on the rise. Indeed, it would be interesting to know if drug users here and there have shown higher incidences of vulnerability to Covid-19 when the obese and those with pre-existing health conditions are so often being placed in the spotlight.
It has been reported that there is now another economically and socially "lost generation" of young people due to Covid-19. However, I'm still part of the last lost generation of the great recession; underemployed, low paid and facing yet another uncertain decade after being in the economic doldrums since 2008.
It's fair to say that we are scheduled to be worse than our parent's generation. Earnings and homeownership rates reflect this.
Despite these realities, we have (and still are) being fed a mix of materialistic pulp from advertisers and corporations for items and lifestyles that we can't really afford, more so now.
And now we see yet another age cohort sacrificed at the altar of globalisation. How many more? The environmental and economic sustainability of our lifestyles has always been called into question.
In reality, my generation and the one behind us will have have to make do with less. Less travel, less opportunity, less financial security, less materialism.
It's an uncomfortable thought, being worse off than a previous generation, but it's also a chance to rebuild relationships, do things differently and stop the cycle of an overly globalised society that has brought us nothing but uncertainty and total economic ruin over a decade for which we were not responsible.
What a disappointing Perspective piece yesterday by Kenny MacAskill, once a solicitor who helpfully advised the Scottish Homosexual Rights Group ("SNP should fear the 'French Revolution in reverse' that swept Democrats out of Kansas").
The Equality Network is neutral on independence. But we know from speaking with our members and supporters that there are many people who voted for independence in 2014 because they hoped for a Scotland in which people would be treated with respect and equality. A Scotland that genuinely seeks to abolish poverty and discrimination.
They were energised by that vision, but would not be inspired by a future that is "socially conservative with a small c but nationalist with a capital N".
Kenny MacAskill wants the 45 per cent to grow to more tan 50 per cent. That won't be done by alienating independence voters who support minorities who are unpopular with some others. In this case, divide will not conquer, but solidarity might.
In the current crisis, it is clearly not the Scottish Government whose agenda "seems dominated by gender and sexual identity", but the minority on social media who continue to act as if opposing LGBT people's equality were the most important thing in the world.
Bernard Street, Edinburgh
I would like to thank you for The Scotsman's supplement on VE day's 75th anniversary this week.
Please don't forget VJ day 75 on 15 August. Liberation was one of my earliest memories.
The Scotsman welcomes letters for publication – 300 words maximum – from all sides of public debate. Include date and page when referring to an article, avoid 'Letters to the Editor in e-mail subject line. No attachments. We reserve the right to edit letters. Send submissions, with full address and phone number, to ❚ [email protected]
A message from the Editor:
Thank you for reading this story on our website. While I have your attention, I also have an important request to make of you.
With the coronavirus lockdown having a major impact on many of our advertisers - and consequently the revenue we receive - we are more reliant than ever on you taking out a digital subscription.
Subscribe to scotsman.com and enjoy unlimited access to Scottish news and information online and on our app. With a digital subscription, you can read more than 5 articles, see fewer ads, enjoy faster load times, and get access to exclusive newsletters and content. Visit https://www.scotsman.com/subscriptions now to sign up.
Our journalism costs money and we rely on advertising, print and digital revenues to help to support them. By supporting us, we are able to support you in providing trusted, fact-checked content for this website.