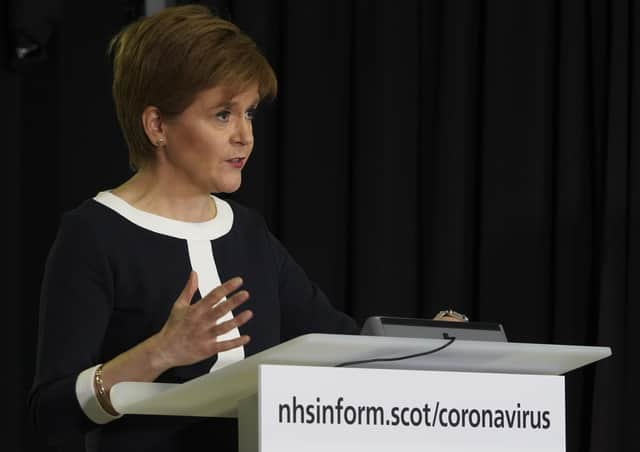 Nicola Sturgeon at Thursday's Covid-19 briefing
As suggested by the First Minister, I read through "Cornavirus (Covid 19) framework for decision making". We were assured this was the beginning of a grown-up discussion of how we could begin the exit from lockdown. Of course, the point she was trying to make was that the UK government had not treated us like adults.
The only problem is that the document does not even begin a discussion, as it does not give any definitive suggestions at all. It says we might do some things but we might not and we might do other things but we might not. Quite frankly, the silence of the UK government makes more sense than 27 pages of possibilities that could or might not take place in certain circumstances and then might be amended or even rescinded. The only point of the document was for the SNP to take a different route from the Westminster government. The sentence telling us that the Scottish government is committed to a greener and more equal society is suitable for an election manifesto for a political party, not for a document concerning the most serious challenge of our lifetime.
I was not alone in feeling great admiration for the way that the Nicola Sturgeon handled the beginning of the pandemic but was dismayed when our hospital in Glasgow was not named after a woman who regularly is regarded as one of the greatest in history, Florence Nightingale, because she happened to be English. Ever since she has gradually tried to drive a wedge between the governments here and in London. If ever there were a need for a united country it is now. We need a single-minded leader and the single subject is Covid – not the other one she has been obsessed all her life.
Amid much fanfare, the First Minister announces her great "grown-up conversation" with the Scottish people about how the lockdown might be loosened. She commented on a "managed transition away from current restrictions" and that Scotland will not be able to "immediately return to how things were". In fact the First Minister actually told us the sum total of nothing new whatsoever.
The paper published by her is 27 pages long, telling us in basic terms that life will not be back to normality for some time yet and large gatherings and a Saturday night pint at the pub will not be in your diaries again for some time.
This whole exercise by the First Minister is all about "noise" and was designed to get the national headlines and a tour around the various news programmes and channels, and she was successful in these endeavours.
What underpins all this is again her ideology and desire to be different to the rUK and perhaps she doth protest too much that this is not the case. She would do well to remember that it is the UK financial support of many billions of pounds that has enabled her to protect the Scottish economy as far as is possible.
She will have some interesting questions to answer about this rUK financial support when the debrief begins alongside the question on everyone's lips: "Where is Kate Forbes?"
In the middle of this Covid crisis what is so distinctive about Scotland that stops at the Border with England? Frankly I could see nothing in Thursday's statement from the First Minister that wasn't blindingly obvious, but I certainly take exception that we are somehow different. This is grandstanding, divorced from the reality of the problems we face. There is no scope for "being different because we are Scotland". We are all in it together – unless we enforce the Border.
Liberton Drive, Edinburgh
There is nothing in the SNP Government document which offers any useful guidance about how we exit lockdown. Nothing new. No detail. No timeframe. Nicola Sturgeon seems to think that we can continue indefinitely with repressive and economically catastrophic measures, measures which, ironically, are also harmful to health.
Professor Isaac Ben-Israel of Tel-Aviv University has examined Covid-19 outbreaks worldwide and believes the disease is self-limiting within a few months. He has called on the Israeli government to phase out the lockdown but maintain physical distancing. That is the way forward.
Meanwhile in England, economic activity is beginning to restart with some lockdown measures eased while social distancing is maintained. Jaguar Land Rover, Aston Martin, and Bentley will restart production in May. B&Q have reopened 150 stores. Taylor Wimpey and other builders are restarting work on their sites also in May. And now the National Police Chiefs' Council, says "driving to the countryside and walking (where far more time is spent walking than driving) "is reasonable.
An optimistic UK-wide approach is essential. Hopefully when Boris Johnson returns to Downing Street with his usual energy and buoyancy he will bring the light at the end of the tunnel much closer.
Justice Park, Oxton
Lauder, Scottish Borders
Dr John Cameron (Letters, 24 April) has missed the point of prolonging the lockdown rules for over-seventies. There is no question of "personal freedom" here.
As an oldie myself I am acutely aware of the sacrifices made to shield us from the virus by the younger population, many of whom would not be badly affected by an infection. If the rules are eased for them it would be our turn to contribute by staying safe, not taking a chance of infecting others and, most importantly, not needing a hospital bed, precious equipment and staff time that could be better employed in the care of any younger people who do succumb.
It's little enough that we can do to help and we should do it cheerfully.
Has anyone noticed that road traffic in Edinburgh is increasing? I live in Corstorphine and St John's Road is undoubtedly busier. This seems to be a growing theme. Whilst people are being socially aware the numbers walking, jogging, dog walking and pram pushing is growing.
Good to see that Scots are shaking off their reputation for unhealthy lifestyle!
I read Joyce McMillan on Friday with sadness ( Perspective, 24 April), just wondering how long it would take her to blame the UK Tory government , at least in part, for the virus!
Dean Road, Bo'ness, West Lothian
On our walk today, we went via a small local supermarket to pick up some fresh fruit and veg. In the few minutes whilst I waited outside, keeping well away from the entrance, on a pavement 3m wide, here's what happened:
* A man walked past me only 1m away, although there was no-one else around and he could have moved to the outside of the pavement.
* A man cycled past me only 1m away, although there was no-one else on the pavement, and no traffic on the road.
* A man walked past on the far side of the pavement, smoking a cigarette, blew out the smoke and the wind carried it across into my face.
* The first man emerged from the supermarket and walked back past me even closer, as there were a couple of people coming the other way, and he apparently didn't think it necessary to just wait until the pavement cleared.
And that's not including the heavy-breathing joggers who run up behind you unexpectedly and barely break stride as you try to get out of the way.
If people cannot remember, or choose not, to keep a 2m distance by now, heaven help us when the lockdown is eased and more people are moving around.
Here we are heading towards five weeks of lockdown and I've noticed something.
Since lockdown started there have been nine or ten National Lottery draws – I'm not sure exactly how many. What I do know is that there have been eight or nine rollovers in that time up to Wednesday past.
I'm not sure if I believe in coincidence any more.
Ochilview Road
Tillicoultry, Clackmannanshire
The executive manager of the Scottish Association of Meat Wholesalers blames slow selling of beef cattle on the shutdown of restaurants etc (your report, 22 April).
Can he explain why the shelves of my local Tesco are laden only with Irish beef, whereas previously it was Scotch Beef on offer?
There is even a rumour that Irish in this instance actually means Polish beef! Can this be true? Scottish cattle farmers are being told to join the queue and wait patiently to sell their produce. Something is not right.
When objecting to the provision of safe spaces for drug users, (Letters, 23 April) uses the language of war in fighting against drug abuse Richard Lucas.
But war results in casualties, and Scotland has the highest rate of drug related deaths in Europe, with the majority being due to heroin which is highly addictive.
It has been shown elsewhere that treating heroin addiction as an illness, rather than a crime, is a more effective preventive strategy than the so called war on drugs.
Such an approach has been shown to reduce drug deaths, drug related crime and the burden of addiction on families – which should be of importance to the Leader of the Scottish Family Party
Re: Richard Lucas' letter, does he want to close all pubs permanently and ban all alcohol at restaurants?
Should all shops be banned from selling tobacco in all its forms?
Should cafes stop selling caffeine based products?
Does he know what Prohibition did to the USA?
The Scotsman welcomes letters for publication – 300 words maximum – from all sides of public debate. Include date and page when referring to an article, avoid 'Letters to the Editor in e-mail subject line. No attachments. We reserve the right to edit letters. Send submissions, with full address and phone number, to: [email protected]
A message from the Editor:
Thank you for reading this story on our website. While I have your
attention, I also have an important request to make of you.
With the coronavirus lockdown having a major impact on many of our
advertisers - and consequently the revenue we receive - we are more
reliant than ever on you taking out a digital subscription.
Subscribe to scotsman.com and enjoy unlimited access to Scottish news
and information online and on our app. With a digital subscription,
you can read more than 5 articles, see fewer ads, enjoy faster load
times, and get access to exclusive newsletters and content. Visit
https://www.scotsman.com/subscriptions now to sign up.
Our journalism costs money and we rely on advertising, print and
digital revenues to help to support them. By supporting us, we are
able to support you in providing trusted, fact-checked content for