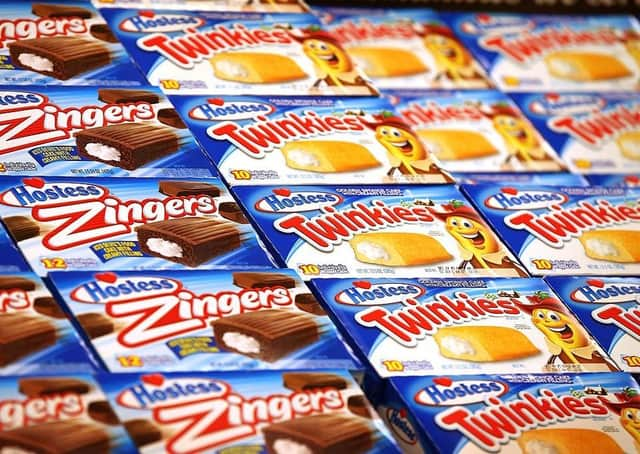 US supermarket lines are as varied as those of their UK counterparts (Picture: Scott Olson/Getty Images)
Re Henryk Belda's letter about poor quality, even potentially dangerous, food in America is taking a very narrow view of that massive country (5 June). Just because he found supermarkets in Omaha, Nebraska were below par he assumes it must be the same all over the USA. I have never been to Omaha to shop for food so cannot comment specifically on that city's shops but I have been in supermarkets in a number of states in the Midwest, on the East Coast and many times in Southern California and have always found their produce excellent in every way.
There are, of course, variations in prices, but very few, if any, products, are more expensive than here, however. Not once, anywhere I visited in the States , was I warned off any supermarket food by friends and relatives because of "what might be in it".
As for Henryk's cousins looking pallid and less healthy than he does, I'm pretty sure that has nothing to do with US food per se, but possibly, and with the greatest of respect, more to do with their diet. I have close family and friends in places in the Midwest including Lincoln, Nebraska and the Boston area and they are all extremely fit and healthy.
Douglas S Bruce, Foster Road, Penicuik
Hendryk Belda's letter greatly puzzles me, particularly his claim that food in the US is very expensive.
I was a regular twice-yearly visitor to locations all over the US for about 30-odd years.
There was always,of course, plenty of junk food around, as there is here in the UK, but if you wanted to eat a bit more healthily and fussily there was limitless choice of high quality produce at incredibly low prices compared with the UK. Can you imagine, for example, a four course dinner, with the main course being a full Maine lobster, for $8, and with free pre-drinks and wine available?
Incredible as it seems I once had that when visiting a colleague at Cornell University.
Another time I can remember attending a 'No Host' dinner (American jargon for pay your own bill) in a fancy riverside restaurant in Florida when some of the US contingent complained about the prices (averaging about $15 for a four-course steak dinner) and even at the end of my visits about 20 years ago a hotel eat as much as you like buffet breakfast was still only about $5 or $6.
(Dr) A McCormick, Kirkland Road, Terregles, Dumfries
Dave Anderson (Letters, 3 June) joins the seemingly endless list of contributors who have written to say that hospital patients have been released untested for Covid-19 into care homes. That is not disputed, neither is the fact that the government have conceded that, had they had the benefit of hindsight, a different decision might have been made.
However, what critics choose to ignore is the background circumstances around the decision. First there was concern that the discharged patients might have been more vulnerable in hospital.
Second, none were displaying symptoms at the time of transfer and, in that context, an unpleasant and invasive test was deemed unnecessary. Also, throughout the UK, hospitals were concerned that they might be overwhelmed with virus victims and discharged patients into care homes. This didn't just happen in the "SNP's bailiwick", as Mr Anderson describes it.
I believe it is generally accepted that this decision will need to be investigated and in general, but confidential terms, the impact on the 921 patients assessed. For example, how many of the group subsequently developed the virus and what were the consequences? Can it be ascertained if infected people took the virus into the homes or did they catch it there? Were they isolated on arrival at the homes? Did the care homes have adequate infection-control trained staff and adequate PPE. And so on.
Mr Anderson says that Nicola Sturgeon should not reply to questions put to her about the comparisons of the death rates in care homes in England without evidence. However, if a question is put to her in that context, she is entitled to reply, citing the body of evidence available from research by the LSE and euromomo.eu, research which has been rigorously examined and reported in depth in the Guardian and Financial Times.
Gill Turner, Derby Street, Edinburgh
Professor Hugh Pennington was the star of Question Time. The Aberdeen-based, world-renowned infectious disease expert was polite, authoritative, non-political and clear with his answers and opinions. Strangely, he has never been invited by Nicola Sturgeon to join any of her Covid advisory panels.
Could it be because he led the Aberdeen Better Together campaign in 2014 to a 59 per cent No vote?
Allan Sutherland, Willow Row, Stonehaven
The saddest words in the Bible are those uttered by Jesus Christ as hangs on the Cross: "My God, my God – why hast thou forsaken me?" Many explanations have been given by committed Christians as to the reason for this cry of despair, because it is impossible to equate the idea of a loving, omnipotent Father who notes the deaths of all living beings with the notion that his cries went unheard. How could He abandon His son?
I have no religious beliefs, but I'm still moved by that despairing cry, because it resonates with the cries of desperate humans throughout the ages. Those who feel abandoned by society because they're different, because they don't look like us, they don't speak our language or eat the same foods.
Those differences are highlighted at the moment, when we're all under threat from an invisible, extremely successful enemy. It knows how to survive and all the weapons of war at our disposal are useless against its progress. When humans are afraid, they look for scapegoats.
Any one of us could succumb to this virus – we really are all in this together. It's no coincidence that nurses are referred to as 'angels' by the popular press.
When humans feel out of control of their lives, they appeal to higher powers to rescue them.
But nurses are also human, with the same needs. We need to remember that.
Carolyn Taylor, Wellbank, Broughty Ferry, Dundee
During this pandemic there is one section of society that no one seems to be speaking for and that is those in secondary and tertiary education. While there have been plenty of anguished quotes from John Swinney, local authorities and unions, this group, despite being at minuscule risk from the disease, has just had to accept the inadequate response from our government.
Three months into the school closures and there seems to be little progress beyond the set-work, self-timetabled model and so far, for my child entering S5, there has been nothing in the way of teacher-led online lessons. It has been an isolating and demotivating experience which research suggests could have devastating implications for children's prospects.
Now we have the situation of schools desperately trying to plan for a return to the classroom on 11 August under current social distancing rules, which I do not believe can be made to work. We should either implement a more effective home learning framework with minimum expectations of structure, online lessons and teacher contact or there should be special rules and monitoring put in place to allow schools to function closer to how they were designed.
The 'blended model' threatens to create the worst of all possible worlds by preventing any improvement in the remote learning situation as teachers return to school and attempt to teach at drastically reduced capacity.
Stuart Alexander, High Street, Stonehaven
Might it be time to extend the scope of fixed-penalty notices to better cope with assaults against emergency services personnel?
Today I heard an emotional appeal on Radio Scotland by a doctor working in emergency admissions. As some lockdown restrictions have eased it seems there has been a rapid return to the pattern of alcohol and drug related spitting and other forms of violence in emergency departments.
Nicola Sturgeon has proposed that, post Covid-19, we should examine what changes might be needed to improve the fairness of our society and express the value we place on key workers.
While such workers in Scotland have a marginally better deal than in the rest of the UK, surely we need to do more. Giving these workers greater protection in law would be a much-needed start to showing our appreciation.
Michael Ryan, Eassie, Angus
The SNP hierarchy and their acolytes seem oddly obsessed with events over the other side of the Atlantic in an attempt to jump on the virtue signalling bandwagon and to appeal to the illiberal, social-justice left that they seem to align themselves with.
However, in Scotland at the moment a person can be arrested for tweeting or posting 'inappropriate' content on social media, even if it is misguided. The new Hate Crime Bill would see the Scottish Government become an aggressive regulator of its citizen's free speech, and introduce a whole suite of offences, including possession of material only likely to engender hatred.
Of course, the level of offence is dependent on the person viewing the material. In other words, given some people's toleration for different opinion at the moment, probably best not to do anything in case Police Scotland turn up and haul you to jail for flippantly sharing a meme.
Perhaps the SNP could 'take a knee' or send a supportive tweet to fight against the bland, insipid, over-bearing, constrained nation that they seem determined to turn Scotland into.
David Bone, Hamilton Street, Girvan, South Ayrshire
The Scotsman welcomes letters for publication – 300 words maximum – from all sides of public debate. Include date and page when referring to an article, avoid 'Letters to the Editor' in e-mail subject line. No attachments. We reserve the right to edit letters. No correspondence will be entered into. Send submissions, with full address and phone number, to: [email protected]
A message from the Editor
Thank you for reading this story on our website. While I have your attention, I also have an important request to make of you.
With the coronavirus lockdown having a major impact on many of our advertisers - and consequently the revenue we receive - we are more reliant than ever on you taking out a digital subscription.
Subscribe to scotsman.com and enjoy unlimited access to Scottish news and information online and on our app. With a digital subscription, you can read more than 5 articles, see fewer ads, enjoy faster load times, and get access to exclusive newsletters and content. Visit https://www.scotsman.com/subscriptions now to sign up.
Our journalism costs money and we rely on advertising, print and digital revenues to help to support them. By supporting us, we are able to support you in providing trusted, fact-checked content for this website.
Joy Yates, Editorial Director