It's not just statues needing toppling but imperial assumptions - Kenny MacAskill
I'm a huge fan of Irish President Michael D Higgins. The country has been blessed recently in its holders of that office. Predecessors Mary McAleese and Mary Robinson helping the nation transition into its modern incarnation and easing it through the troubles on the island of Ireland.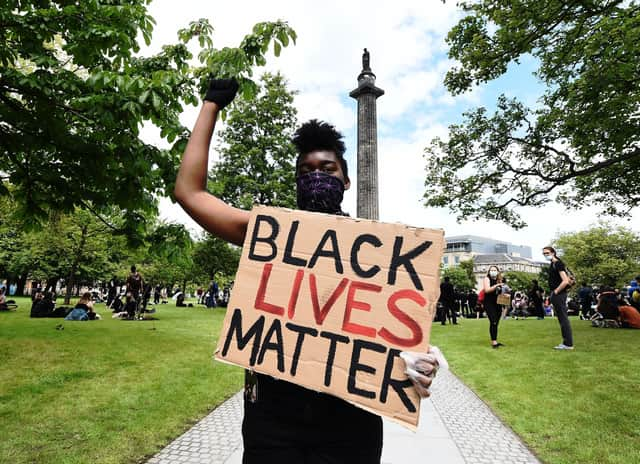 Black Lives Matter protests, such as this one in Edinburgh, have highlighted the legacy of slavery but that critique has not been applied to the Empire - and it must, argues MacAskill. Picture: Lisa Ferguson/JPIMedia
But President Higgins seems the best of them. A gem of a guy, a poet, an intellectual, yet still decent and down to earth. Everything you'd want in an elected Head of State and such a contrast to the privilege and snobbery surrounding our Monarchy.
So, when President Higgins writes I take note, as I did last week with his critique in a London paper.
Taking to task many leading British commentators describing them as having "feigned amnesia" over British Imperialism, and although coming from an Irish perspective he gave it a wider context. Lamenting a British "disinclination" to "critique empire and imperialism" and stating that attitude wouldn't allow for the forging of "a better future together".
He's right and it applies to most of the British Empire not just their first colony. Putting it in an Irish context he contrasted it with his own land's need to critique its nationalism. Not just current events as Irish unity beckons but significant historical landmarks as the centenary of the War of Independence's recalled and that of the civil war looms. Ireland has had to address some demons and actions which whatever the context were simply wrong.
But in Britain the Empire's forever benign. Irish Independence viewed as having been given almost by British beneficence rather than having to be fought for despite a democratic vote. Similarly, the actions of the Black and Tans, and even worse the Auxiliaries, causing even those not Independence supporters to conclude that staying British was impossible, are ignored.
More importantly, Higgins condemned assumptions that went and still go with Imperialism including superiority of culture and the denial of the economic exploitation, dispossession and domination that it involved.
As a child of the 60s I still remember some school maps with the Empire resplendent in red. Even though colonialism was ending there was neither reflection nor apology. It was simply assumed to have been benign, if not a force for good. Providing a civil service, taking Christianity and civilising a Dark Continent or other unenlightened lands.
But it was never that. Those lands had histories and cultures that were suppressed. A limited education and some bibles was no recompense for the ruthless exploitation of their natural resources and the use their people as cheap labour that followed.
Black Lives Matter protests have rightly highlighted the legacy of slavery that shames us. But that critique hasn't been applied to the Empire, yet it must. It was no more right to rob and pillage than it was to ensnare and enslave. Relations with Ireland but also the Commonwealth will improve when that's addressed and if trade deals are being sought, it's probably essential.
It's not just statues needing toppling but imperial assumptions.
Want to join the conversation? Please or to comment on this article.