It is ok not to be cheery and upbeat all the time - Jim Duffy
For years, I've put on my "game face" for family, friends, neighbours and colleagues.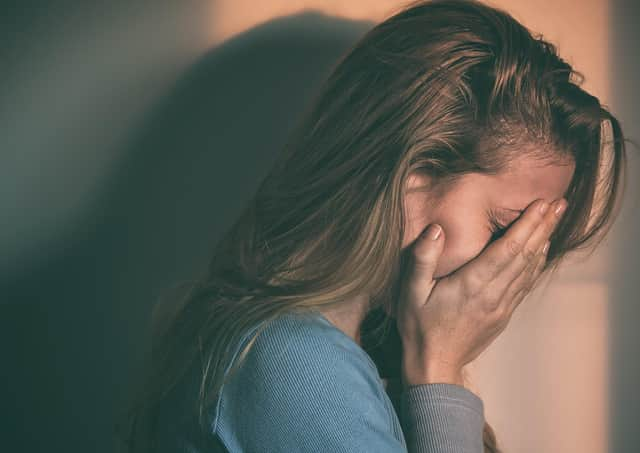 It is ok not to be constantly upbeat and cheery, says Jim Duffy
That game face tells all that I am well. It signals to them that I am happy, contented, in a good place and generally upbeat and perky.
Of course, It's a complete lie.
It's a fraudulent scheme that I generate daily to deceive. But, not in a malicious fashion you understand. Not to harm anyone. No, my game face is all about making them feel a bit better, while I struggle with what is going on inside.
And to be honest, I think we all do it. Maybe in these times of great change, this is one behaviour we should seriously consider ending.
So why do we persist with our game face for folks? What drives us to be "dishonest" with how we feel, what is going on in our minds and what is truly troubling us?
The norm I am referring to in this case is that everyone wants to be seen as cheery, chipper, positive and upbeat.
For years, we have been influenced by teachers, television, movies and workplaces that happy people are what the world wants. Big smiles and big personalities make the world a better place right?
At school I look back at the most popular kids in the class. They were smilers, generally happy and attracted people to them.
Right back then I knew I was different. Teachers tolerated me, but never liked me and for that matter much of the class as we were not cognitively capable yet of putting on a game face.
Mind you, the more I think about 90 per cent of my teachers in primary school and secondary school – they too were miserable.
By looking happier and striding through life, others accept us that bit better.
A game face lends itself to "better" relationships in the workplace or at college or elsewhere. After all, who wants to go sit with old misery guts who can't raise a smile in the morning? Most of us wants to fit in.
We want to be part of the crowd. Not necessarily the in-crowd, but the general broad church where we operate, function or work.
So while we may not feel like it at all, a game face guarantees us a ticket to being accepted as okay, normal, sound or alright.
Just think of the pressure we put ourselves through to keep up this charade when all we want to do stare and not smile for the sake of it.
Family is a big one. Especially parents and grandparents.
Our loved ones are important to us. We need them to feel loved, to feel special, to feel important. Their well-being is paramount to us.
So in so many cases, despite not feeling like it one bit, we put on a game face.
No-one wants a grumpy dad every morning as he drinks his coffee, checks his phone and finds his car keys before going to work.
No-one really wants to see mum looking glum, a bit down, anxious or stressed before we go to school. So, we get up, look in the mirror and put on our game face. But I just wonder in all of this, who is kidding who? And what damage it does to us.
We may not want to admit it, but right now in this current epoch in history, we are in a mental health ticking time bomb.
Oh I know, all you happy people will not fully understand this. You will not "get" why so many of us are on selective serotonin re-uptake inhibitors also know as anti-depressants. But the current crop of people using Seroxat or Prozac is just the tip of the iceberg. This coronavirus pandemic is causing massive anxiety, depression, low mood and confused signals at the synapses of many people's brains.
The chaos in government, 'is school on?' or 'are we shutting the pubs?' scenarios, are actually causing stress.
Idiots not wearing masks while others work so hard to be cautious causes stress.
The rich and elites moving their money into gold and silver, while the millennials hoover up Bitcoin as they lose trust in the current financial system causes deep anxieties for many.
I know three people this month opening Coinbase accounts to buy Bitcoin, while friends research buying bars of silver from the Royal Mint. And it is not getting any better . . .
So, trust me when I tell you, that putting our game face on is just going to get harder. So, quit it now!
If this period in history is to be so tough and change so much, perhaps it is time we were a bit more honest with others and more importantly ourselves.
We are living in a global pandemic that is not getting any better folks. Just look at Aberdeen. So, why kid ourselves?
Why try to be someone we are not? The game face is just that – a game –but there is no prize at the end of this one.
I think all bets are off.
Covid-19 has put an end to that. Life has become more real as many of us take stock of exactly that – our lives.
So, maybe now is the time to be honest with ourselves and those around us.
Just tell them how we are feeling.
They probably sense it anyway and will appreciate the honesty.
My ask to you this weekend and next week is to "check in" with yourself and throw the game face in the bin. Just be you – at all times.
I bet it will pay dividends for your mental health and to those around you, who may get to know you and understand you that bit better.
Want to join the conversation? Please or to comment on this article.