Why are bookies in Scotland being handicapped by the Government? – Michael Dugher
Punters will be grateful that betting shops are reopening, but with no TVs, no gaming macines and no seats the experience will be very different, writes Michael Dugher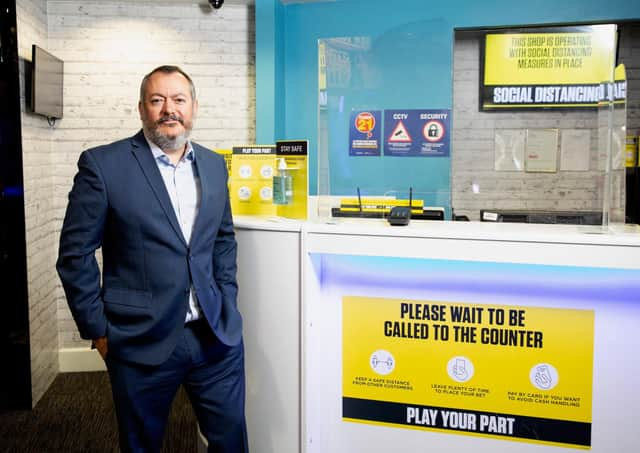 Michael Dugher in a Coral betting shop in London. Bookmakers in Scotland have taken similar social distancing steps, but are subject to tighter restrictions on their operations
After more than three months in lockdown, betting shops in Scotland were finally permitted to open this week.
On the face of it, this is good news for a sector that has been shut down since the end of March. It also ought to be good news for the thousands of Scots who enjoy a visit to the bookies, where they can have a flutter on the horses, the greyhounds or other sports, and where they can have a bet safely and catch up with friends.
But these are tough times for many high street businesses. Unlike all other leisure and hospitality businesses in Scotland and unlike betting shops in England, bookmakers have received no business rates relief or grant support from the Scottish Government, adding to their financial woes.
Those firms are now starting to receive business rates demands, despite generating no income over the past few months. The financial pain is being felt across the sector, but it is particularly acute for smaller independent operators like Scotbet and family-run shops that have been in business for generations.
With lockdown easing, many operators had been looking forward to reopening as quickly and safely as possible.
Sadly, the Scottish Government has dashed any hopes they had. Without any consultation, ministers have imposed a list of punitive conditions that put operators in Scotland at a severe commercial disadvantage and provides customers with a worse experience than those in England and Wales.
Under current rules, betting shops can reopen only for the purpose of placing bets, with no chairs and no televisions showing live races, and all gaming machines switched off.
In all my years of going to betting shops, I have never heard anything so ludicrous. What it means in practice is that a customer in Carlisle can sit down for five minutes and watch a race, whereas ten miles away over the border in Gretna, they'll take the chair away and switch off the telly. I've heard the Scottish Government talk about "standing up for Scotland", but removing chairs in betting shops takes this to a new level.
Of course, we absolutely share the Scottish Government's desire to keep customers and staff safe – that is, and will always be, our top priority – but these conditions are neither necessary nor proportionate. If operators are worried about there being too many people in the shop at any one time, they can limit the numbers who come in, just like they do in other shops and just as supermarkets throughout Scotland have been doing since the lockdown started.
I've seen for myself how betting shops have reopened safely in the other parts of the UK, with measures like "sneeze screens" and extra hand sanitisers, without the need for draconian steps like turning off TVs and taking away chairs.
Operators have also invested heavily to ensure that surface areas and any touch points are cleaned at regular intervals, while reminders to socially distance from other customers are clearly displayed.
It's also ludicrous that self-service terminals are not permitted to be used when their use is permitted and encouraged in many other retail outlets to reduce contact with other customers and staff. If the Scottish Government's desire is to encourage social distancing, this decision makes no sense.
I have been hugely impressed by the significant investment made by our members to ensure that shops can operate in a Covid-safe way without hampering customers' enjoyment of the betting experience. Shops in Scotland should be able to operate in the same way.
Quite apart from the unfairness of these conditions, there is an important social dimension to consider. For many of our customers, particularly our older punters, a trip to the bookies is something to look forward to after three months in lockdown. Yet, the Scottish Government would deny them the right to sit and spend a few moments filling in a betting slip or watching a live race with friends, all sitting apart at a safe distance.
This approach suggests a complete lack of understanding of how betting shops operate.
As yet, we have no idea how long these restrictions will be imposed. There has been no dialogue with an industry that employs around 4,500 people in Scotland.
The impact on Scottish racing also remains to be seen. Racing is particularly popular in Scotland, accounting for around 50 per cent of all revenue generated in betting shops. At a UK level, the horseracing industry receives £350 million a year from betting shops in media rights and levy payments.
If betting shops are denied the right to show live races, that funding will simply dry up, severely impacting Scotland's five racecourses.
It's not too late for the Scottish Government to start a sensible conversation with us about how our members can operate commercially and safely, and we would urge them to do so. The horse hasn't yet bolted.
Michael Dugher is chief executive of The Betting and Gaming Council which represents online betting and gaming, betting shops and casinos.
Want to join the conversation? Please or to comment on this article.