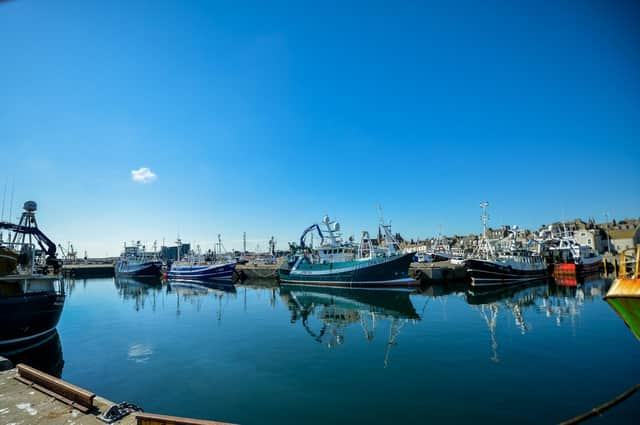 A full Fraserburgh harbour as pretty much all the Scottish fishing fleet are tied up
No Scottish harbour should look like this on a fishing day – the boats should be at sea. However, around a third of the Scottish fishing fleet is currently tied up to reduce fishing effort. Almost all the prawn boats are tied, and the scallop boats too. Some whitefish boats are still at sea, on shorter runs, catching less, ensuring consistent supply for the markets that remain open, but nowhere near a full fleet. In the sunshine, some fishermen work to repair nets, some catch up on maintenance –their business cannot be done online. Each one would rather be fishing – and earning, as men of the sea have done for generations.
Known for its exceptional quality, more than 80 per cent of the fish and seafood landed in Scotland is usually exported to international markets.
With the total catch usually standing at 450,000 tonnes, the 2,000 or so vessels bringing it in are normally packed to the gunnels as they come into the harbours and the bustling fish markets. In regular circumstances, about 360,000 tonnes goes to restaurants and wholesalers across Europe, Asia, the Middle East and the US.
This leaves around 90,000 tonnes which normally stays in the UK market, and mostly finds its way to restaurants, takeaways and hotels where Scottish seafood is a highly-sought-after feature on the menu. The remainder is purchased by the public through retail outlets such as supermarkets and fishmongers. On the face of it, it sounds like we really don't eat much seafood in the UK, doesn't it?
We love seafood and buy a lot of it. However, most of this is imported; 60 per cent of the seafood we eat in the UK is brought in from abroad, usually coming in on ferries from Norway. That route is still open. So as a consumer, if you bought seafood in your last essential shop there is a strong possibility it wasn't Scottish.
But fear not, as seafood origins must be clearly labelled by law, so it will be easy to check next time. Because besides the fishermen themselves, there are thousands of people in Scotland – whole families and entire communities – that rely on Scottish seafood for a living. They are the processors, packers, transporters, wholesalers, and retailers, and they're all facing severe economic hardship at the moment – as are many of us.
If consumers demand it, the sector can catch it, process it, and make it available for Scottish consumers. It's time to Eat Local, Buy Scottish.
There are a few reasons why we don't, and I hope to change these.
Last week, I wrote to the chief executives of the major supermarkets asking for their fish counters to be opened back up.
Why? The supermarkets are the main route for the fishing sector to get fresh fish to consumers, and by blocking this route to market, they are contributing to the suffering of a centuries-old industry in Scotland.
They are also denying their customers access to fresh, healthy, local and sustainable food source rich in the vitamins and minerals that we could all do with right now.
Well done Morrisons for opening your wet fish counters – let's hope your counterparts do the same. Outwith the giant supermarkets, many fishing businesses are selling directly to the public, and most people across Scotland will be able to find someone online that delivers straight to the door, providing another opportunity to get your hands on fresh haddock, lemon sole, monkfish, salmon, or perhaps megrim?
We are the third largest seafood producer in Europe, and thanks to the Gulf Stream, there are more than 65 varieties landed here, meaning there is something for everyone.
Secondly, there is an enduring myth that seafood is hard to cook.
Any fishmonger will prepare a piece of fish ready to cook for you, and many recipes are amazingly simple – some herbs, a squeeze of lemon and about 10 minutes later you're done.
Yes, there are more complicated ways to cook seafood, but mastering the basics is pretty easy.
For the first time in a generation, we have an abundance of our own Scottish seafood staying right here, and while the home market will not replace the business done in international markets – many companies are doing less than 25% of their usual business at the moment – it's a start, and the industry is hugely appreciative of the support Scottish consumers have shown them already.
It is the start of a sea change for the sector, and I suspect more of the catch will make its way to the home market in future if the demand is there. We all have a part to play in making that happen.
Donna Fordyce is Head of Seafood Scotland