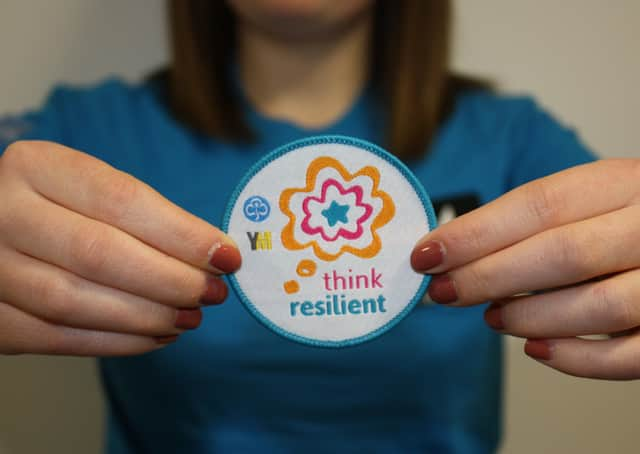 Girlguiding's Think Resilient resource is packed with advice on coping with stress
Be kind – that's the theme of this Mental Health Awareness Week, and this message couldn't be more relevant right now. As the world tackles the coronavirus pandemic, it's important that we're all taking the right steps to look after our mental health and how we treat others during this time plays a big role in how we think and feel.
The kindness we're seeing in our communities is keeping us close and getting us through those days when we're struggling. The knowledge that communities are coming together to overcome these difficult times makes the tougher day easier to get through. And young people have played a big part in this effort, including lots of Girlguiding members from across Scotland.
Girls and young women have been sending letters to care homes, fundraising for key workers and delivering shopping to those in need, while also dealing with the fact that their own lives have been turned upside down. That's why it's so important that we're aware of how young people are thinking and feeling, and how best we can support them during these difficult times.
Abbie Wright, age 18, is a Member of the Scottish Youth Parliament for Girlguiding Scotland and a Leader with 1st Portlethen Brownies.
The Lockdown Lowdown survey, created by the Scottish Youth Parliament, YouthLink and Young Scot, tells us what young people are worried about when it comes to the Covid-19 pandemic. Concerns surrounding exams and coursework, and how their future will be impacted were among the biggest sources of worry. Many also feel anxious and worried about not knowing when life will return to normal. Most concerning of all is the fact that 40 per cent said they aren't entirely sure how and where they can access information on mental health.
It's crucial that young people know where to turn and there is lots of support still available during lockdown including helplines like The Mix and Childline. There's a selection of resources available online too such as Mind Yer Time, developed by the Scottish Youth Parliament to offer guidance on the healthy use of social media and screen time. Girlguiding's Think Resilient resource is also packed with advice on coping with stress and there are tips on how to boost your mental wellbeing available on the Girlguiding Scotland Guiding at Hame hub. Or if podcasts more your thing then check out the 'Keep CAMHS and Carry On' series by CAMHS Grampian which features their clinicians talking about different ways to cope in these uncertain times. Lockdown is also causing a lot of children and young people to feel isolated and lonely – because they're unable to see their friends or attend school. Girlguiding Scotland's Girls in Scotland 2018 research found that 67 per cent of girls aged seven-25 said spending time with friends was a something they did to relax or feel good. Now we're less able to do these things there are big concerns about the effect it's having on the mental health of girls and young women.
With this in mind, Girlguiding Scotland is keeping girls and young women connected with the new Guiding at Hame Challenge, and anyone can take part. There are loads of activities to try at home which tie in with the Girlguiding programme, and there's even the chance to earn the brand new Guiding at Hame badge. So while we can't meet face this is a great new way to stay connected.
It's up to all of us to be responsible for the wellbeing of children and young people, and even just acknowledging their experiences is a big step. It's been refreshing to see First Minister Nicola Sturgeon take the concerns of children and young people in Scotland seriously by hosting Q&A sessions specifically for them, and it's something I'd like to see more world leaders do. Her message thanking children and young people for sticking with the lockdown rules and pointing out how brilliantly they've handled the situation was heart-warming. This sort of kindness, and being kind, can help protect our mental health and how we cope with the Coronavirus crisis.
My message to girls and young people during mental health awareness week is that everyone has mental health, sometimes it's good and sometimes it's bad. We can support each other by staying connected and a quick phone call to ask someone how they are can make a huge difference. Remember to always take care of yourself and most of all, be kind to yourself and to others.
Abbie Wright, age 18, is a Member of the Scottish Youth Parliament for Girlguiding Scotland and a Leader with 1st Portlethen Brownies.