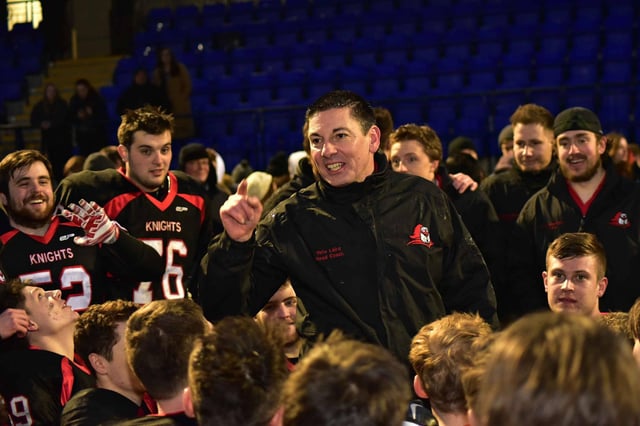 Pete Laird, Programme Leader for Sports Coaching at Edinburgh Napier University
That's why we at Edinburgh Napier are thrilled by the way our American Football team has successfully engaged with the areas of the city within field goal range of our Sighthill campus.
The Edinburgh Napier Knights Youth team was set up in 2017, and student athletes working under my supervision started coaching the sport in the Sighthill/Broomhouse area. Fast forward three years and the initiative is now bearing fruit. As of last month, seven of the locally-recruited youth team are themselves progressing into further or higher education, with five of the prospective students choosing to enrol at Edinburgh Napier itself.
Sporting activity can positively affect attitudes and academic achievement, with the benefits including enhanced concentration, attention and improved classroom behaviour – something I have seen first-hand through my work with various age groups at Edinburgh Napier.
Studies have also shown that high school students who participate in organised sports are more likely than non-athletes to attend university and gain degree qualifications.
Our American Football youth team was set up for high school children between the ages of 11 and 19, operating every Saturday morning and coached and run entirely by students and graduates from Edinburgh Napier who have undertaken coaching awards.
The focus is about trying to give something back by working with children in our local area, to promote health and wellbeing, to teach the skills and techniques of the sport and the ethos and values of commitment and teamwork.
Through this initiative we continue to deliver a sports programme in an area recognised on the Scottish Index of Multiple Deprivation (SIMD) as being ranked in the top 20 per cent of Scotland as Most Deprived (ranked 1234th), working with school-age children with no previous aspiration of going to university (ranked 846th and in lowest 20 per cent domain for Education and Skills, SIMD 2020).
Through the youth team, our student coaches are working enthusiastically not only to teach a sport they love to a younger generation, but also to educate their participants about the benefits of physical activity and the opportunities that are available to them through education – so it's wonderful to see the youngsters following in their footsteps.
The use of 'near peers' to emphasise the message has clearly had an influential affect. Luke Colvin, a new Sports & Exercise Science student, reported that: "American Football was a major part in my decision to go to Edinburgh Napier. All of my coaches from the youth team went to Napier. They spoke highly about university and it had an influence in my decision. They helped me source the course that suited me."
Our current Freshers group all report that sport has provided them with higher levels of attention and focus. Physical activity can impact on mood and work performance, meaning athletes may be more willing and capable of tackling that next big problem. Team sports also appear to help with emotional development.
Robbie Wales, the first member of his family to attend university and an incoming first year studying Physical Activity and Health at Edinburgh Napier, said: "I don't think I would have gone to university without sport. Without it I wouldn't be as motivated to work hard in other parts of my life."
The Youth American Football team has underlined the immense enjoyment and satisfaction that involvement in team sport brings, but the benefits have been on both sides.
Our student coaches have improved their communication and coaching skills, and gained valuable volunteer experiences. Our youth players have learnt new skills, improved their confidence, motor skills and their cognitive ability, and are now widening their career and education prospects whilst having a lot of fun along the way.
Pete Laird, Programme Leader for Sports Coaching at Edinburgh Napier University