The parliament's business manager, George Adam, when outlining his government's plans for electoral reform earlier this week, told MSPs that an influx of teenagers could "possibly change the vibrancy of this place". He's right. A horde of giggling 16-year-olds, dressed in their best H&M basics, TikToking their way through First Minister's Questions would certainly change the vibe, but perhaps not in the way Mr Adam, not the most electrifying of politicians, envisages.
And yet there he was on Wednesday afternoon, a government minister in his best suit discussing the possibility of children – sorry, young adults – becoming law-makers, as if it was his government's most rational suggestion since it asserted men could become women simply by filling in a form. There are far too many sensible reasons why 16-year-olds should not become MSPs to list them all here, but on the off-chance that Mr Adam (or more likely his press officer) reads this column, here are a few.
Most are still in school or college. Is the government seriously suggesting that they should ditch their Advance Highers or City and Guilds for a place on the backbenches? The £66,000-a-year salary is certainly more attractive than a minimum-wage weekend job stacking supermarket shelves, but the long-term career prospects are probably not as good as a trade apprenticeship.
The safeguarding implications of a 16-year-old girl, alone in Edinburgh for three nights a week, pursued by journalists hungry for a story and by lobbyists desperate for her to ask a parliamentary question, are significant. What parent would want their child to be marooned in Holyrood at the mercy of party whips?
And one of the most important, yet barely noticed, responsibilities of an MSP is dealing with constituents' problems. These can range in complexity and sensitivity from a complaint about a routine planning notice to a child custody battle. If you were a distraught woman who had been raped but the justice system had failed you, would you really entrust a 17-year-old boy with your story?
No doubt veteran MSPs, like the Scottish Greens' earnest Ross Greer – who still holds the record for being the youngest member, elected at only 21 years old – will argue that young people have a lot to offer the parliament. He certainly thinks he does.
But even a cursory glance at our young parliamentarians in Holyrood and Westminster, such as Emma Roddick MSP (elected at 23) and Mhairi Black MP (20 years and 237 days), suggests that their youthful concerns do not always reflect those of the electorate at large.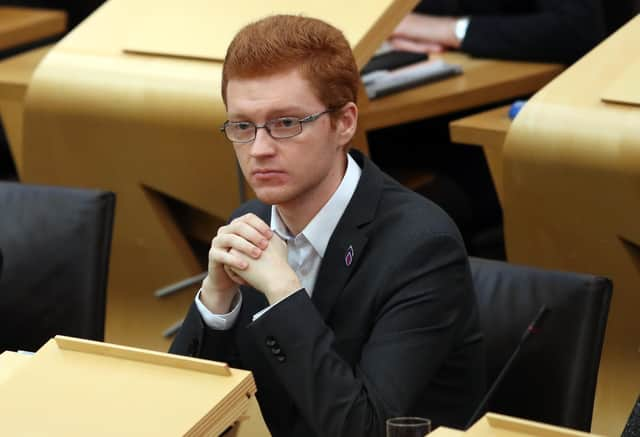 Black, in particular, is skilled at grabbing the headlines, good and bad, but does she have the real-life experience and expertise to make her a competent law-maker or an empathetic representative? I would argue not.
Indeed, when I listen to her or Greer I am reminded of the wise words of Robbie Williams – yes, that famous political scientist and entertainer, Robbie Williams – who said recently that he stopped maturing at the age he became famous. "I'm a 17-year-old middle-aged man," he quipped, only half-joking.
And I am only half-joking when I say that Ross Greer and Mhairi Black will be forever young politicians, concerned more with their own youthful causes than the problems faced by harried young parents or vulnerable pensioners – the country's fastest-growing demographic. In ten years' time, the number of over-60s will have gone up by 50 per cent. Ross Greer will still be in his 30s.
The SNP's suggestion that secondary school students could become MSPs is unlikely to become law, but it does tell us something about the political culture of Scotland as devolution approaches its 25th anniversary. As former senior civil servant turned independent policy analyst, Lucy Hunter Blackburn, said on Twitter this week that the idea of 16-year-old MSPs "tells us... that being [an] MSP is thought of by some as an extension of student politics, rather than a hefty complex task of representative democracy and scrutiny of government".
As is her professional trademark, she got right to the heart of the matter. Our parliament and our political culture, once dominated by mature adults like Johann Lamont, Margo MacDonald and Annabel Goldie, is now in thrall to the under-25s.
Politicians, from the First Minister down, look to young people for validation and votes. Slogans and social media have replaced serious policy-making. And the difficult job of delivering change – whether it's closing the educational attainment gap or fixing the NHS – has been ditched in favour of fashionable causes. It's far easier to celebrate LGBT History Month by raising a few flags than to make sure winter heating grants for the most vulnerable Scots are paid on time.
Indeed, our political culture has become so degraded that at least one government minister feels free to act like a teenage bully on social media. Earlier this week, the equalities minister, Christina McKelvie, shared details of a counter-protest against a women's rally to be held in Glasgow tomorrow.
Be in no doubt, the minister – who is responsible for women's rights – knew exactly what she was doing. She was encouraging a clash between two groups of people with wildly differing views on trans ideology. It's the stuff of Mean Girls.
Imagine the outcry if the UK's women's minister, Kemi Badenoch, had done this. At the very least, there would have been questions in parliament about her fitness for office. In Scotland, MSPs remain silent about McKelvie's incendiary tactics.
Perhaps, on reflection, the prospect of teenagers in Holyrood isn't that ridiculous. They could hardly be any more childish than some of the current incumbents.