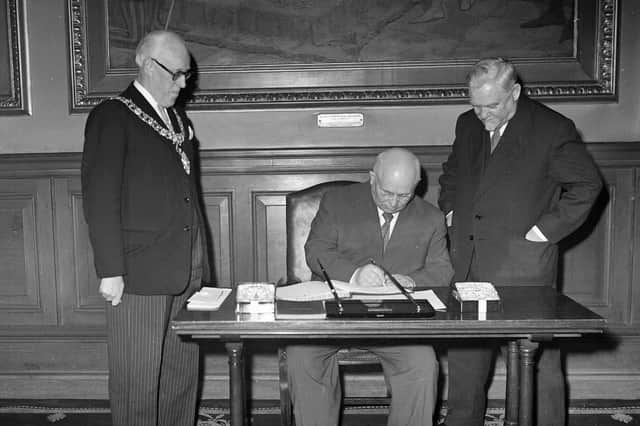 Nikita Khrushchev, seen seated during a 1956 visit to Edinburgh City Chambers with the USSR's Prime Minister, Nikolai Bulganin, was regarded as a liberal reformer, at least relative to other Soviet Communist leaders
They've grown in scale since I first ventured decades ago but they're still an important part of a political party's calendar. Allowing both for policy debate and socialising, with the latter sometimes being just as important as the former. But an online conference denies that which's a shame but understandable in the times we live in.
What's more surprising though have been the complaints by some leadership figures about the organisation being carried out for it by some internal party groups and slates being run for office bearer positions. Perish the thought, it seems, of such activity in a political party.
But that's rank hypocrisy. Firstly, it's been ongoing for some time but has been carried out by party HQ and the current leadership. Everything from explicit endorsement to financial support has been given to anointed ones. What's fine for them is surely legitimate for others.
Secondly, it also assumes that everything's fine and any deviation from the official party line is, as they put it, "factionalism". It assumes that such behaviour is almost "just not cricket".
But this is the SNP not the Communist Party of the Soviet Union or any of its satellite parties. Democratic centralism doesn't apply – that was the euphemism for limited debate but then ruthless central diktat.
The SNP is a democratic party and there's anger over many issues within the membership ranks and debate's required. Much of this seems driven by fear of open debate and hence it's being labelled almost as dissent. Carried out appropriately, it can be cathartic. Refuse to have it and it'll fester and damage the cause.
But thirdly, it's what political parties are about. For sure, some just join one almost as a declaration of faith, showing willing but wanting little more to do with it. In truth, that's probably most members in every major party but keeping them informed and allowing them to participate is still important. Any political party which ignores them will eventually pay a heavy price.
However, there's a significant section who join and do wish to be active not just in their community but within the party itself. That's understandable and it's their right, it's what drives them and made them choose this party for their considerable efforts. It's not a fan club where debate is non-existent, but snippets and messages are liberally dispensed.
Discussion and organisation are what political parties do. As is often said, they're "broad churches". Activism is sought and political debate goes with the turf, with organisation naturally following on from that. This isn't entryism as practiced by Militant Tendency but a reflection of the SNP's size. Such is its scale that much of Scottish political debate naturally goes on within it and it's healthy.
That any politician would reject that is gobsmacking and indicative of a fear of grassroots activism.
A message from the Editor:
Thank you for reading this article. We're more reliant on your support than ever as the shift in consumer habits brought about by coronavirus impacts our advertisers.
If you haven't already, please consider supporting our trusted, fact-checked journalism by taking out a digital subscription.