Sir Paul McCartney provides the perfect antidote to 2020 - Euan McColm
Back in spring, as the first coronavirus lockdown ground slowly on, the singer Tim Burgess had a simple idea that he thought might lift the spirits of those missing the thrill of live music.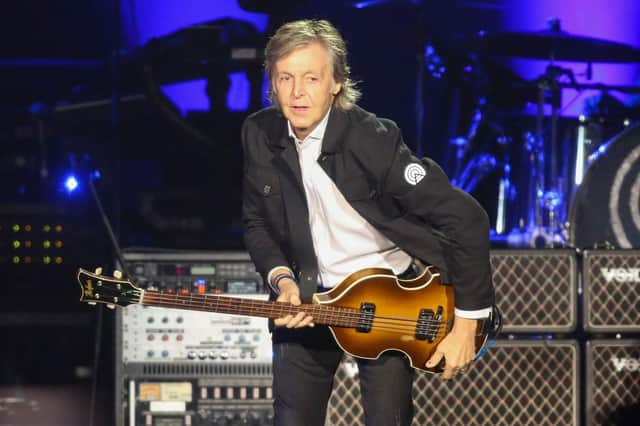 Paul McCartney in concert at Dodger Stadium, Los Angeles, in July 2019
A prodigious user of Twitter, Burgess wondered if fans might be interested in getting together online to listen to favourite albums. Performers would join in, answering questions and offering anecdotes about writing and recording and, perhaps, this communion would go some way towards compensating for the cancellation of gigs.
And so, on Monday March 23, Tim's Twitter Listening Party was born. Appropriately, the first album to feature was "Some Friendly", the 1990 debut by Burgess's band, The Charlatans. Participants were invited to press play at the same time and off they went, musicians and fans together, on a journey into music that meant so much to them.
What began as an exercise in thinking out loud on Twitter rapidly developed into something of a phenomenon. Bands queued up to participate. To date, there have been more than 600 listening parties featuring everyone from the biggest household names to the newest kids on the block. A highlight of my year was when Burgess invited a band I play with, Fat Cops, to take part.
Burgess is not the only singer to have made good use of his time during lockdown. Sir Paul McCartney dusted off some half finished songs, added some new ones to the mix, and produced the rather brilliant album, "McCartney III".
Last Monday, following in the footsteps of Fat Cops, Sir Paul became the latest musician to host one of Tim's Twitter Listening Parties. And what a joyous occasion it was. Sir Paul led us through the creation of a record he hadn't planned to make and he did so with all the enthusiasm of any fan. On this track, he played an upright bass that had belonged to Bill Black when he toured with Elvis Presley, on that one he played a harmonium from Abbey Road, and - since he remains a hippy at heart - here was a song inspired by the movements of the planets and the moon.
It is difficult to think of a more significant figure in Britain's cultural life than Sir Paul McCartney. Had his career ended with the break-up of The Beatles in 1970, his place in history would have been assured. That he has been a household name for almost 60 years speaks to his incredible talent.
Tiresome music bores are fond of making the argument that, really, John Lennon was the talent behind The Beatles. This is exhausting for a number of reasons, not least because it creates an entirely unnecessary competition between two of the greatest songwriters in the history of popular music.
The argument also overlooks the fact that Sir Paul's back catalogue reveals an extraordinarily inquisitive creativity. Here is an artist as comfortable playing with elements of traditional music hall as he is exploring the outer reaches of the avant garde.
Look at any period of Sir Paul's career and you'll see the most remarkable diversity. The journey from the kitchen-sink sadness of "Eleanor Rigby" in 1966, past the proto-heavy metal of "Helter Skelter" just two years later, on to the fuzzy sentimentality of "Mull of Kintyre" in '78, before bouncing through the bubbling electro-pop of "Temporary Secretary" in '80 on the way to the slick soul of "Say Say Say" three years after that is absolutely dizzying. "McCartney III" tells us, loudly and clearly, that Sir Paul still hasn't run out of ideas.
How different our musical landscape would look if Sir Paul McCartney hadn't picked up a guitar as a teenager and learned the skiffle songs that paved the way for rock 'n' roll. His influence is incalculable.
And, so, it was not only a pleasure to follow his listening party last week, it felt right that Tim Burgess had made it possible for us to tell this giant of the music world just how much he means to anyone who ever dropped the needle on a pop single or bought a ticket to a concert.
I've written in the past year about how difficult I've found periods of lockdown, about my anxiety and sleeplessness and it's been a comfort to hear from so many readers who feel the same. The sense that one is not alone is a powerful thing.
Tim Burgess has performed a great service in this regard. His listening parties are far more than opportunities to relive our memories of favourite records, they are shared experiences that connect us to others even when the law keeps us physically separated.
If you've not yet participated in a listening party, there's a website - timstwitterlisteningparty.com - where every one is archived. It is a treasure trove of joy, a rare corner of the internet where cynicism and snark is defeated by enthusiasm and optimism. And, goodness knows, we need those things right now.
You could do a lot worse than to start with last Monday's listening party. If you don't find something on "McCartney III" to make you smile, then I don't know about you, I really don't.
When next you and I meet, we'll have said goodbye to this damnable year. Let's hope 2021 is more to our liking. Meanwhile, thanks to Tim Burgess, to Sir Paul McCartney, and to everyone else who helped made Tim's Twitter Listening Party a sunlit oasis during some of the darkest of days.