Scottish arts sector needs support to flourish in new world - Claire Baker
Summer in Scotland usually offers a cultural vibrancy unmatched anywhere else in the world. Festival season brings alive the capital city and welcomes tourists from every corner of the globe to take part in the world's most famous creative celebration.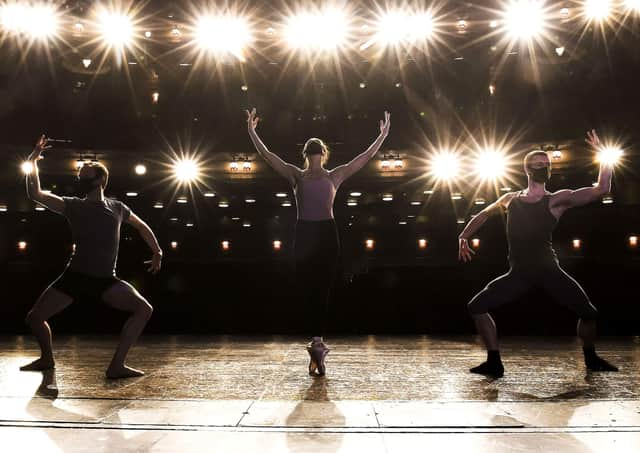 The capital's theatres – usually packed at this time of year for theatre, dance, music and comedy perormances – are silent. Picture: Lisa Ferguson
But this year the streets will be hauntingly quiet in comparison to the usual carnival atmosphere. Throughout the world theatres remain closed, productions cancelled, rehearsals postponed, and livelihoods under threat – and Scotland is no exception.
The outlook for Christmas doesn't appear to be any more positive, with venues and companies already taking the difficult decision to cancel their festive productions.
For many, these shows are their lifelines for financing the remainder of the year. The optimists in all of us have hope that spring 2021 will offer some recovery, but that depends not only on the virus being contained, but our creative industries surviving to tell the tale.
I have been calling on the Scottish Government and UK Government to offer direct funding to the cultural sector to safeguard jobs, companies, organisations and venues.
Thankfully, they have listened, offering a combined package of £107 million (£10m from the Scottish Government and £97m from the UK Government). While this is a significant amount of money, the need is arguably bigger than any threat the arts have faced in modern history.
That is why Scottish Labour has called for the continuation of the job retention scheme, an extension of the self-employed income support scheme, and a new quality jobs guarantee scheme. For we face a cliff edge in autumn once support for individuals' incomes is withdrawn.
Specific cultural sub-sectors on the brink – grassroots music venues, museums and galleries, theatres, and live events – have been offered much-needed support.
But this piecemeal approach displays a distinct lack of strategy, and leaves other parts of our cultural sector behind. We should not be pitting different parts of the sector against each other for a slice of the pie, with no overall plan from Government.
There is £80m of additional support that is still to be allocated. I am glad the Scottish Government has committed these resources to culture, but as well as stabilising the industry, funds must be committed in a way which is smart, fair and sustainable – creating jobs for good.
Equally crucial is job retention: all organisations benefiting from government crisis funding should be required to rule out redundancies for the duration of the support package.
And we must be more imaginative. As schools return, the creative sector is uniquely placed to support local authorities.
The Scottish Government-commissioned Higgins report calls for a National Arts Force, but ministers have still not set out how they will take this forward.
With a predicted increased demand on Child and Adolescent Mental Health Services, social prescribing should play a pivotal role in supporting young people. So we should consider reopening dance schools and other creative activities. Access to the arts is proven to improve mental health, increase confidence and encourage participation. At a time when many talented freelancers have spare capacity, we should not let it go to waste.
Creative Scotland might be the vehicle for distributing the remaining funds, but we must recognise many of our most valuable cultural assets are owned and controlled locally through our councils. We must consider devolving more of the decision making and funds to be invested into communities as part of the recovery process.
"In the dark times, will there also be singing?
Yes, there will also be singing.
These words, written by Bertolt Brecht on the edge of another global crisis in 1939, take us to the very heart of why our arts must not simply survive, but flourish once again. Many artists are speaking of how the current experience has changed their perspective, and there is much creativity that is ready to bloom.
So there can be no return to business as usual. In the economic crisis ahead, some will portray the arts as a luxury unworthy of public support.
But our creative industries can help us reboot society: not only do they support vast numbers of jobs and deliver a huge economic return, but they are the lifeblood of a civilised society.
Public investment is welcome and vital – but it must be followed up with continued support for a sector that must be sustainable in the long term and accessible to all.
Claire Baker is Scottish Labour 
culture and external affairs spokesperson
Want to join the conversation? Please or to comment on this article.