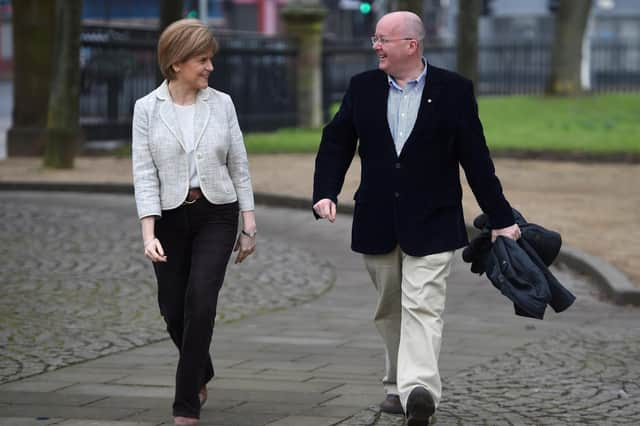 But a lie, nonetheless, one that is noteworthy for its brazenness, and worrying for its proximity to a process to elect a new party leader, and First Minister of Scotland.
Before every election, it is normally clear who will be voting. Yet, when Nicola Sturgeon resigned, the SNP wouldn't say how many members would be voting on her replacement.
A reporter for the Sunday Mail discovered 30,000 people had left the SNP in around two years. When the newspaper ran the story on February 12, both it and the reporter came under immediate, sustained attack from the SNP party machine.
Murray Foote, the party's communications chief in Holyrood, took to Twitter to describe the Sunday Mail's reporting as "drivel", appending the hashtag "#TartanBollocks" to his message.
"The 30,000 figure that was reported is not just flat wrong, it's wrong by about 30,000," an "SNP source" told The National.
The source continued: "This story is both malicious and wholly inaccurate. Fortunately, few people are gullible enough to believe it".
A little more than a month later, Mr Foote has rightly resigned for his role - unwitting, he said last night - in the tarring of the Sunday Mail's legitimate, and accurate, reporting. The SNP issued a statement claiming it was trying to answer "a specific question about loss of members as a direct result of the GRR Bill and Indyref2". Few believe that.
What of the other protagonists, playing central roles in this floundering attempt to elect a new First Minister? What of Michael Russell, President of the SNP since November 2020, who said only this week the row over membership figures would aid the SNP's "enemies"?
What of Peter Murrell, husband of Nicola Sturgeon, who has presided over the SNP's operations since 1999, and who must - following any normal understanding of an chief executive's position - be held responsible for the entire fiasco, from falling membership to attempted cover-up?
Both men should, of course, follow Mr Foote's lead, and get out of Scottish public life as quickly as possible. Only then can the SNP start to rebuild its credibility after this damaging fiasco.