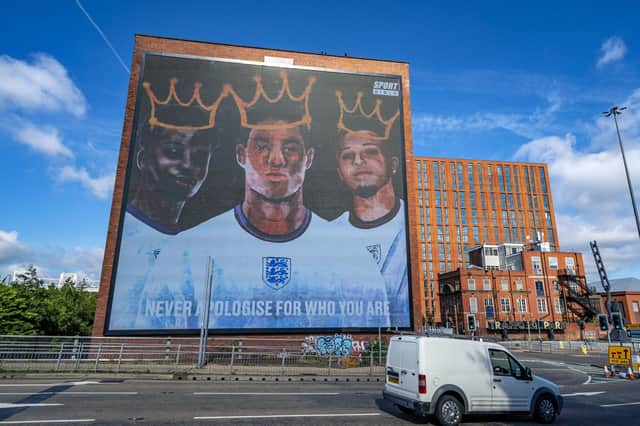 A mural of England players Marcus Rashford, Jadon Sancho and Bukayo Saka in Manchester after they were subjected to racist abuse (Picture: Peter Byrne/PA Wire)
However, the true explanation is likely to be that most of the racists already existed, but just lacked a platform upon which to express their odious views.
Social media changed that by enabling them to hurl abuse from behind the cloak of anonymity. This may have emboldened like-minded others who were previously silent and won some converts to the cause of irrational prejudice and hate.
But the reality is that Twitter and co have held up a mirror to our society and shown anyone willing to look just how racist this country actually is. Attitudes that ethnic minorities and anti-racism campaigners have spoken about for years are now regularly on public display and on an alarming scale.
Of course, no one should be patting social media firms on the back. They may have 'helped' highlight racism in society but they are also quite clearly complicit with those actively adding fuel to the fire by giving them the oxygen of publicity.
The birth of the internet has caused an information revolution comparable to the invention of the printing press. The latter enabled publishers to reach a mass audience. Now everyone in the world with a computer and an internet connection can be a publisher.
This is bound to cause considerable upheaval, both good and bad, and it will take time for society to catch up with what is still a relatively new phenomenon.
Thankfully, Boris Johnson's pledge to ban people from attending football matches if they racially abuse players online is one sign that we are starting to treat this issue with the seriousness it deserves.
Just like England, Scotland has a problem with racism. But, regrettably, this country is also home to another form of prejudice that has found a home within some sections of the football world and on social media – sectarianism.
So the Scottish government has even more reasons to be looking to further strengthen the rule of law online, with anonymity being one of the key issues. People are accountable for their words and actions in the real world and there is no reason why the same should not be true in the virtual one.
A message from the Editor:
Thank you for reading this article. We're more reliant on your support than ever as the shift in consumer habits brought about by coronavirus impacts our advertisers.
If you haven't already, please consider supporting our trusted, fact-checked journalism by taking out a digital subscription.