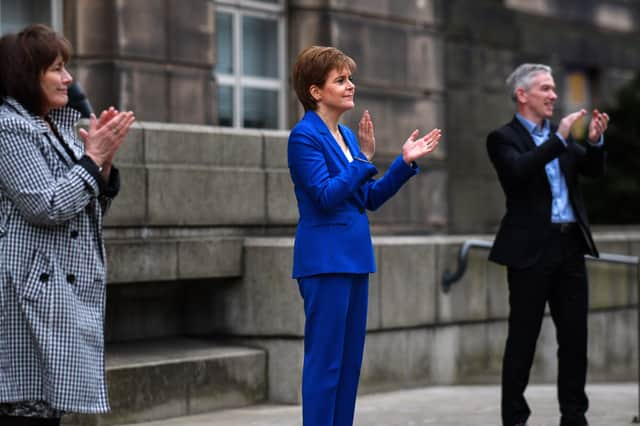 EDINBURGH, SCOTLAND - APRIL 16: First Minister Nicola Sturgeon shows her appreciation during the weekly tribute thanks to NHS and key workers throughout the coronavirus outbreak, along with Interim Chief Medical officer Gregor Smith (R) Health Secretary Jeane Freeman and Malcolm Wright Director-General for Health and Social Care and Chief Executive of NHS Scotland at St Andrews House on April 16, 2020 in Edinburgh, United Kingdom. Following the success of the "Clap for Our Carers" campaign, members of the public are being encouraged to applaud NHS staff and other key workers from their homes at 8pm every Thursday. The Coronavirus (COVID-19) pandemic has infected over 2 million people across the world, claiming at least 13,729 lives in the U.K. (Photo by Jeff J Mitchell/Getty Images)
As we tentatively begin to emerge from the dark shadow of the pandemic, governments at Westminster and Holyrood have turned their focus to rebuilding our economies and societies. Grand, alluring promises about building back better have been made.
Meanwhile, the people whom we all clapped so hard for are quietly fading back into the shadows. And many are sinking deeper into poverty.
We cannot allow this to happen. We cannot allow our political leaders to promise a better future while repeating the mistakes of the past. A just, green recovery from covid must have carers at its heart.
Jamie Livingstone, Head of Oxfam Scotland
Before the pandemic, people whose job it is to look after someone else, whether at work or at home, were likely to live in poverty. They were also almost all women.
As Oxfam knows, across the world, paid and underpaid care work is disproportionately delivered by women and girls, especially those from groups who, as well as gender discrimination, experience discrimination based on ethnicity, nationality and age. Here in the UK, including in Scotland, women on average carry out 60 per cent more unpaid care work than men. In Scotland, women also make up 96 per cent of the paid childcare workforce and 86 per cent of the care home workforce; both sectors are characterised by low-pay and poor conditions.
This unequal distribution of care, as well as the under-valuing of it, impacts women throughout their lives. It perpetuates gender and economic inequalities, undermines their health and wellbeing, limits their economic prosperity, fuels gender gaps in employment and wages and amplifies existing vulnerabilities. Women have less time to pursue paid work and career progression; making them more likely to have part-time or precarious work, earn less and be more likely to live in poverty and be poorer as they get older.
It's clear that poverty is too often the direct consequence of caring. While the context and solutions vary for people providing different types of care, there are two core truths: all care is under-valued, and women are impacted most by this. We can do better.
The Scottish Government has made welcome policy and funding commitments, before and during the pandemic; with those with caring responsibilities in Scotland benefiting from some additional financial protections compared to those in other parts of the UK. This cannot be the limit of our ambition.
Making care work the visible and valued engine of a new wellbeing economy in Scotland requires more money to be invested. A dedicated care, or social care, tax or levy in Scotland – focused on taxing high incomes or wealth – could help fund a transformation in the way we value and fund the social care system in Scotland, while generating the resources needed to protect unpaid carers from poverty.
And it's not just the right thing to do, it would also help tackle poverty, gender inequality and build the greener future that our governments say they aspire to. Research by the Women's Budget Group found that investing in care would be more effective in generating jobs than a lengthy programme of construction projects, while supporting efforts to narrow the gender employment gap.
The window for making meaningful and long-lasting change is unlikely to stay open for long. The Scottish Government is currently considering the recommendations of its Advisory Group on Economic Recovery. While, positively, the Group calls for faster reform of adult social care, including to improve the quality of work, there is a worrying lack of focus on unpaid care. We will fail to deliver the "national renewal" the Group seeks without a step change in how we value all care.
The solidarity people have shown with carers and other key workers during the coronavirus crisis cannot become a footnote of history; it must be a catalyst for change. We must create a positive legacy from the appalling human suffering this pandemic has created. To achieve this, we must listen to carers, and then we must act to truly build back better, through a just, green and caring recovery.
We must, together, make care count in Scotland.
Jamie Livingstone, Head of Oxfam Scotland