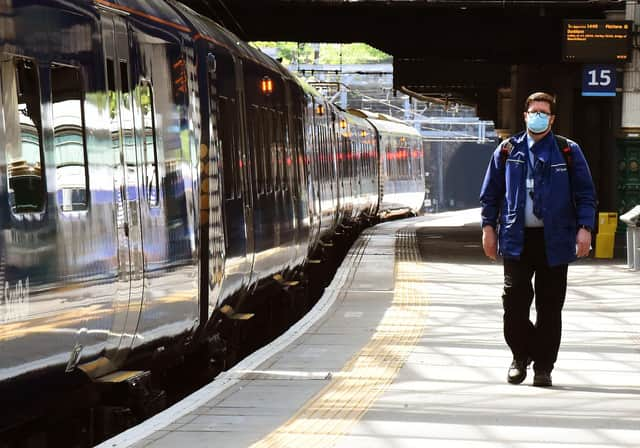 The ultimate responsibility for ensuring safety on the railways over Christmas will lie with the passengers. Picture: Lisa Ferguson
Whatever one's view, it is clear there will be significantly more strain on the rail network than it has had to cope with since the beginning of lockdown. Services currently operating at a fraction of capacity are likely to face a surge in demand in the days immediately before and after Christmas Day.
With that in mind, the RMT rail union has called for police to enforce passenger limits and the introduction of higher penalties for those not adhering to social distancing rules.
Yes, there are steps the authorities can take to try to avert overcrowding. RMT general secretary Mick Cash has called for urgent talks with Network Rail chairman Sir Peter Hendy and stressed the importance of "early action" to limit passenger numbers and ensure those numbers are well known by those seeking to use the railways over the festive period.
Mr Cash has also called for "increased police enforcement" as policing the railways is - rightly - the role of the British Transport Police. Railway staff are few enough in number and have enough to do in ensuring the trains run properly without taking on this extra role.
But British Transport Police are limited in number too. With only around 200 officers in Scotland, the force cannot be expected to monitor every carriage to ensure rules are being followed.
The primary responsibility for keeping the railways safe this Christmas must lie squarely with the passengers themselves. Just as in any other public space during the course of this pandemic, the most important factor will be the willingness of citizens to make basic allowances to protect both themselves and those around them.
And perhaps the most fundamental decision we will have to make is whether it is really necessary to use the railways at all.​​​​​​​