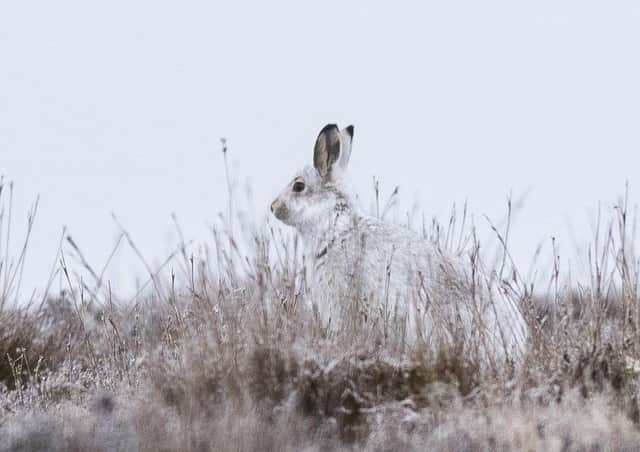 Mountain hares occur at greater densities in Scotland than anywhere else in Europe (Picture: Phil Wilkinson)
Throughout their European range, mountain hares are threatened by climate change and competition with brown hares. But in Scotland, they occur at greater densities than anywhere else in Europe. Also, their densities on Scottish grouse moors are up to 35 times greater than on moorland not managed for grouse shooting.
In 2018 the Game & Wildlife Conservation Trust with SGA and Scottish Land & Estates, held a member survey to collect the most up-to-date information on mountain hare distribution in Scotland. Subsequently, a new species distribution map for Scotland was published in Wildlife Biology. This is the most extensive survey yet and enables us to assess 20-year changes to our mountain hare range.
Almost all the UK's mountain hares are found in Scotland with higher numbers linked to grouse shooting, where they benefit from heather management and predator control by gamekeepers. Traditionally hunted on Scottish moorland, and culled to protect habitat, young forest and sensitive sites, they are also culled on grouse moors to prevent spread of louping ill, a virus harmful to sheep and red grouse. These culls have raised questions about the potential impact on hare populations.
As a consequence, the Scottish Parliament has banned culling of mountain hares except under licence under the new Animals and Wildlife Bill to be implemented from 2021, or when an agreed licensing scheme is in place, despite compelling evidence for the positive association between grouse moor management and mountain hares provided by GWCT science.
Our latest research, based on data from 2016/17, builds on previous GWCT surveys (2006/07 and 1995/96) to help inform mountain hare conservation status, allowing us to identify where their range has expanded or contracted over the last two decades in relation to management for grouse shooting, and examine relationships between mountain hare culling and changes in range.
We found no net change in area occupied over the 20-year period but changes in range between regions and sites of differing grouse management intensity. Range contractions in S Scotland contrasted with no change in NE Scotland. In NW Scotland range expanded by 61 per cent where there was driven grouse shooting but declined 57 per cent in walked up grouse shooting areas, remaining low/stable in areas with no grouse shooting. We found no relationship between culling and contractions in range. Instead, changes in range may be attributed to other factors – moorland habitat loss through afforestation, overgrazing by sheep, or changes to predator management.
It is important to continue to monitor mountain hares on an ongoing basis. Lamping at night remains the only reliable count method, particularly on moorland, where terrain is more suitable. However, producing robust estimates across all Scotland remains difficult as there is as yet no conclusion about how to count hares outside managed moorland where rugged terrain makes this challenging and dangerous to do at night.
GWCT is promoting the SNH approved night-time counting methodology being adopted by moorland managers and gamekeepers to monitor hare populations on their ground. We have now trained more than 100 land managers and helped establish more than 80 count sites across upland Scotland. Because of the decision to give mountain hares greater protection it's important that monitoring continues as an essential part of conservation management on our moorland and is implemented in other areas of our mountain hare range.
Dr Nick Hesford, Game & Wildlife Conservation Trust