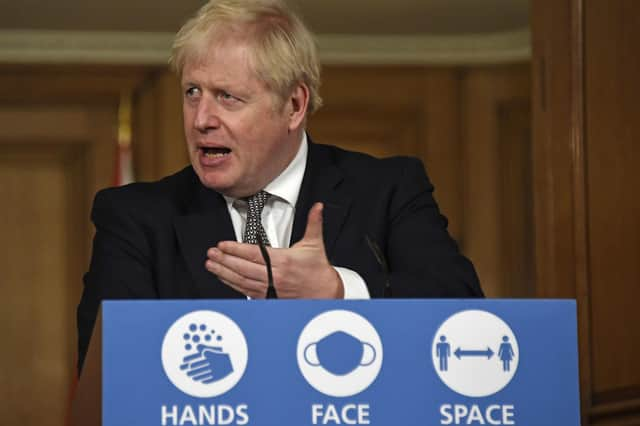 Boris Johnson during Saturday's media briefing in Downing Street on the return of lockdown in England
Let's forget his clumsy press conference on Saturday, the pantomime nature of his most important public health communications moment since the Rose Garden debacle and the small but telling fact that his government still can't find a clicker to let Chris Whitty change slides himself.
Let's overlook the fact Boris couldn't find 67 per cent of wages for the deals he imposed on Tier Three northern mayors but can easily find 80 per cent now that Surrey is affected too.
Let's ignore the fact Nightingale hospitals must now try to poach thousands of nursing staff from other parts of the NHS, despite the fact they are furious about exclusion from a key-worker pay rise given to doctors, dentists and police. And let's draw a veil over the fact no 'world-beating' test-trace and contact system exists in England despite billions on contracts for inexperienced Tory pals and a whole summer to plan.
Let's not worry that a top civil servant or politician opted to risk their career, leaking details of Friday's cabinet meeting so that Boris couldn't be nobbled by the money men before he finally reached the cameras. Let's not dwell on what that implies - that Boris has lost control of his party and is dependent on 'libertarian' Tory MPs whose views on almost everything would make them un-electable in Scotland.
Let's forget that every devolved leader was roundly ignored in October, even though their joint suggestion of a furlough extension would have meant a 'circuit breaking' lockdown that coincided with England's half-term holidays.
Let's put aside the PM's hysterical attack on Keir Starmer's 'disastrous' call for a national English lockdown, and Tory suggestions that Labour FM Mark Drakeford was fanning the flames of nationalism when he stopped waiting for a Prime Ministerial call and unilaterally imposed Welsh border restrictions.
Let's overlook the fact that Boris' bad faith over Dominic Cummings has come back to destroy trust in England like a long-awaited door slam. #WeWillNotComply #CloseSchoolsNow and #panicbuying were all trending yesterday on Twitter, suggesting a dangerous culture of non-compliance has already gripped parts of England.
And of course, let's forget the hurtling blunderbuss of a No Deal or Poor Deal Brexit heading down the tracks and tomorrow's US election which will elect either a Covid and climate change denier or a man set to ignore pleas for a quick UK trade deal and to call Johnson's bluff over breaking the EU Withdrawal Agreement.
Let's even park the obvious question - does anyone in Scotland think they would be safer without Home Rule right now?
We are where we are - totally aware that Scotland must steer its own path through Covid.
So, let's turn our gaze away from the horrible burach down south and ask a simple question – what does Scotland do now?
Do we fire on with our new five-tier system, or follow England into a national lockdown because Boris has finally re-opened his wallet?
So far, the public health consensus in Scotland is clear.
Professor Linda Bauld told Politics Scotland; "Scotland's tiered system reflects geographical diversity and respect for rural areas and has been democratically agreed in the Scottish Parliament. To move away from that and introduce harsher measures just because England has, would confuse people."
She further observes that dramatic policy changes tend to make people lose confidence in existing rules which weakens the inclination to comply - social dynamics that may be graphically played out over the next turbulent week in trust-free England.
Let's face it. If British voters were actually in charge right now, there would be a single UK-wide Covid regime - run by Nicola Sturgeon. Not because the Scottish Government is faultless but because it plans and collaborates with others in the public health field, then communicates decisions with time to digest change, clarity and empathy. Thus, Scotland brings in mandatory face-coverings for older school pupils and their teachers today, while south of the border, unions want full school closures, the main political parties insist schools must stay open but no-one will even consider Scotland's halfway house measure. Not yet.
Ignored by both Westminster parties is of course, the new normal.
Boris Johnson didn't lift the phone to forewarn the Scottish Government about the imminent return to lockdown and furlough - John Swinney says he learnt about it all in the press. So, can the Scottish Government take Scotland's share now and use it to help the most affected sectors - or can we trust the cash will still be there if Scotland needs it later?
One interviewer asked the Deputy First Minister - 'Will you bank the money or take it now?' conjuring up catch-phrases and gameshows from another century.
Take the money or open the box?
Is this what the union of equals has come to?
On the Marr programme, Michael Gove couldn't admit his government's mistake by not moving to lockdown sooner but claimed that; 'marking cards in the middle of the game - well it's not a game - is not the right approach'.
Sorry Michael, we heard what you really meant.
In the languid lottery of governance Westminster-style, anything can happen.
Hopefully, that includes a safe, workable vaccine arriving before Christmas.
But the cavalry won't be coming for Boris.
We've seen what we've seen.
And there is no going back.