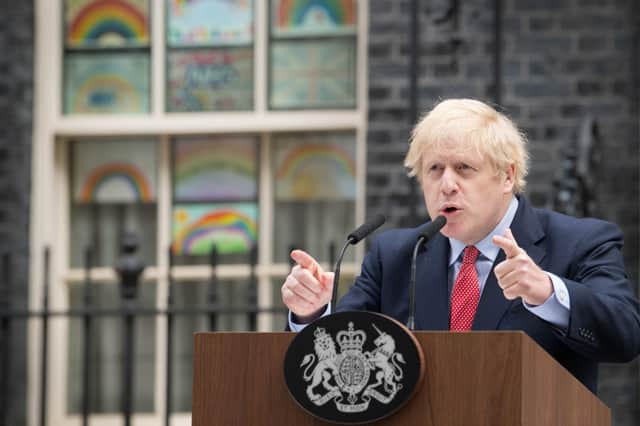 Boris Johnson may already be thinking about reverting to the liberal Conservatism he once espoused after Joe Biden's victory in the US election (Picture: Stefan Rousseau/PA Wire)
The sinking ship, of course, is Donald Trump's presidency of the United States, holed beneath the waterline by what looks increasingly like a substantial electoral victory for his opponent Joe Biden, and now further discredited by the President's dangerous and graceless refusal to concede defeat, and allow a peaceful democratic transition.
That Trump still has the power to a great deal of damage between now and January is not in doubt; many Americans fear that in a nation now armed to the teeth, particularly on Trump's side of the question, the coming transition will almost inevitably involve at least some violence.
Yet it seems certain that his tumultuous presidency is going down, and will soon slide beneath the waves of history; and with it goes a whole raft of assumptions about the trajectory of world politics – from the inevitable rise of right-wing populism, through the imminent collapse of post-war global institutions, to the irreversibly malign influence of social media – that have been the talk of the planet since his unexpected victory in 2016.
Small wonder, then, that the number of political figures prepared to back Trump in denying Biden's victory is dwindling fast; and among those making a rapid departure from Trump's side, none is more striking than the British Prime Minister Boris Johnson, who was happy enough to act as an outrider for Trumpian right-wing populism during the 2016 EU referendum campaign and subsequent battles over Brexit – drawing on advice from the same transatlantic pool of far-right data-miners and opinion manipulators – but who now sees that style of politics rejected by a clear majority of American voters.
It may, of course, strike some people as disobliging to refer to the present Prime Minister as a rat; particularly those who remain beguiled by his alleged Etonian charm. In truth, though, it has to be acknowledged that Johnson is a notorious rat, on many counts; a serial love-rat, and a political opportunist who ratted on his previous pro-European sentiments to lead the 2016 Leave campaign.
His recent attempt to rat on his own EU Withdrawal Agreement by passing the now-notorious UK Internal Market Bill led last week to the biggest government defeat in the House of Lords for more than 20 years. And he is already well-known – not least to the former Obama staffer who called him "a shape-shifting creep" – as an inveterate political chameleon; at one moment the genial, liberal and freedom-loving mayor of London, at the next the ruthless right-wing operator cruising a tide of xenophobic sentiment to become the leader of a government that is still bizarrely congratulating itself on "ending freedom of movement" for 66 million Britons.
It should therefore surprise no-one if Johnson's first instinct, on observing the Biden victory, is to sense which way the wind is blowing, and to start trying to divest himself of those far-right connections that may now be more of a hindrance than a help.
Indeed there are already signals that the Biden administration will play hardball with Johnson's government, not only over any possible impact of a hard Brexit on Ireland and the Northern Irish peace process, but over the general question whether the US really needs a trade deal with a UK which has just deliberately undermined its trading relationship with its 27 closest neighbours.
The question remains, of course, whether the political forces now surrounding Johnson, and in large part strengthened and empowered by him, will actually permit him to revert to a more genial and co-operative type of centre-right politics.
The parliamentary Tory Party, for example, is already rife with small rebellious groups arguing for a more Trumpian approach to the pandemic – riding a wave of anti-mask and anti-lockdown sentiment in some sections of British society – or for a Conservative Party that would drop its recent commitment to liberal values such as LGBT rights, in favour of an American-style "culture wars" approach.
And this week's shenanigans in Downing Street – which ended in the imminent departure of Johnson's communications chief Lee Cain, a 2016 Leave campaign alumnus close to Dominic Cummings – may well also signal tensions in the PM's inner circle, now brought to a head by the change of mood across the Atlantic.
Yet in some ways, of course, the sheer pressure of pandemic politics has already pushed Johnson back towards the kind of centre-right ground where he perhaps feels most comfortable – heaping lavish sentimental praise on the NHS, bailing out the nation with massive public borrowing, and generally, if often belatedly, heeding scientific advice on the need for stringent measures to reduce the spread of infection.
And if Johnson can now get away with ratting on Trumpism, and make Biden his unwitting ally in beating back the forces of reactionary extremism in his own party, then he will have pulled off one of the greatest escapes of his career so far; and may yet, as a result, become a far more formidable opponent both to Keir Starmer's Labour Party, and to the SNP – both parties of the centre-left that have come to rely on the Prime Minister's ugly flirtation with the far right to do their work for them in making the case for change, and that may have to sharpen up their arguments, if Johnson is ever able to declare that love-affair well and truly over.
A message from the Editor:
Thank you for reading this article. We're more reliant on your support than ever as the shift in consumer habits brought about by coronavirus impacts our advertisers.
If you haven't already, please consider supporting our trusted, fact-checked journalism by taking out a digital subscription.