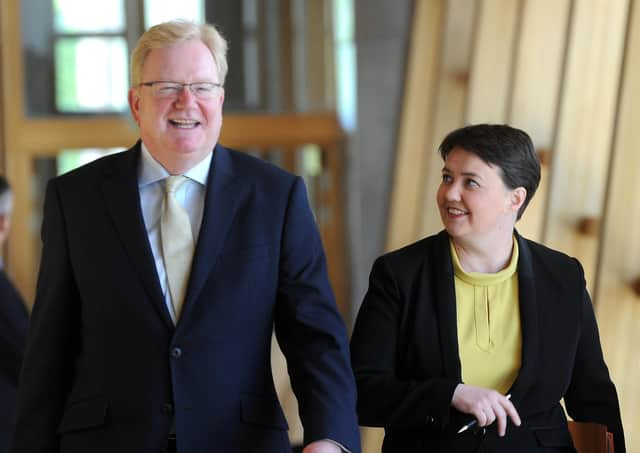 The most persuasive part of his pitch was not just his desire to take the fight to the SNP, which was a given for both candidates, but the big difference between his approach and that of his rival Michelle Ballantyne was his insistence that 15 months from an election was no time for an overhaul of the party's internal structures, which she was promising. The prospect of the party spending time on reorganising local associations and setting up consultation groups certainly persuaded me to back him.
Avoiding internal upheaval? Well that worked well.
Anyone who has ever stood in for the boss and then gets the job for real knows it's very different when you know the buck stops with you and everyone is waiting for you to give them their marching orders and is judging you when you do.
But on as public a platform as political leadership, especially at a time of national crisis, there is no hiding place and the polls, which have shown the SNP growing stronger despite a weak record on their biggest commitments, have not lied.
But despite growing unease in the ranks about his style and direction, few in Scotland saw yesterday's resignation coming.
First Minister's Questions and the usual follow-up press release with extensive quotes from the leader suggested it was just another Thursday. Then at five to five it was, as Jackson's generation will remember, Crackerjack as the announcement of his resignation hit media in-boxes.
I say a few because clearly some senior figures in the party must have known, but it was certainly news to the vast majority of members, including MSPs, but so instant was the speculation about Douglas Ross MP's candidacy and likely route back to Holyrood that communications ducks looked very much like they had been put in a row.
The question is by whom. Speculation is rife that patience in London had finally run out and the Prime Ministerial visit last week was an opportunity to put the Scottish operation under the microscope and it looks very like Jackson was left with the metaphorical bottle of whisky and revolver.
Being in opposition at a time of a once-in-a-hundred years' crisis was never going to be easy, especially one made for Nicola Sturgeon's brand of stern caution, and while there was much criticism about cutting the First Minister too much slack, it's by no means certain that a different leader would have fared much better.
A good government need a strong opposition and never more so now, so how can that be delivered when the frontrunner isn't even in the Scottish Parliament? Speculation last night is that Ruth Davidson will come back as an interim leader, not least because of reports she has been consulted by Number 10 in recent weeks along with a briefing from the Scottish party director Lord Macinnes.
It certainly makes sense to have a proven performer who knows the leadership ropes, but having stepped back for personal reasons it would be almost as big a decision to step back in, even on a time-limited basis. The next question is whether Scottish Labour has the guts to do the same thing. If Jackson didn't cut it, where does that leave Richard Leonard?