Jacinda Ardern earned her place on the world stage and she could yet return – Christine Jardine
Six years ago, when she became Prime Minister, I doubt that many people outside of New Zealand knew very much about Jacinda Ardern.
Her resignation last week, by contrast, was front page news across the globe as she was lauded by prominent Kiwis and world leaders. Ardern's image was even projected onto the side of Dubai's Burj Khalifa, the world's tallest building, in tribute.
But for many people, particularly women in politics, her decision to leave the political arena prompted as much questioning and analysis of our place in our own societies as of her individual achievements.
Her emergence onto the world stage in 2017 seemed like the perfect antidote to Trump's right-wing "drain the swamp" narrative. Here was a beacon of liberalism. A woman in her 30s, the youngest elected female world leader at the time, who seemed to ooze normalness and humanity.
Her rise was refreshing and a relief to all of us desperately looking for some calm in the political storm. She was the second national female leader, after Pakistan's Benazir Bhutto, to give birth during her term of office.
Every action, public appearance and use of language seem to offer much-needed evidence to the public that politicians aren't all bad or self-obsessed. Here was a woman not afraid to show emotion, to reach out instinctively and hug families grieving those lost in terrorist attacks. She is human, as we all are, and she acknowledges it.
Even in the moment of her resignation, the recognition that perhaps she no longer had the strength, or stomach, for the role showed a self-awareness that many here could learn from. "I know that I no longer have enough in the tank to do it justice," she told New Zealand.
In a country where our past four Prime Ministers have been driven from office, not by electoral defeat, but by their own party or personal misjudgment, it is refreshing to see one who is prepared to walk away for what she sees as the common good. And for her own.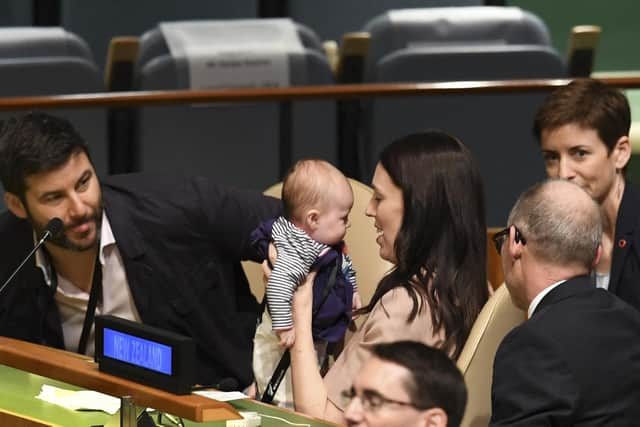 The timing has of course prompted speculation that she feared her time was up anyway as her party has fallen behind in the polls with an election now less than a year away. News coverage from New Zealand highlighted that her appeal was not universal. Her handling of the pandemic originally garnered praise for its strict lockdown which kept her country virtually Covid-free but is now seen as bringing its own economic disadvantages. There is dissatisfaction too with a perceived failure to tackle child poverty, particularly among the Maori population.
Others will point to the example of Theresa May and Gordon Brown who continued to serve party and country once their premiership was over, and question Ardern's decision to walk away from parliament. And there will be those who claim it sets back the cause of women in politics for one who is so high-profile to admit it has become too much and that she wants time with her family. Critics will claim that is playing to old stereotypes about "a woman's place".
For me, that is to miss the point of her completely and to fail to recognise that, in the manner of her stepping down, she has once again shown that there is another way. Here is a woman who has given her all to her party and country not just for the six years of her premiership, but for nine as a member of parliament before that.
She has steered New Zealand through some of the biggest crises it has known: the pandemic and resultant recession, its worst terrorist attack and a volcanic eruption. Her efforts gained a level of international recognition that I do not remember being accorded any other New Zealand Prime Minister, certainly in my lifetime.
She used the spotlight to illuminate a very different approach to government and show a younger generation of women what is possible for them. When she strode into the United Nations with her baby daughter Neve in her pram, the world took note.
In this country, my party's former leader Jo Swinson broke the mould by taking her second child into the Commons chamber while her husband had been the first MP to take a child, their eldest, through the voting lobbies. It now no longer rates a mention for some of my colleagues to have their children with them in parliament. And neither it should.
Perhaps that will be her most significant legacy? Normalising what has been so much of a challenge for women in every walk of life. Simply to be ourselves and resist the temptation to conform to male-created stereotypes of how the workplace should look and operate. What is acceptable should be what we need it to be.
Jacinda Ardern is leaving the world stage with no other stated aim but to spend time with her family. To repay the debt to them which she acknowledged in her resignation.
But there is perhaps one final thing she might one day do to encourage more women to reach for political service. To persuade those who have been inspired by her example that their own careers need not end if they decide to take a break for their families.
As she announced her departure, Ardern said: "I hope I leave New Zealand with a belief that you can be kind but strong, empathetic but decisive, optimistic but focused. And that you can be your own kind of leader – one who knows when it's time to go." I would have liked her to have added the words "for now".
She still has time. Perhaps one day she might also remind us all that maturity is no more of a barrier to success than youth or gender.
Christine Jardine is the Scottish Liberal Democrat MP for Edinburgh West
Comments
 0 comments
Want to join the conversation? Please or to comment on this article.