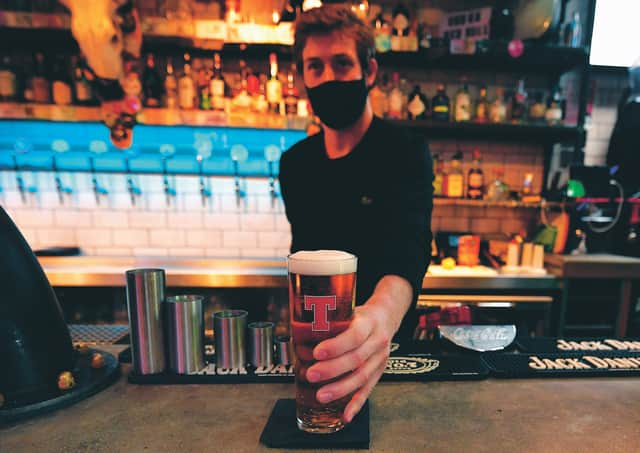 Fast forward to today and the nightmare that is running a bar in the time of Covid. For a start, you need customers and they are few and far between after months of being told that pubs represent some existential threat to their survival. Latest figures from England show only five per cent of Covid infections have been traced back to the hospitality sector but that is not the public perception.
Those customers brave enough to go back to the pub after lockdown face a list of demands longer than Cher's plastic surgery to-do list. We used to go to the pub to relax but now we need to book in advance, hand sanitise on entry, have our temperatures checked, wear a mask, order using a QR code and follow a labyrinthian one-way system just to go to the loo. All that and whatever happens, we need to keep away from the actual bar.
If we manage to do all that we will be rewarded with an alcoholic drink served by someone dressed like an astronaut in room with all the atmosphere of a little-used rural church. And just when it arrives, we will be asked to leave because it's nearly 10pm and Huw Edwards will soon be on the news telling us how unsafe pubs are again.
Based on all that, it's no surprise our pubs and bars are on their knees. Hundreds failed to reopen after lockdown and many more are now under threat as increased coronavirus restrictions damage what little public confidence is left.
You can't blame the politicians. Pubs and bars were always going to be in the firing line after a few places were linked to early Covid clusters. Any that ignored the government guidelines should have been closed and stripped of their licence; instead the whole sector has been tarnished. As a result, pubs are an easy target.
The justification for the curfew is that late-night drinking lowers inhibitions and makes social distancing less likely. But why 10pm? Those less likely to be responsible will simply start drinking earlier or take the party home where the music is turned up and social distancing goes out the window. The First Minister has emphasised she will do whatever it takes to halt the current rise in cases. It's likely she would have closed the hospitality sector down completely if the Scottish Government had sufficient borrowing powers to compensate businesses.
Instead, Rishi Sunak's job support scheme and extended VAT cut throw a lifeline to the sector, but falls short of what many hoped for. With no music or standing at the counter, bars are very different places today, but they offer a safe space to socialise with every precaution in place. The Chancellor and First Minister have done their bit now it's up to the public to decide how important pubs are to the life of the nation.