"I think that is the case," Mr Brown told BBC Scotland's The Nine. "We have to accept people identify, as in this case, as women. I think that is commonly accepted and that is the starting point we take."
That clip has been watched 450,000 times, giving The Nine an audience boost and Mr Brown an exposure he may not welcome. To be fair, he was only confirming the dogma his government drove through Holyrood.
If you say you're a woman, you're a woman. Full stop. That is what self-identification means with no asterisks to indicate "unless you're a rapist". Indeed, MSPs took the trouble to reject an amendment which came close to anticipating the circumstances of the Adam Graham (aka Bryson) case.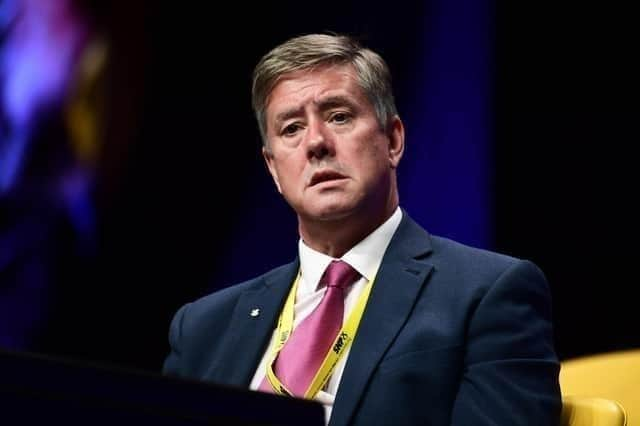 Whether the dogma of self-identification is "commonly accepted" depends on the circles you mix in. Personally, I don't know anyone who believes it has the magical effect of changing one's gender for all official purposes.
Asked if she agreed with her Justice Secretary, the First Minister was incapable of a straight answer. If the finest minds among her spin doctorate had been up all night in search of a formulation, they failed.
In Sturgeon's reply, the rapist had become "that individual", neither man nor woman. She then resorted to the usual prolixity, a babble of words culminating in "let us clarify the matter and put it beyond doubt". But the old ways are not working and the thickest of her tribe knew the last thing she offered was "clarity".
After Douglas Ross read out a letter from one of Graham's victims, calling him a con artist, Ms Sturgeon deemed it prudent not to dissent. It was "almost certainly the case" that "the individual's claim to be a woman" was not genuine.
Nobody argued against a humane approach to enabling people who are transitioning. What critics pointed out ad nauseam was the risk inherent in self-identification and that has been borne out, with exquisite timing, by the Graham case.
When cornered by reality, Ms Sturgeon's instinct is to turn nasty. The possibility she has led her troops into a fool's errand is beyond her capabilities, even when making the crucial admission that it is possible – indeed certain – for a self-identifying "individual" to be a sexual abuser.
Throughout the Bill's progress, objections were brushed aside on grounds of the tiny numbers involved. Even if true, it was a terrible basis for legislation and Ms Sturgeon can now reflect that it took only one case to highlight the far wider risks.
When it comes to her memoirs – I understand the working title is "Life is One Long Publicity Stunt" – Ms Sturgeon may reveal what motivated her to invest so much capital in this fray. Was it to provoke a constitutional row with the UK Government or to prove herself, in the eyes of a certain fan-base, a "progressive" leader?
Whatever the answer, her legislation is now a dead duck and a fresh start should be made, when more pressing priorities allow, on a consensual basis, rather than one driven by lobbying from extremes. As for her rabble at Westminister whose shouting and bawling about constitutional outrages should be distributed by opponents under the heading "is this really how Scotland wants to be represented?", they will now have to find another grievance to play with.
Incidentally, I noticed the junior transport minister, Jenny Gilruth, was the sacrificial lamb sent to BBC's Question Time to repeat the new Sturgeon mantra. Asked repeatedly if the rapist was a man or a woman, Ms Gilruth told us that "this individual" was a rapist, which we already knew. It was excrutiating. Thank goodness she's not in charge of ferries. Oh, hang on…