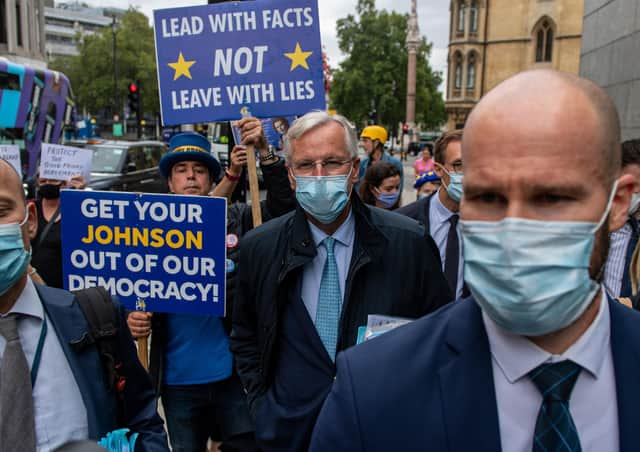 Michel Barnier, The European Unions chief negotiator, arrives with members of his team in London for trade talks
The disaster headlines the next day were predictable, almost as predictable as the fact that with three months to go we still would not have any clear idea about what will happen when we eventually crash out of Europe completely.
There is a whiff of deja vu about this. Remember the last time when negotiations went up to the wire on the transition period? An exercise was staged in January, 2019, involving a mass truck jam to work out how we would deal with 'no deal' - that was the old 'no deal' of course not the current cliff edge on which we are teetering.
So basically we are no further forward, business is still in dire need of some kind of certainty, and much of the country would much rather forget about it – just tell us when it is all sorted and there will be EU jam for tea. Only Brexit will not be something that happens to someone else, and a disastrous no-deal exit will impact us all.
Evidence, as if still needed, came yesterday with reports that supermarkets (and by extension their customers) face £3.1 billion a year of tariffs on food and drink without a free trade deal.
If there is no agreement before Christmas, the British Retail Consortium says the increase in tariffs will leave retailers with nowhere to go other than to raise the price of food.
Without a deal, 85 per cent of foods imported from the EU will face tariffs of more than five per cent, and the average tariff on food would be over 20 per cent. This includes 48 per cent on beef mince, 16 per cent on cucumbers, and a whopping 57 per cent on cheddar cheese.
With the Covid pandemic and looming swathes of unemployment, the consequences do not bear thinking about. But think about it we must. A reckless strategy has taken us to this point and may yet see the UK take the decision to inflict a disaster on top of a crisis.
The two options open to the Government are clear. Strike a deal and quickly or negotiate an extension to the transition period without delay. The third option - the one which we are currently staring at - needs to be taken off the table. If only to prevent large parts of the population being unable to put food on it come January.