Here's how to turn 'armchair travellers' into confirmed holiday bookers – Jenna Ciancia
Tourism businesses can act now to ensure they reap the benefits from autumn onwards, says Jenna Ciancia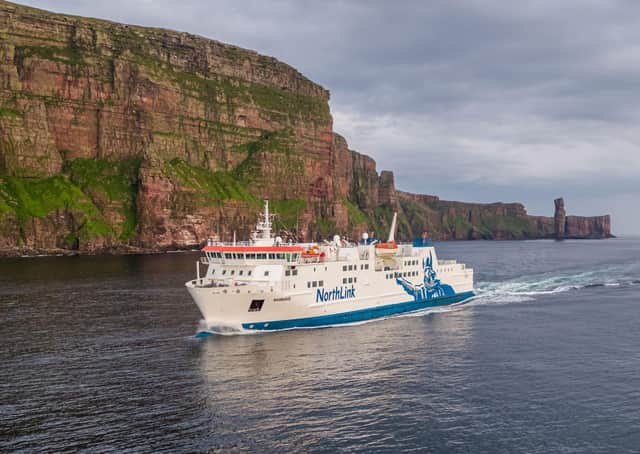 Tourism businesses such as NorthLink Ferries are up and runnning again as lockdown restrictions are eased – but will visitors return in numbers to keep the sector afloat?
People running tourism businesses in Scotland are experiencing a very different summer this year. Due to Covid-19, the heady buzz of guests arriving, phones ringing and booking enquiries has been replaced with cancellations and refund requests.
And while there's some optimism as the industry begins to reopen this week, it remains to be seen how it will recover and what Scotland's tourism sector will look like in the months to come.
During lockdown, Scotland's future visitors have been sampling the country's delights from home. And while these "armchair travellers" might not have booked yet, this online exploration is a positive sign. In fact, prospective visitors have made tentative plans to visit from autumn onwards. For businesses looking to harness this interest, there are things you can do now to ensure that potential visitors can find the information they need, be reassured that it is safe to return, and book.
Jenna Ciancia is an Account Director with Weber Shandwick Scotland
1. Make sure prospective visitors can find your business
Consider how easy it is for a prospective customer to find your business online. If they Google related key words, will your business appear among the first search results?
The top three Google search results get 75.1 per cent of all clicks. Appearing on the first page is therefore critical for any business that wants to capture this organic traffic – top ten placement directs the highest amount of traffic, has the highest conversion rate, and are a trusted source for people researching a purchase.
2. Invest in Search Engine Optimisation to improve the content and quality of your website, move up the search engine rankings and reap the benefits
Ensure social channels are relevant and inspiring
If you haven't yet harnessed the full potential of your social media channels, start providing current and prospective customers with content which inspires and encourages engagement.
Think about your business' unique selling points in the context of the barriers consumers now face and build a story around this. For example, a hotel which may previously have been described as "hard to reach" can now use this to their advantage, with the remote location positioned as a chance for visitors to experience the outdoors in a safe and responsible way.
If you have the basics right already, consider producing creative social media content. Live broadcasts, quirky videos, or working with brand partners or influencers to amplify existing content or create their own within a partnership agreement can greatly extend your reach to both existing and new audiences, generate additional engagement and provide an opportunity for much needed bookings.
3. Leverage existing campaigns
Struggling to work out what to post on social media? Keep it local.
As we enter phase three, industry bodies are encouraging people to explore their local area. VisitScotland's new #HameTownTourist campaign asks Scots to share the places they're looking forward to visiting, with the aim of encouraging the audience to rediscover the gems on their doorsteps and support local businesses.
Consider contributing by showcasing neighbouring and complementary businesses and demonstrating the range of things to see and do in your local area.
For example, a visitor attraction might highlight the local coffee shop, praise the delicious food at a local seafood restaurant, or name drop the kayaking company based at the harbour, all using #HameTownTourist. It's about working together to showcase the best of the local area.
4. Weave in messaging which reflects the zeitgeist
Visitors continue to have safety concerns and want to be assured that they are travelling responsibly. Highlight how you are keeping your business clean and customers safe. Visitors will be drawn to those businesses who understand this and engage with them in an authentic, human and optimistic way.
Also bear in mind that you need to balance the needs of your business, customers, and local community. Is your community ready for you to begin encouraging visitors again? Champion your community and reflect its needs and concerns, especially when it comes to promoting your business to attract new customers.
The road ahead will be tough – but there is optimism and wanderlust there to be captured. Recent VisitBritain research suggests that 54 per cent of Britons are confident they will be able to take a UK break between October and December, with this figure rising to 72 per cent from January 2021. Driving bookings for the here and now is important, but to futureproof your business, consider what your proposition is for autumn and winter visitors and communicate it in a creative and inspiring way to capture this audience and secure bookings.
Jenna Ciancia is an Account Director with Weber Shandwick Scotland
Want to join the conversation? Please or to comment on this article.