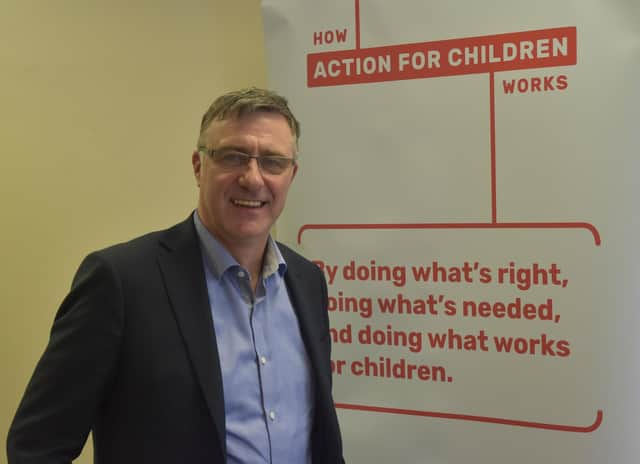 Paul Carberry is the Action for Children director for Scotland.
Whether that has been distributing food packages and money to allow families to heat the home through to providing children and young people with devices, such as tablets, to allow them to continue their studies, we've been there for families during this time.
2020 has been a challenging year for everyone but especially for the families we support in our 84 services across Scotland. Many of them were already struggling and only "just coping" before Coronavirus. However, since the outbreak, there has been a substantial escalation of need, meaning many of those same families and young people found themselves in crisis and unable to afford items we can often take for granted.
Much of this has been made possible through donations and funding provided to the charity. That has included money from the Scottish Government's Wellbeing Fund, which provided us with more than £500k to distribute to families across Scotland, and donations from organisations such as The Celtic FC Foundation. We were also able to distribute funds from our own Emergency Appeal. Thanks to all of the Scottish companies, families and individuals who contributed to our appeal, your donations have made a big difference to families and children we support.
All in all, some £700k has been distributed by our frontline staff to aid those who need it most during the pandemic and recently we received a further £300k from the Scottish Government's 'The Winter Plan for Social Protection' fund to support families over winter.
As we enter the festive period, we are continuing to deliver this much-needed support to families who need it most. This time should be one of happiness. Sadly, that isn't the case for many and that situation has been made worse this year. For far too many, there will be fears over keeping a roof over the family's head and ensuring that there is enough food to go round. Many will face the unenviable decision of whether to put food in their bellies or heating in the meter.
Until every family can keep their child warm and well fed, we will be there to help them. Many of our services will be open over the Christmas period, particularly our residential ones. Elsewhere, our frontline staff will be in regular contact with families and young people during the break to ensure they are OK whilst being on hand to provide support when it is needed.
Much of this work is made possible by donations from you. That's why we're asking readers to become a Secret Santa and help us make a life-changing difference to vulnerable children this Christmas and beyond. Last year, supporters made a life-changing difference in so many ways. Their generosity meant our frontline key workers could help struggling families to pay for the essentials, like food, warm clothes, and a safe place to sleep.
You too can make a similar difference to families, children, and young people we support by becoming a Secret Santa by texting WARM to 70175 to give £10 or by visiting: iamsanta.org.uk/Scotland
Finally, let me wish you all a Happy Christmas and Happy New Year with your families and loved ones, when it comes.
Paul Carberry is Action for Children's Director for Scotland