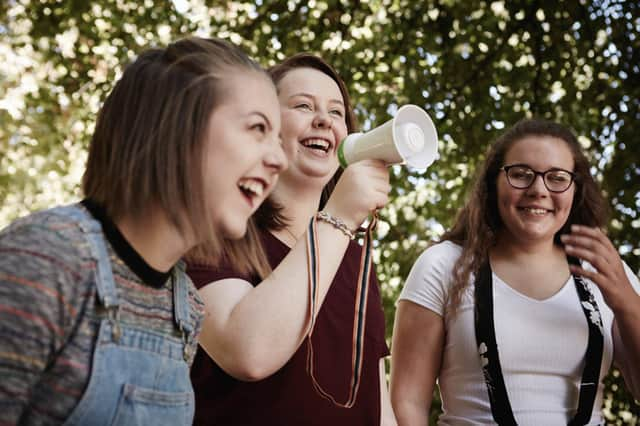 During a week of actiopn from 23-29 November Girlguiding members and non-members alike will be urged to to take part in the organisation's #ChallengeTheHeadline action to correct sexist news
Around the world, girls and young women are standing up for what they believe in and pushing for positive change to create a fairer and more equal society.
It's time for girls and young women to take the lead in accelerating social change as a generation of activists. This is encapsulated in the 2020 theme of 'My Voice, Our Future'.
I'm proud to be a member of Girlguiding Scotland, which works to empower girls and young women to develop the skills they need for their future, giving them the ability to ensure that their voices are heard on issues that matter to them.
Katie Young, a Girlguiding Scotland Speak Out champion
Girlguiding Scotland's upcoming Girls in Scotland research found that 84 per cent of girls feel it's important to stand up for important issues.
As a Speak Out champion, this is something that I'm really glad to see.
Representing Girlguiding Scotland members across the country, Speak Out is a girl-led advocacy group that works to shape Girlguiding Scotland's campaigns on the issues that girls are most passionate about.
We encourage girls take action and to use their skills to help build a future that is more equal for all.
Most of all, as young women ourselves, we understand their frustrations and the difficulties that they face.
We're thrilled to have recently launched our Media Mindful campaign, which gives girls and young women the skills to challenge sexism, gender inequality, and the lack of diversity in the media.
We know this is an issue that girls in Scotland really care about. In Girlguiding Scotland's forthcoming Girls in Scotland research, we learned that 68 per cent of girls aged 11 to 21 want the media to do more to stop inaccurate portrayals of women.
Girls have had enough of outdated stereotypes, damaging diet talk, and feeling unrepresented. We're ready to do something about it.
Speak Out has created a Media Mindful challenge pack, full of activities for members aged five and up. It encourages members to think about the impact that the media can have on our daily lives, both positive and negative, and see where they can make a difference.
Girls earn a badge by completing the activities, which explore concepts like intersectionality, representation, and how content differs on different forms of media.
They will improve their media literacy skills, think critically about what they consume, who controls the media, and the way it makes them feel.
We know that girls and young women are talented, intelligent, multi-faceted individuals who have the potential to create change and disrupt the way that they are seen in traditional forms of media and online.
Together, with over 45,000 Girlguiding members in Scotland alone, we can shift the narrative.
It's our turn to start the conversation, focus more on what we have to say than what we wear, and shape the type of equal media we would like to see.
Becoming Media Mindful is only the first step. We want to see media companies and influencers commit to tackling gender inequality in the content they produce. We want to see the media portray girls and women in a way that is far removed from old-fashioned stereotypes and sexist clichés.
Girls and young women deserve to see a range of diverse women represented in the media to show them that they too can feel confident in challenging gender stereotypes and damaging content when they see it. However, we know that we have to do more.
During our week of action from 23-29 November we'll be calling on Girlguiding members and non-members alike to take part in our #ChallengeTheHeadline action to correct sexist news.
By doing this, we will raise awareness of what's out there and send the message to media outlets that they are accountable for the content they produce.
What would I like young women across Scotland to know on International Day of the Girl?
More than ever, it's time forus to take control of the conversation. I want to see girls in Scotland realise the power that they possess, use their voices, and understand the equal, new future possibilities that they can create when they do so.
Katie Young is a Girlguiding Scotland Speak Out champion