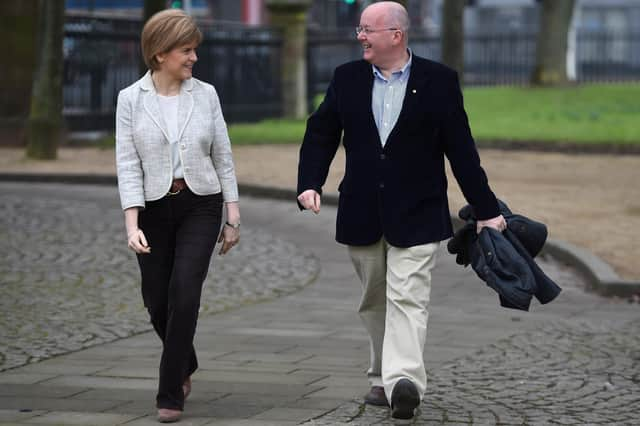 ​Just a month after Nicola Sturgeon announced her decision to resign as SNP leader - and, thus, First Minister - her party is in meltdown. Colleagues, once bound together by loyalty to the independence cause, are fighting like ferrets in a sack and the departure of the SNP's chief spin doctor has exposed a culture of dishonesty which saw the party of government blithely lie to the Scottish people.
Yesterday, facing the threat of a vote of no confidence by the party's ruling National Executive Committee, Sturgeon's husband, Peter Murrell, resigned as SNP Chief Executive with immediate effect. A man once praised by colleagues as a strategic mastermind had become a liability.
Under Sturgeon's leadership, SNP discipline was once utterly rigid. She and Murrell ran a tight ship. Dissenting voices and other troublemakers could expect to be thrown overboard.
That culture of enforced unity crumbled within days of the start of the contest to find a new leader. Debates between candidates - Health Secretary Humza Yousaf, Finance Secretary Kate Forbes, and former community safety minister Ash Regan - have been bad tempered affairs, exposing huge ideological splits in a party which places independence above all else. Anonymous briefings against rivals by campaign teams have deepened division.
This infighting is, of course, a matter for the SNP. For the rest of us, it's just a grim spectacle.
But where SNP problems become Scotland's problems is when the integrity of the process by which the next leader will be elected is called into question.
The campaign teams of both Forbes and Regan have done this. And, well, the instinct when they first spoke out was to dismiss them as conspiracists. What, specifically, were their concerns? What evidence did they have that anything untoward was taking place?
That changed when both candidates demanded Murrell publish up-to-date figures on membership.
Since 2021, the SNP had repeatedly maintained that it had more than 104,000 paid-up members. News reports of falling membership were furiously denied.
As recently as February of this year, the party not only rubbished a report that more than 30,000 people had torn up their membership cards, it ridiculed the journalist who wrote it.
On Thursday, under pressure from Regan who threatened to hold a press conference on the matter if the party didn't come clean, the SNP revealed membership stood at 72,000.
The party had rubbished a perfectly accurate report. It had shown itself willing to deceive the public.
On Friday afternoon, the SNP's communications chief at Holyrood, Murray Foote, announced his resignation. His statement made clear that he had issued a denial of the report based on information supplied to him by the party. Basically, the SNP had made a liar of Foote and he was not willing to put up with it.
For the sake of openness, I should declare that I've known Murray Foote for 25 years. I spent three years working for him as a reporter when he was news editor of the Daily Record and he was always fair, decent, and kind. And, though our dealings might have become more tense when he made the move into the world of political communications, we have remained pals.
Foote is a rare creature in the cut-throat world of journalism. He is widely admired and respected. His deserved reputation as a straight dealer was gold to the SNP. It was morally indefensible - and politically foolish - for the party to put Foote in a position where he had, without knowing, misled journalists. They have lost a talented member of staff. And Murrell has, quite rightly, paid with his job. He was, as he admitted in his resignation statement, responsible for Foote's false statement.
Had Regan not threatened to hold her press conference, it's clear the SNP would have continued to withhold the truth from leadership candidates. This would have been intolerable.
The vote for Sturgeon's successor opened last Monday and many of those taking part will have made their decision before the truth about he party's institutional dishonesty was made public.
Regardless of who members chose - whether the party establishment's favoured candidate, Yousaf, or one of the "outsiders" - as things stand, it is clear that, at best, doubts over the integrity of the process will linger.
This is no longer a contest which the SNP can be trusted to oversee.
Murrell's departure from the scene was essential if trust is to be restored. But the SNP must go further.
The current leadership race should be scrapped. All candidates should be supplied with completely accurate membership lists and an independent body must run every aspect of a new contest.
I am sure even Nicola Sturgeon's preferred candidate, Humza Yousaf, would agree it is essential voters may be confident Scotland's next First Minister achieves office without even the tiniest space for doubt about the integrity of the process.
If the party continues with the current election contest, the likelihood that the result will be challenged seems high.
For decades, the SNP has camped on the moral high ground, denouncing other parties as corrupt and self-serving. The facade of superiority is now shattered.
A Police Scotland investigation into what happened to funds supposedly ring-fenced to pay for an independence campaign that looks less likely to happen by the day gathers pace. There are, I suspect, more difficult days to come for the SNP.
Scotland deserves better than this. The SNP has not only taken its supporters for granted, it's taken the rest of us for fools.