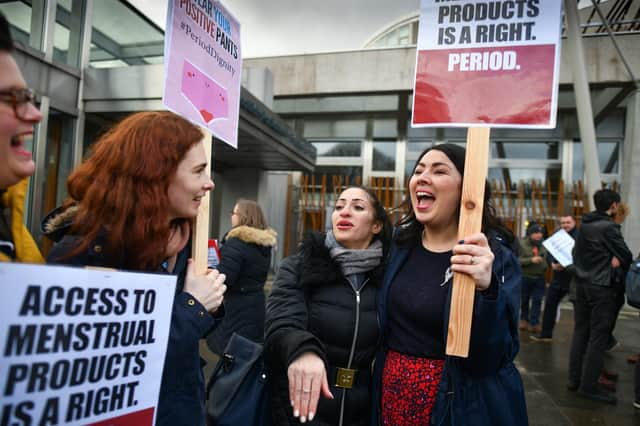 Scottish Labour MSP Monica Lennon, right, joins campaigners during a rally in February outside the Scottish Parliament in support of Period Products Bill (Picture: Jeff J Mitchell/Getty Images)
The public gallery would have been filled with the activists and campaigners who had contributed to its passage. MSPs would have been in full attendance and full voice to mark the landmark moment when Scotland became the first country in the world to provide free and universal access to period products. There would have been hugs, tears and celebratory drinks afterwards.
Yet when Presiding Officer Ken Macintosh announced "the motion is agreed to and the Bill is passed'' the moment was no less meaningful for having been delivered to a socially distanced chamber.
Thanks to the hard graft of those politicians and grassroots campaigners who turned ending period poverty into a mainstream campaign, everybody following the proceedings at home understood the significance of what had just been achieved.
Period poverty's health implications
This legislation will ensure that nobody is faced with the indignity of having to ration, improvise or go without period products because they can't afford them. Local authorities will be responsible for providing provisions to those who need them and they will be provided for free in places of education.
If we judge policy on its potential to improve lives, then this is surely one of the most important pieces of legalisation that the Scottish Parliament has ever passed.
One of the women mentioned by Monica Lennon before the vote on Tuesday was Victoria Heaney, who spearheaded the #FreePeriodScotland campaign for pro-independence group Women For Independence.
In 2018, Heaney launched what is thought to be the most detailed survey ever into period poverty and its effects.
The survey, which had over 1,000 respondents, showed that one in five women and girls had gone without period products because they couldn't afford them. Some reported using unsuitable alternatives, such as rags and newspapers and 11 per cent said they had experienced health implications as a result.
A heartening shift in attitudes
One of the key themes that arose from the results of the survey was a feeling of shame around menstrual health.
Our historic squeamishness around periods sends a message to girls that there is something dirty or embarrassing about their own bodies and how they function. It is a stigma that will require more than legislation to eradicate completely.
And yet, having followed the incredible work of the period poverty campaigners in recent years, it is that societal shift that has been one of the most remarkable features of their success.
Tampons, pads, periods, blood. In some quarters, these words are mumbled or not said at all. So it has been heartening to see them painted in bold on placards, shouted outside the Scottish Parliament and said, without awkwardness, by the politicians and journalists inside. About time.
Monica Lennon noted this welcome shift in attitudes in her speech.
''I pay tribute to each and every one of the grass-roots campaigners who have brought periods out of the shadows. Instead of hiding tampons and pads up their sleeves, young people in Scotland in 2020 are more likely to be talking about periods on social media and lobbying their sports clubs, schools and workplaces for essential supplies.''
Cross-party support
This is a victory for grassroots activism and cross-party working. Reports of the death of collaboration have been greatly exaggerated. This week has shown it is possible for politicians of all party colours to work together on issues that matter. When they do, what can be achieved is far greater than any person or party can do on their own.
It is to Scotland's great credit that it is impossible to name all the individuals and organisations that played a part in making our country a trailblazer in menstrual equality.
A Members Bill from a Scottish Labour MSP, with the support of SNP colleagues such as Gillian Martin and Aileen Campbell, was accepted by the SNP Scottish government and backed by every party in Scotland. It doesn't get much more cross-party than that.
On Tuesday, Monica Lennon took the time to mention and thank some of those who helped her history-making Bill become law.
In doing so, she cemented her status as one of Scottish Labour's most capable and influential MSPs.
That's not to say that this cross-party coalition was without its critics.
Whenever it hits the headlines, period poverty is subject to the kind of tiresome commentary that its proponents mistakenly believe is terribly clever and original. Where the cheapest brand of tampons is held up as 'proof' that those experiencing period poverty should just manage their money better.
Menstrual dignity is a right
Thankfully, feminist campaigners and politicians are well-practiced at zoning out the noise and focusing on the end goal. It takes more than a few eejits on the internet to throw them off their game.
The news that Scotland will be the first country in the world to provide free access to period products brought plaudits from across the globe. Far more importantly, it sent out a message to women and girls that menstrual dignity is a right, not a privilege.
Progress isn't passive, as demonstrated by the hundreds of hours of (largely unpaid) work so many put into the campaign to end period poverty.
In responding to the Bill being approved by parliament, Victoria Heaney said: "Success has many mothers and it's been great to share this victory with some of the most tenacious and bold activists, organisations and politicians. This news should give confidence to every activist that change is there for the taking. This wasn't only about free products. We have changed culture and attitudes: that's the real prize.''
And what a prize to have won. This is a better country to live in than it was last week. For that, Scotland owes the period poverty campaigners a huge debt of gratitude.
A message from the Editor:
Thank you for reading this article. We're more reliant on your support than ever as the shift in consumer habits brought about by coronavirus impacts our advertisers.
If you haven't already, please consider supporting our trusted, fact-checked journalism by taking out a digital subscription.