Donald Trump's days as US President are numbered but the hatred and division he fostered will remain – Kirsty Strickland
While the world watched on in horror as the US Capitol was stormed by domestic terrorists on Wednesday, Black author and MSNBC commentator Joy Reid got to the crux of what we were seeing on our screens.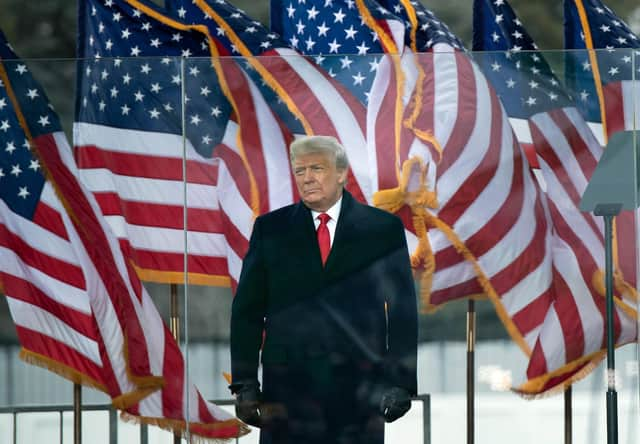 US president Donald Trump arrives to speak to supporters from The Ellipse near the White House. Picture: Brendan Smialowski/AFP via Getty Images
"White Americans aren't afraid of the cops. White Americans are never afraid of the cops. Even when they are committing insurrection. Even when they are engaged in attempts to occupy our Capitol to steal the votes of people who look like me. Because in their mind, they own this country. They own the cops. The cops work for them. And people like me have no damn right to try to elect a president. I guarantee you, if that was a Black Lives Matter protest, there would already be people shackled, arrested or dead. Shackled, arrested – en masse – or dead."
Her analysis was shared by many others, including President-Elect Joe Biden. It is not contentious to contrast the brutal force that peaceful Black protesters often experience with how police dealt with the predominantly white Capitol mob this week.
Unprepared for Trump supporters' violence
It's simply a statement of fact. We know and have seen the resources and tactics police have at their disposal. At a Black Lives Matter protest during the summer, hundreds of officers lined the steps to the Capitol, armed to the teeth and decked out in full military riot gear. We have seen rubber bullets, tear gas and batons used liberally and preemptively against Black bodies. The police response to the violence and unrest this week wasn't restraint: it was a complete double-standard.
Amid criticism of the department's weak response to the incident, Capitol Police chief Steven Sund offered his resignation.
In defending the weak initial response before order was restored, some officials have said that they simply weren't adequately prepared for the sheer number of angry protesters that descended on Washington, nor how violent and disruptive their true intentions were.
UK Foreign Secretary Dominic Raab and Boris Johnson chat behind Donald Trump at the annual Nato heads of government summit in Watford in December 2019 Picture: Stefan Rousseau/PA
Given that Donald Trump and his outriders have spent months agitating for violence against opponents and whipping the mob up into a frenzy over false claims of election fraud, it seems astonishing that this disorder wasn't foreseen and prevented.
'Hell of a journey'
The failure of planning and strategy that allowed these events to transpire will be scrutinised over the coming days and weeks. For now, we are left with more questions than answers. Namely: what happens next? A slew of administration members have resigned in recent days, in a pathetic and futile attempt to distance themselves from Donald Trump and his actions.
Some of the President's biggest cheerleaders have now withdrawn their support and told him it is time to move on.
A member of staff at Madame Tussauds finishes dressing Donald Trump's waxwork in a new outfit following his defeat in the US presidential election. Picture: Jonathan Brady/PA
Speaking after the hours-long siege, one of Trump's most vociferous supporters, Senator Lindsey Graham, said he and Trump had "a hell of a journey".
"I hate it to end this way. Oh my God, I hate it. From my point of view he's been been a consequential president. But today… all I can say, is count me out, enough is enough.''
''If you are a Conservative then this is the most offensive concept in the world, that a single person can disenfranchise a 155 million people.''
Are we really expected to believe that it is a coincidence that some Republicans have suddenly discovered their moral compass days before their leader is due to leave office?
Trump supporters clash with police and security forces, as they storm the US Capitol in Washington, DC, on January 6, 2021. - Demonstrators breeched security and entered the Capitol as Congress debated the a 2020 presidential election Electoral Vote Certification. (Photo by Brendan SMIALOWSKI / AFP) (Photo by BRENDAN SMIALOWSKI/AFP via Getty Images)
Five lives lost
Donald Trump bears a huge responsibility for the Capitol coup and for the five lives that were lost during it. But that shameful day shouldn't overshadow all the others that Trump presided over. This was not an aberration. It was a continuation and culmination of his efforts to incite violence against his opponents.
It's convenient now for Republican Party representatives to point to the bad man with the bad hair and say "he did it", in the belief that it will aid their attempts at rehabilitation. Holding Trump singularly responsible means they can dodge uncomfortable questions about their own role in supporting an erratic and dangerous President when it was politically convenient for them to do so.
In a similar way, it's understandable why so many US commentators have claimed that the Capitol riot "isn't America" or representative of the values that the country holds dear.
Viewing Trump and his divisive style of government as a mere glitch in history betrays a sense of complacency about the challenges ahead. In the November election, more than 74 million Americans voted for him. They gave their explicit approval for his brand of racism and the four years he spent undermining American democracy, its institutions and conventions.
Bigotry and lies
And for those in the UK who shake their heads at the violence of far-right terrorists in the US and say it could never happen here, we'd do well to remember Jo Cox. Not just the heinous nature of her death or the murderous intolerance of the man who killed her, but everything she stood for in life.
The bigotry that fuelled the Capitol mob didn't begin with Trump and it won't end with him either.
Hopeful certainty that the rise of far-right ideology and misinformation will be halted when Trump leaves office is as misguided as that which suggested he would be shaped by the office of President and live up to its responsibilities.
After four years of unprecedented chaos, it is entirely logical to feel a sense of relief that the dark days of Donald Trump will soon be behind us. The villain of this particular moment in history has been defeated at the ballot box. Despite his best – and most despicable – efforts, he will be gone on January 20.
It's a great shame that the division and hatred his presidency emboldened can't be packed up in a box and taken with him.
A message from the Editor:
Thank you for reading this article. We're more reliant on your support than ever as the shift in consumer habits brought about by coronavirus impacts our advertisers.
If you haven't already, please consider supporting our trusted, fact-checked journalism by taking out a digital subscription.
Want to join the conversation? Please or to comment on this article.