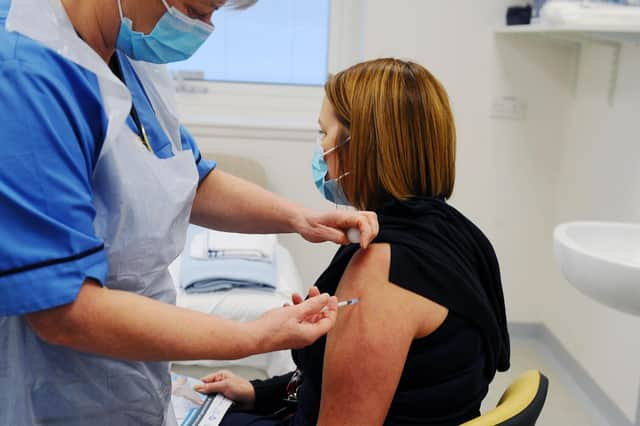 Christine Jardine MP has been contacted by elderly, vulnerable constituents trying to find out when they will be vaccinated against Covid-19 (Picture: Michael Gillen)
The sense of a fresh start was almost palpable in parliament as we discussed it, and everywhere people seemed buoyed up by the notion that their jag could be just around the corner.
A collective sigh of relief and lowering of shoulders.
But that is not what is happening now.
Every evening I see the latest figures showing that across England the percentage of the population that is receiving the vaccine has been well into double figures for days.
At the end of last week touching seven million people in England – more than the entire population of Scotland – had received at least one dose of the vaccine.
And most mornings the discussion in my team meeting is about the problems facing elderly, vulnerable constituents – the first group to be vaccinated – trying to find out exactly what is happening and when they can expect their letters. Whatever the colour of the envelope they eventually come in.
It must feel more like waiting for a golden ticket as there are still those in their 70 and 80s who tell me they are sitting anxiously by the phone or listening for the letterbox.
Some in that age group certainly do have their appointments but too many are still waiting while they hear of younger people, under 75, getting vaccination slots because they are being sent to hubs.
GPs are not receiving the doses which would meet the demand on their practices.
And while the Scottish government might attempt to dismiss these as "anomolies", official figures show that almost a million doses of vaccine have been allocated to Scotland and almost half of them are sitting in storage in England. Waiting.
I did think that watching the First Minister on the Andrew Marr programme on January 24, or First Minister's Questions in parliament would shed some light.
Not as much as you might think, however.
On Marr, there was something impenetrable about the difference between allocation and receipt into health boards and GPs and of being ahead in care homes, which is more resource intensive.
But it didn't address the fundamental question of why we are not achieving the same levels as the rest of the UK.
For approaching a year, the entire country has been patient with those politicians with the unenviable task of steering a route through this unparalleled experience.
Governing is hard. No government is perfect, but when the public anxiety over an important issue isn't relieved in the way it should be questions need to be asked. And answered.
I appreciate that Nicola Sturgeon has won a fair measure of praise and support for the way in which she has presented and managed her administration's approach and communication with the public.
But on this issue they have dropped a very valuable, life-saving ball.
Almost a year on since we were sent home from our workplaces and told to batten down the hatches we have all become weary of excuses.
And that spluttering, uneven roll-out is a case in point.
It was late, it was slow. The Scottish health minister told us there were vaccines but we couldn't get them across the border.
Now we hear that over a weekend NHS England had to cover a portion of our emergency calls because NHS Scotland could not cope.
And the Scottish government's vaccination plan was taken down from their website as soon as it appeared in the interests of "security". The UK government's fault of course.
Good leadership and good government needs to give you confidence, make you believe. They have to take people with them by being as honest as they can be.
Over the past two or three weeks that confidence has been ebbing away at a remarkable rate.
Here in Lothian we have one of the worst roll-out rates in the country. I hear the evidence of it every day.
Nicola Sturgeon claimed in that Marr interview that one of the country's leading medics had sent they had taken the right approach.
The suspicion remains that, as with every other project this administration has taken on in recent years, the centralisation of decision-making and the layers of bureaucracy it creates slows everything down and hampers efficacy.
It happened with broadband. The Scottish government told us the roll-out was a success, but we lagged far behind England where local authorities had responsibility.
Our councils have found that the nationalist preoccupation with holding the purse strings has undermined their ability to provide services.
On those issues the Scottish public has been remarkable understanding. Forgiving you might say.
But this time it is different.
For months government has promised so much, delivered so little and left the public to suffer the consequences and the clean-up.
This past week the SNP's Finance Secretary Kate Forbes MSP called on the UK government to give Scotland more financial support.
Fortunately that strong support has been there throughout this pandemic and we need it now more than ever.
But many of us tire of this constant bleating that things are somebody else's fault on one day and demanding more help from them the next.
It's time to focus on the problem and solving it without the political side-show.
It is the right and respectful thing to do.
It's what we need. It's what those waiting for the vaccine deserve.
Christine Jardine is Scottish Liberal Democrat MP for Edinburgh West
A message from the Editor:
Thank you for reading this article. We're more reliant on your support than ever as the shift in consumer habits brought about by coronavirus impacts our advertisers.
If you haven't already, please consider supporting our trusted, fact-checked journalism by taking out a digital subscription.