Covid: Scotland should take a holistic approach to dealing with this virus – Lubna Kerr
The misquote "It's life Jim, but not as we know it" reflects the feeling that millions of us have today.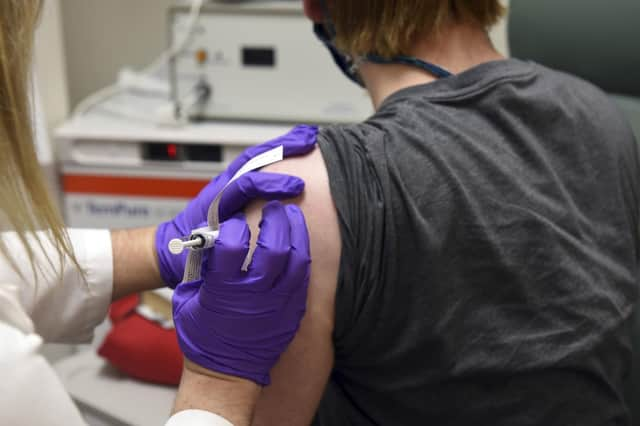 We can do more than just wait for a coronavirus vaccine to defend ourselves against the virus, for example by taking vitamins and eating a healthy diet, says Lubna Kerr (Picture: Courtesy of University of Maryland School of Medicine via AP)
"What is this world if full of care? We have no time to stand and stare." The opening words of the WH Davies poem, a favourite of my late brother's, doesn't seem to resonate as much, when time is all we have. Time to reflect, but what we need is time to heal, time to find joy and time to love.
This pandemic has taken over the lives of everyone and it's the only conversation in the street. The debate about Christmas has begun. But what can we do to help prevent ourselves from getting Covid-19?
Prevention is the key to getting us back to some description of life as we knew it, and we, as adults, need to take responsibility for our health and actions. I believe one area where we can make a difference is by taking supplements to improve our immunity.
Vitamins and a healthy diet
Research shows that vitamin D plays an important part in the prevention of certain diseases such as diabetes, MS, cancer and now Covid-19.
Previous advice from the Scottish government is that people should take vitamin D supplementation if they fall into certain categories, including those who don't get enough sunlight. Surely then, that is everyone in Scotland? So should we all be taking a vitamin D supplement?
There has been some good news about vaccines lately but they take time and millions of pounds to develop, whereas taking vitamin D supplementation is an easy, quick and cheap preventative step. However, it's only recently been advocated for the most vulnerable. National clinical director Professor Jason Leitch advocates FACTS – Face-coverings, Avoid crowded places, Clean your hands regularly, Two-metre distance, and Self-isolate and book a test if you have symptoms – and it is very important, but we need to do something that helps us internally too.
When Aids first came to light, those affected were taking large doses of vitamin C, which helped suppress the virus. Vitamin C improves our immune system and can play a huge role in fighting coronavirus.
Why, I wonder, are we not hearing this from our politicians? Dr Gregor Smith, the interim chief medical officer, must surely understand the importance of prevention? Only offering FACTS advice is not good enough. Perhaps they need a prevention lead. I would be up for that job.
Make fruit and veg cheaper
There has also been not enough from the Scottish government about the advantages of a healthy diet in the fight against Covid-19, which is surprising seeing how coronavirus seems to disproportionately affect those who are overweight.
Scotland has the unenviable record of having two-thirds of the population categorised as obese or overweight. My local chip shop has queues every night of the week, which can't be helping. Making fruit and veg cheaper would be a great idea and so much more economically viable than the cost of a hospital bed.
In England, some sellers are giving away free fruit and vegetables to families who can't afford to feed their children. This is a reflection of the work Marcus Rashford initiated, however the message to eat better and lose weight is not to be found from our politicians.
As an actress and comedian, I miss being on stage. I miss going to live events, sports matches, gigs and festivals. I feel for those smaller football grounds that only have 200 odd fans.
They should be allowed to have spectators go to the game. If social distancing is in place, then let these fans go back. Why has it taken over seven months for Jason Leitch to think of doing this?
Mental health is important too
For most people, being sociable is part of our human, intrinsic behaviour and the removal of the ability to see our family and friends is damaging the parts of us we cannot see.
How many more people are going to have a mental health problem by the end of this pandemic, driven by loneliness, losing their livelihood, obesity or alcohol?
Why are we putting more pressure on our already stretched and over-worked NHS staff for nothing more than a hand clap? Give them the resources and appropriate leadership to work on prevention. It is better than cure.
Every business sector in Scotland has been affected and we should not underestimate the problems they face – some will never recover.
Whilst I understand the reasoning, restricting access to hospitality has had a negative effect on this sector, and the destruction this has caused cannot be taken too lightly.
We need to get the country back on its feet physically, emotionally and economically and that needs more than restrictions to make it work. It needs proactive, preventative, positive thinking about what we can all do.
Roadmap for recovery
The English Premier League football teams are working with test firm Prenetics to have more appropriate testing methods in place. A saliva test could be coming out that takes only 15 minutes to give results.
Boots recently brought out a test that the public can buy. Imagine if we could use accurate tests that give quick results in our theatres, cinemas, footballs stadiums, events and hospitality.
If these accurate tests were available locally on the NHS, we could go and get tested at lunchtime, isolate during the day, be given the all-clear, then go out at night. It could be a return to life as we knew it.
The roadmap for recovery needs to be wider and more inclusive. We have some fantastic scientists, academics, creatives, entrepreneurs, businesses, sportspeople, healthcare professionals, and people in general in Scotland. Let's listen to them.
Life as we knew it may seem a distant memory but let's do things that can help bring those memories back so we can reflect on what this life could be full of: happiness, joy and love.
Lubna Kerr is a holistic lifestyle practitioner and runs a health social enterprise wellbeing consultancy called Transitions in life
A message from the Editor:
Thank you for reading this article. We're more reliant on your support than ever as the shift in consumer habits brought about by coronavirus impacts our advertisers.
If you haven't already, please consider supporting our trusted, fact-checked journalism by taking out a digital subscription.
Want to join the conversation? Please or to comment on this article.