Covid lockdown: Politicians and professors must 'show us the evidence' to ensure continued public support – Brian Wilson
My two heroes of the week are Andy Burnham and Giovanna Eusebi. At last we have challenges to government by edict.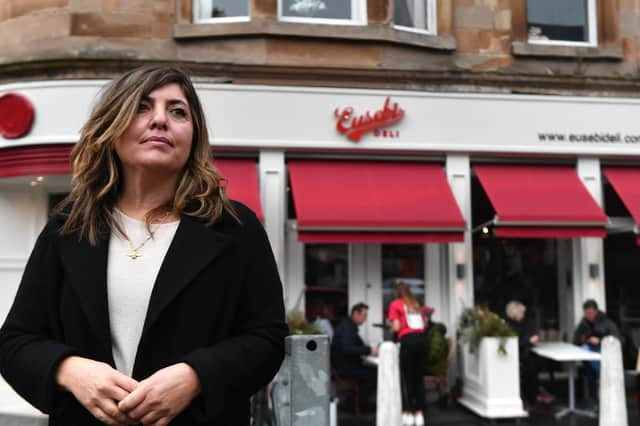 Giovanna Eusebi, of the Eusebi's in Glasgow's West End, took court action to enable her business to remain open amid the Covid restrictions (Picture: John Devlin)
Greater Manchester's mayor stood up to the UK government over the justification for measures being imposed and levels of compensation on offer.
Ms Eusebi went to court to keep her business in Glasgow open, faced by confusion over the line between restaurants and cafes. Other legal challenges will, and should, follow from the hospitality sector.
Far from being careless about public health, responsible defenders of communities, jobs and businesses are doing it a service. If restrictions are to be respected, they must carry credibility – and increasingly, they do not.
The other welcome aspect of this week's challenges, across the UK, is that they free up the right to voice concerns without being accused of "politicising" the virus as if that was the ultimate crime.
An absence of detail
From the start, Nicola Sturgeon has used the "politicising" weapon to put down critics, from the Nike outbreak through care homes to the treatment of hospitality. Ms Sturgeon's idea of "non-political" is to accuse inconvenient questioners of being "political".
Greater Manchester mayor Andy Burnham has strongly criticised the UK government over its level of support for businesses ordered to close because of the Covid restrictions (Picture: Christopher Furlong/Getty Images)
Most voices now being raised are not remotely interested in politics – but are angered by measures which are not grounded in demonstrable science or rationality.
As Professor Hugh Pennington put it: "What the hospitality industry want to see is the evidence that is driving the policy… If there is evidence, then the hospitality industry can accept, well, that's why you are coming down so heavily on us."
Seven months in, it is extraordinary that such a basic request should be necessary but that is the product of a format which has become all too familiar – announcements, regrets about how difficult it all is, but an absence of detailed evidence or questioning.
The sound of silence
The "scientific advice" mantra loses force when, clearly, scientific advice comes in many forms, often contradictory. For example, even at the highest shutdown level in most of the UK, restaurants remain open. In Scotland, they are shut full stop. Why?
Over seven months, what data has been collected which demonstrates that small, formica-topped cafes are safer than restaurants which have spent thousands of pounds creating a safe environment complete with responsible track-and-trace?
I stayed in a hotel this week which was like the sound of silence – devoid of music (another peculiarly Scottish edict) and faced with swathes of cancellations. Where is the evidence that residents enjoying wine with meals, rather than huddling (or partying) in their rooms, carries public health risks?
Responses to such questions imply this kind of detail is below the pay-grade of ministers and professors. Just do what you're told. But it is precisely at this level of detail that the high-handed approach is costing jobs and demands challenge.
Europe's third-highest excess death rate
People who have spent decades building up businesses and creating employment will not let them die without a fight because rules for which they can see no specific justification are imposed upon them.
There is a growing sense of division between public and private sectors. The rule-makers are largely untouched and can play safe by asserting that every detail is justified on health grounds. It is at the sharp end that hardship is created.
It is not as if the track record of those who impose these rules justifies unquestioning confidence. Scotland has the third-highest excess death rate in Europe. We are heading for massive economic damage which demands that every single measure must be transparently evidence-based.
The other Burnham demand, largely to the UK government, must also be respected and adequate financial compensation made available where businesses really must close or jobs are at stake. Keep listening, Mr Sunak.
For both governments, the immediate challenge is to maintain balance between legitimate health measures that everyone will respect and recognition that blanket bans which are not clearly evidence-based will do more harm than good.
"There is no evidence" is an irresponsible claim when not itself backed up by facts. In contrast, "show us the evidence" is a legitimate and increasingly necessary demand. And that is an entirely non-political statement.
A message from the Editor:
Thank you for reading this article. We're more reliant on your support than ever as the shift in consumer habits brought about by coronavirus impacts our advertisers.
If you haven't already, please consider supporting our trusted, fact-checked journalism by taking out a digital subscription.
Want to join the conversation? Please or to comment on this article.