Covid: How UK budget delay risks harming Scottish government's efforts to cope with pandemic's economic effects – Kate Forbes
Coronavirus and the emerging impacts of Brexit mean that the budget I deliver later this month will be one of the most important since the advent of devolution.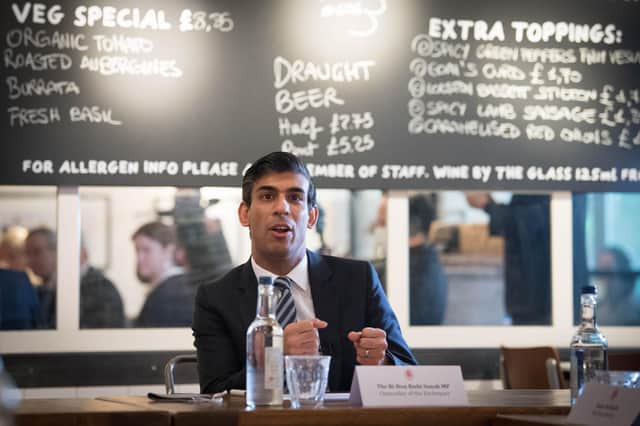 Chancellor Rishi Sunak should release Covid reserves that would mean an extra £1.7 billion for the Scottish government to help businesses that have been struggling in the Covid pandemic, says Kate Forbes (Picture: Stefan Rousseau/PA)
I am currently developing spending plans to create a platform for Scotland's recovery from this dreadful pandemic and to finance our ongoing response.
The budget must take into account the effects of Scotland being taken out of the world's biggest free-trade zone against our will – which modelling predicts will cut Scotland's GDP by 6.1 per cent by 2030 compared to EU membership – while fulfilling our legal requirement to balance the books.
We must also ensure that, in recovering from the pandemic, we forge a fairer, greener and more globally competitive Scotland.
Jobs, climate change, inequality
My intention is to deliver a budget that underpins and drives our economic recovery, supports the NHS through the pandemic and beyond, and contributes to our collective well-being through the provision of first-class public services.
In doing so I will be guided by our Programme for Government priorities, creating jobs, tackling climate change, tackling inequality and helping young people reach their full potential.
We are not yet through the pandemic and continuing government support is going to be required for businesses and public services well into 2021/22.
Businesses and workers have done an exceptional job this year, adapting to new restrictions, continuing to serve the public and managing the financial worries of reduced trade. We have committed more than £3 billion to help business, which is over a third of our total spend on Covid-19 so far. Our businesses have been on the forefront of the fight to suppress the virus, and they will power our economic recovery.
We've also provided £3 billion on top of record levels of funding for our health and social care. Over the coming 12 months, further support will be needed as, for instance, the NHS tackles a backlog of non-urgent operations, businesses start to trade again and the justice system works through hearings that were postponed because of Covid-19.
Government can only create the conditions for recovery. I am in regular contact with individual businesses as well as representative organisations ahead of the budget to understand what they require to play their part in restoring jobs and prosperity. I appreciate the overarching need for certainty on economic policies after such a difficult year and I am determined to provide as much stability as possible, including on tax.
The groundwork for recovery is already being laid. Our Infrastructure Investment Plan, detailing about £24 billion of public projects which I hope will inject some confidence into the economy by providing work for businesses up to 2025/26, is due to be published shortly after the budget.
Other initiatives include our Inward Investment Plan, the £60 million Young Person's Guarantee and the National Mission for Jobs. Last month our Climate Change Plan update included a further £400 million of low-carbon funding, making a total of £2 billion to be spent on a range of initiatives over the next five years as we seek to become a world leader in green technology.
An urgent need
Unfortunately, our budget planning is made significantly more difficult by the fiscal arrangements the devolved nations currently operate within.
Postponement of the UK budget until March means I have only half the financial information that would normally be available, with details of future tax, the final block grant adjustment and any spending that may generate consequential payments for Scotland unavailable to me.
This gap includes any information on the UK government's plans for non-domestic rates relief. Its decision to apply 100 per cent relief for hospitality, retail and leisure business in the current financial year generated consequential funding which enabled us to do similar, at a cost of around £900 million. Without confirmation of the UK government's plans for 2021-22, and with severely limiting restrictions on borrowing, I simply do not have the resources to continue this scale of relief in my forthcoming budget.
What I do promise though is that I will use the Scottish government's limited resources in an innovative, targeted way to help these businesses as far as possible. And if the UK government subsequently announces enhanced rates relief in its own budget which results in increased funding, I will take further action to support business.
Separately, I am urging the UK government to release the package of £21.3 billion of Covid-19 reserves which it has previously announced but hasn't yet distributed to help tackle the impact of the pandemic. This money could generate up to £1.7 billion for the Scottish government and allow me to do more in the budget.
The reserves were set aside by the Chancellor in November, when the economic outlook was far more positive than it is now. There is an urgent need, across the whole of the UK, for additional funding to be made available. Furlough must be extended beyond April and resources deployed to support the economy and public services. Decisions on the use of this funding cannot wait until the UK budget in March.
I am unable to offset these multiple uncertainties by borrowing on the financial markets, or even use unspent capital funding to address immediate needs, because the UK government refuses to grant a request from ourselves, the Welsh and the Northern Irish governments for temporary, limited additional financial powers which would enable us to respond flexibly to Covid-19.
This pandemic has shown what we are capable of when we come together as a country. We have supported those who most needed help and support, innovated in our businesses, protected jobs and redesigned how we work, travel and access public services.
We must now build on these positive initiatives while tacking those inequalities that have been magnified during the past year.
My aim is that the Scottish budget should begin the process of creating the fairer, greener and wealthier country that we all want to see.
Kate Forbes is Cabinet Secretary for Finance
A message from the Editor:
Thank you for reading this article. We're more reliant on your support than ever as the shift in consumer habits brought about by coronavirus impacts our advertisers.
If you haven't already, please consider supporting our trusted, fact-checked journalism by taking out a digital subscription.
Want to join the conversation? Please or to comment on this article.