Covid: After SNP tax stunt over gift to NHS staff, please let vaccines stay immune from manufactured grievances – Brian Wilson
It takes a twisted political talent to turn a "goodwill gesture" to NHS staff and care workers into a stunt aimed at fostering division.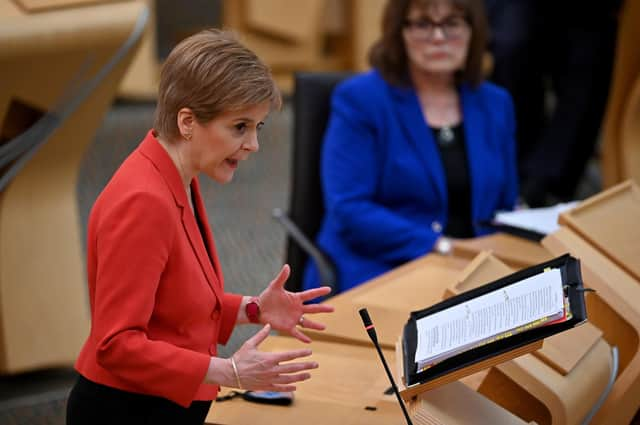 Nicola Sturgeon is getting money from Westminster and then putting an SNP sticker on it, says Brian Wilson (Picture: Jeff J Mitchell/pool/Getty Images)
Just do it or don't do it. But adding an impossibilist demand in an effort to claim moral superiority demeans not only the gesture but also its author.
I guess the vast majority in Scotland were (and probably still are) blissfully unaware that the tax on a £500 bonus would go to the Scottish government, rather than the hated UK Treasury.
So, basically, demanding that Boris Johnson (note the personalisation) should forego the tax was a con. He's not getting it anyway. Furthermore, there is a perfectly viable way for Ms Sturgeon to ensure a net £500 payment if that is what she really wanted.
Of course, it's not what she really wanted. What she really wanted was a throwaway line that made herself look like Mother Theresa with the grasping Tories at the other end as pantomime villains.
Headlines that trump decency
All's fair in politics, you may say. But is the devotion of NHS staff and care workers suitable territory for such a naked attempt at deception and partisanship? I'm sure Ms Sturgeon's response would be: "Yes, if I get away with it." Which she probably will.
The Fraser of Allander Institute did its usual sterling work, quickly pointing out: "If policymakers want those employees to benefit by £500 after tax, the solution is to pay a higher gross bonus." Roughly calculated, pay £625 with £100 coming back to the Scottish government and the balance going to National Insurance.
Fraser of Allander also noted that the biggest beneficiaries of a tax-free bonus would be those on the highest rate of tax – "at odds with a progressive tax system". But none of that is the stuff of headlines which easily trump decency or respect.
The most depressing aspect of the Fraser of Allander analysis was its conclusion: "The inevitable rejection of the call by the UK government served up exactly what the Scottish government had really wanted… As an insight into next year's election campaign, this debate gives a taste of things to come." Oh, dear.
One upside of the chicanery is that it led to some questioning of how the rest of the £8.2 billion extra Covid cash that has come to Scotland via the UK Treasury has been spent.
A moral obligation
The best estimate is that around £1 billion hasn't been spent at all and the reasonable assumption is that it will be laundered as Scottish government largesse to be dripped out in caring, sharing packages between now and next May.
Ms Sturgeon told her virtual faithful to consider "how much more we could achieve if we didn't have one hand tied behind our back". An honest translation would be: "If the Barnett Formula keeps forking out, we can recycle even more money with an SNP sticker on it."
Right at the start of the pandemic, when it became apparent that huge sums of extra money were – very properly – coming to the Scottish government, I suggested some straightforward, transparent accounting would be welcome. Two columns – cash in, cash out.
There was a moral obligation to pass on money for intended purposes – support for stricken businesses and local authorities among them. I asked more in hope than expectation since transparency is the last commodity our devolved rulers deal in.
So it has proved. The huge extra sums which came north under Barnett were always going to create plenty leeway for political syphoning – you might say, one hand behind the back and the other in the till.
In today's Scotland, there is no good news that cannot be turned into a grievance and no amount of money that cannot be used as a weapon against its source. Until, that is, the con is seen through.
Meanwhile, one small plea for human-kind… can the vaccine, a product of scientific genius not politics, now be distributed in Scotland as elsewhere without flag-waving or manufactured grievances? It really is too important.
A message from the Editor:
Thank you for reading this article. We're more reliant on your support than ever as the shift in consumer habits brought about by coronavirus impacts our advertisers.
If you haven't already, please consider supporting our trusted, fact-checked journalism by taking out a digital subscription.
Want to join the conversation? Please or to comment on this article.