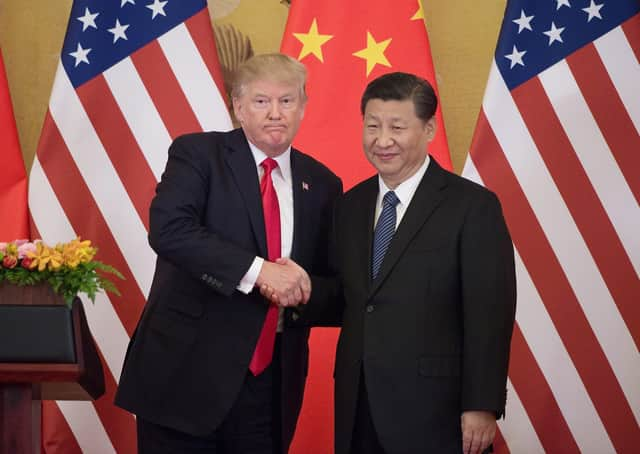 The coronavirus kills but it also poisons. It damages existing relationships, domestic, commercial and political. There are longstanding tensions between the world's two biggest economies, the USA and China. The worst health emergency, economic crisis and societal shock since the 1940s creates new areas of disagreement. The implications will be profound, not only for US-China relations but also for countries caught in the middle such as Scotland.
Strategic rivalry between the USA and China is understandable. China's surge up the global rankings forces America to adjust to some harsh facts. It is no longer the largest manufacturer in the world, the biggest consumer sector, the largest digital market. As America pulled back, so the Belt and Road Initiative allowed Chinese capital to push into Asia and Africa.
Day by day, pinch points make new news. Alongside President Trump's concerns about trade imbalances, there are questions about human rights in Xinjiang and Hong Kong, the evolution of 5G, control of maritime routes, underpinned by growing worries in the Pentagon about the expansion of China's defence capabilities.
Into this complex mix comes the coronavirus. It exacerbates existing trends, for example away from high street purchases towards 'click and collect', away from relying on overseas producers towards developing national champions. Sadly, the virus has added to the sense of mistrust, even bouts of aggressive rhetoric, between America and China.
President Trump is in a difficult position as he seeks re-election. With unemployment at 1930s levels, and more deaths from the virus than the Vietnam war, he is trying to sustain his popularity by casting China as a scapegoat. Biden exacerbates this by painting his opponent as weak on Chinese policy. Bad publicity is working – a record number of Americans say that they have a negative view on China.
China is responding, for example with its own conspiracy theories, but not gaining many friends. 'Wolf warrior diplomacy' includes mixed messages about the availability of PPE for 'friendly' countries. An aggressive propaganda effort to encourage recipients of medical supplies to 'tell a good China story' has backfired – not helped by the poor quality of some products.
Rather than speculating how these trends develop, we can monitor several areas. Examples include the rhetoric at China's National People's Congress, how it responds to growing calls for Belt and Road debt relief, further rules by either country to limit technology sales, US responses to the proposed security laws for Hong Kong, or most worryingly military misadventures in the South China Sea.
Such disagreements must be set in context. Australia and the EU successfully called for an inquiry into the source of the virus, whether there was complicity by the World Health Organisation. There are simmering rows with African countries upset by Chinese treatment of some of their citizens.
Do politics in far-away places matter for Holyrood and Westminster? Absolutely! Obvious examples are the flows of students and tourists, exports of food and drink, or the raging debate about 5G investments. More fundamentally, there are risks and opportunities for Scottish companies as China attempts to transform from an export led to a consumer-based economy, from low-value manufacturing to a high-tech powerhouse.
Like others, Scotland's economy must adjust to the consequences of Covid-19. We will see changes to manufacturing supply chains and domestic healthcare capabilities, the creation of national champions, and new ways of controlling public finances after the massive explosion of national debt. 'Resilience' becomes a watchword for households, businesses and governments. In relation to the virus, the 'West' has much to learn from Asia about life after lockdown. Countries as varied as Australia and Singapore, Taiwan or Vietnam are on top of the crisis. Already many charities and artistic bodies are benefitting by exchanging expertise and developing cultural links. The 'Golden Era' of UK-Chinese relations which Messrs Cameron and Osborne envisaged never quite achieved its ideals but there is still sense in each country benefitting by playing to its strengths, say in finance and infrastructure.
Looking ahead we face a classic 'fork in the road'. Does our global village become collaborative? It could build on today's challenges to combat even more dangerous environmental threats. Conversely will there be a drift towards nationalism and isolationism, away from Pax Americana towards post-Covid anarchy? Put simply, will the coming decade be more like the 1930s or 1950s? We all know that a breakdown in the relationship between the US and China would be damaging. Hopefully, governments, business and civic society across the 'West' can create the conditions for more collaboration – successful bridge building is our objective.
Andrew Milligan is a Board member of the Asia Scotland Institute