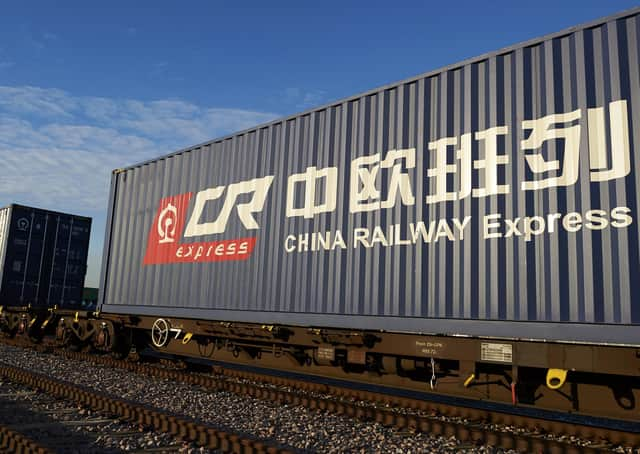 China Railway Express is a unit of China's state-run China Railway Corporation (Picture: AFP/Getty Images)
The UK's relationship with China is rapidly deteriorating as a result of concerns over Hong Kong's independence, human rights abuses and Huawei's role in the UK's 5G roll out. Yet what do these and other diplomatic changes mean for rail freight?
China National Railway says 2.920 trains ran between China and Europe from January to April 2020, a 24 per cent increase year-on-year. But Covid-19 has since taken its toll on trade volumes and service levels have declined. It is possible that further diplomatic upsets or an ongoing pattern of lockdowns could mean a further decline in freight from China. This could be exacerbated by increasing environmental concerns over manufacturing things on one side of the world and then shipping them to the other and a desire to re-shore or near-shore jobs in a Covid-19 induced recession. Taken together, this may disrupt the trade patterns of recent decades.
This is just one of the dangers. But even at this dangerous "change point" some things are likely to stay the same. We will remain an urbanised country in a increasingly urbanised world. The fundamental infrastructure of the country – the ports, road and rail networks – will still exist and we will still import and export goods. Scotland has a strong role in exports, but is particularly reliant on effective trade routes and infrastructure to ensure its goods can reach market cost effectively.
These basic facts should focus where we look for opportunities. For Rail Freight and reducing transport emissions, one of the most important current opportunities are Freeports. The Rail Freight Group recently responded to the Westminster Government's Freeport consultation which will see up to ten Freeports become hubs for global trade and investment, promoting regeneration and job creation and creating hotbeds for innovation.
Locations awarded Freeport status are likely to receive substantial investment and tax benefits and see significantly higher movements of freight as a result. The Westminster Government wants the opportunities to apply this to the entire UK, but as much of the policy is devolved, "it will work with the devolved administrations like Scotland to develop a distinct allocation and governance processes".
The RFG argued that to ensure this flagship policy creates the best possible future for the UK, inland rail sites should be able to apply for Freeport status, either alone or as a joint bid with a seaport, to ensure that as much of the country as possible can access the tax and other benefits. However, this should be joined with strong protections to ensure that Freeports create new business rather than simply encourage businesses to leave their existing locations. For example, could ports in the north of England becoming Freeports where Scottish ports don't distort trade patterns?
Freeport bids which have good rail access should be prioritised to minimise the carbon emissions from the significant amount of new freight movement likely to be generated. Freeports provide a major opportunity to invest in innovative ideas on how to advance low carbon freight which could then be rolled out around the country. But of course, it is not just the ports which need investment. An electrified rail network should eventually connect them to the rest of the country to maximise their potential effect as green freight hubs. Excellent transport links to Scottish Ports and cross border, with upgraded East and West coast mainlines, would be transformative. It would be strange if Freeports, and the investment that goes with them, aren't part of a green recovery to support decarbonisation and help the UK transport sector to reach net zero.
Sadly, this investment was missing from the Chancellor's recent speech announcing a "Plan for Jobs" for the post-Covid recovery worth up to £30 billion. While measures to improve the energy efficiency of homes are needed, it was disappointing that the speech did not mention rail. Transport is the sector of the economy with the highest carbon emissions but was only mentioned in the context of better roads. Perhaps the additional £800 million of Covid-19 funding released through the Barnett Formula can help counterbalance some of the transport investment that the Scottish Government should make to successfully cope with the many crisises we're facing.
Joe O'Donnell, Head of Policy, Rail Freight Group