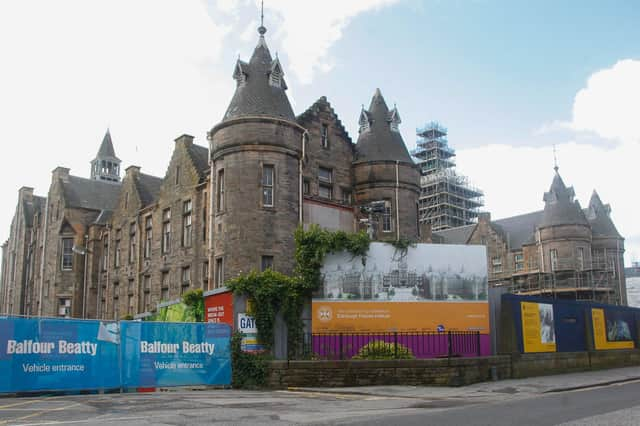 Construction work was underway at Edinburgh University's new Edinburgh Futures Institute at the old infirmary site when the coronavirus outbreak began (Picture: Scott Louden)
The coronavirus pandemic is primarily a health crisis, but there is little doubt that it will have a profound effect on jobs and livelihoods.
It is too early to know the true impact of Covid-19 on our country, but most analyses show that Scotland's economy could shrink by up to a third.
That will have a significant impact on jobs and the viability of businesses of all sizes.
One of the impacts of the pandemic that will be acutely felt in Edinburgh is with our world-leading universities. The effects on higher education could be both substantial and long-lasting.
An army of the globe's best scientists and staff are currently engaged in helping to fight the virus with testing, research, technology and drug development. We should thank them all for their efforts.
We are fortunate to have such influential and international educational institutions in the city, but perversely, that global reach makes the impact of such a widespread crisis more severe.
Peter Mathieson, principal of the University of Edinburgh, said last week that "the university faces a major financial impact".
As an example, Edinburgh University accepts almost half of all of its students from outside the UK. Those fee-paying students bring in £200 million a year which is nearly 60 per cent of the total fee income. A restriction on international travel from many countries and a nervousness about moving overseas will surely impact on international student recruitment.
That is only one major funding stream. There will also be large losses of income from accommodation, catering, conferences and potentially the research funding that comes in from under-pressure charities, businesses and individuals which the university sector requires.
I welcome the principal saying that the university will be open in September and be offering courses and degrees to students "wherever they are at that point", but that may not attract the foreign undergraduates who provide that financial underpinning for local students.
Universities do have some financial cushion in terms of reserves but the uncertainty around how quickly the sector can recover will be a real concern.
There will be many individuals, businesses and sectors requiring government intervention to help. The higher education sector will be no different. It is a critical employer in Edinburgh, an important educator, a major gateway to the world, and a provider of significant economic prosperity for local communities.
One of the areas I would like examined is that of the entry of Scottish students. Every year, when the entry letters drop on the doormats of local young people, I get a deluge of complaints that course entry has been declined.
This is because the number of places for Scottish students is capped due to restricted government resources. That must change.
Universities are in dire need of some form of financial security in the form of Scottish Government intervention.
What better way to use any additional support than to ensure more places are available for students from Edinburgh, Scotland and deprived backgrounds. There will be plenty of capacity to lift the restrictive cap on numbers.
There are not too many silver linings to this current crisis, but an opportunity to increase the number of future Scottish world-class academics, scientists, researchers, and teachers that can drive future prosperity in our city and beyond should be welcomed.
Edinburgh's universities need a swift and positive response from the Scottish Government to see off the existential financial danger confronting them, and ensure that they can play a crucial role as the country recovers from this tragedy.
Ian Murray is Labour MP for Edinburgh South