Change in English attitudes is a gamechanger for Scottish independence - Lesley Riddoch
What has Boris Johnson got left in the tank? Judging by his appearance on Sunday's Marr show - not a lot.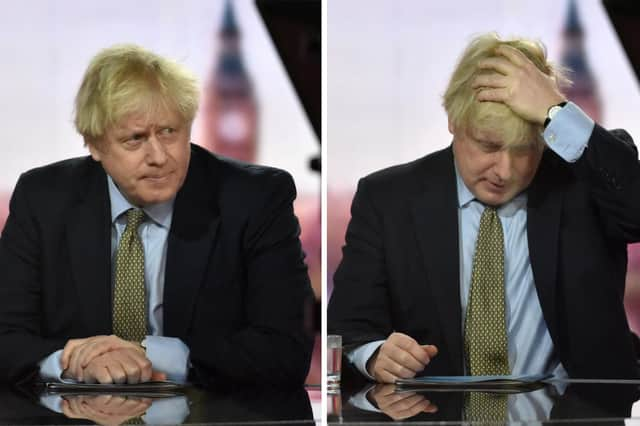 Boris Johnson appearing on the Andrew Marr show on Sunday
It was, even by the Prime Minister's low standards, an excruciating half hour of evasion and repetition - his first appearance on the BBC's flagship political programme since October, and it's easy to see why.
Slow thinking, meandering, hopping from cliche to cliche and talking over the interviewer, it was classic Johnson. Nothing of any significance was said, even though Covid hospital admissions are at a record high and English parents must decide if they trust the PM sufficiently to send their kids back to school.
Still bluster, buffoonery and Brexit have got Boris Johnson this far - so the 'victorious' Tory leader might be expecting to start 2021 on a high.
An astonishing weekend opinion poll has just dashed those hopes and suggested that political opinion in England has been undergoing a quiet sea change. According to Focaldata's huge survey of 22,000 people, a general election today would see the Tories win 284 seats (losing Johnson's own seat and 80 others) while Labour would win 282 with the SNP clinching 57 of Scotland's 59 constituencies and the Lib Dems reduced to just two.
"The SNP appear to be the real winners," concludes Focaldata's founder Justin Ibbett, who predicts 'the most likely outcome [of a future general election] is a Labour-SNP coalition government, with an overall majority of just over 20 seats."
Obviously in such a scenario, the SNP would make support conditional on a second Edinburgh Agreement and indyref - giving Keir Starmer one term before Scotland transitions to independence in the event of a Yes vote.
Now of course, it is just one poll, whose survey work was mostly complete before the Brexit deal was announced. Scotland might indeed vote No a second time and in any case a general election isn't scheduled until 2024. But one thing's certain right now.
Key parts of the English electorate have fallen out of love with Boris Johnson in one year flat.
Was Red Wall support just a means to a (perverse) Brexit end which, now achieved, ends any need for northerners to tolerate the bust-ups with Mayors, betrayals over lockdown cash and Johnson's underwhelming 'levelling up' agenda? Perhaps northern Labour voters, strangely alienated by Jeremy Corbyn, can cheerfully return to the party now Keir Starmer's in charge?
If so, it's a puzzling end to a whirlwind romance. But one thing's certain - any change in English attitudes could also be a gamechanger for Scottish independence.
Not because the prospect of a frustratingly distant hung parliament solves very much for the 58 per cent who want a fresh start for Scotland right now.
But because the Focaldata poll is the best evidence yet for a new narrative - largely constructed by the London media - that the break-up of Britain is inevitable thanks to Boris Johnson and his Brexit project.
Even previously sceptical pollsters and columnists concede that 17 consecutive polls with Yes majorities is a meaningful run. And whilst the SNP already has a wheen of electoral mandates, the one that looks set to be delivered in the Holyrood elections is being treated as massively important and uniquely significant.
Why all the sudden interest? Maybe, it's a case of 'old to us', 'new to them'.
Maybe the penny has finally dropped because Scotland and England are at odds over a subject with real, emotional weight for the larger, more powerful partner.
Perhaps the commentariat needs the adrenalin of another constitutional cataclysm - hooked to dramatic change after so much has suddenly happened in this supposedly change-resistant country.
Perhaps sauce for the goose has become sauce for the gander - with Brexit-supporting voters fully anticipating that other 'subservient' nations will want to 'take back control' as well.
Or perhaps, as Professor Tom Devine suggests, Tory party branches crammed with English nationalists, are fed up to the back teeth with 'parasitic' and ungrateful Scots.
"The break with Europe is now a done deal; their next objective might very well be the end of the Anglo-Scottish Union. 'Union-sceptics' may become the heirs of Eurosceptics," getting their retaliation in first and demanding an end to ties with Scotland before the Scots themselves deliver the coup de grace.
If so, Messrs Johnson and Starmer may be in for a bumpy ride with their 'just say no' mantra - and not just at the hands of Scottish independence supporters.
Scotland's 62 per cent Remain vote has created an irretrievably stark contrast between Britain's two largest nations. True, an even starker contrast did occur in the 1997 election when Scotland became a Tory MP free zone. But then, Scotland was going with the grain of English opinion. On Brexit we have gone against it - a contrast that has finally drawn attention south of the border and around the world.
It's a strange one. Scotland remains both marginal and fascinating to London-based commentators, hooked by the seductive beauty of a Brexit which both 'frees' and destroys Britain.
And ironically this new inevitability around independence is helping to validate what was once a troubled destination, as surely as barely concealed contempt had a huge, dampening effect last time around.
So if Boris Johnson really is a one-trick Brexit pony with nothing else in his kit-bag, it could yet be his tone-deaf response to the Holyrood elections that brings him down.
A message from the Editor:Thank you for reading this article. We're more reliant on your support than ever as the shift in consumer habits brought about by Coronavirus impacts our advertisers.
If you haven't already, please consider supporting our trusted, fact-checked journalism by taking out a digital subscription.