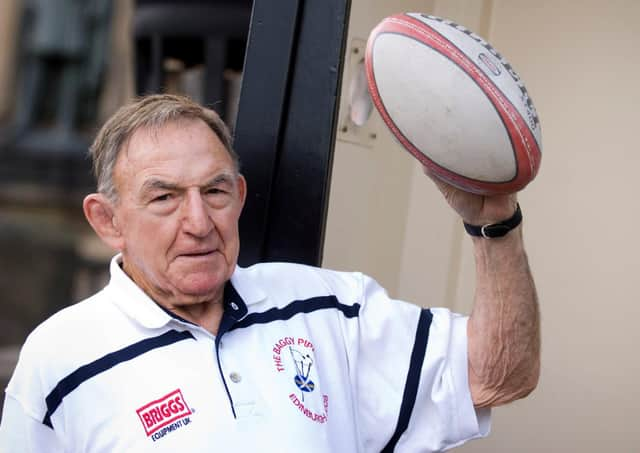 Easton Roy, the world's oldest rugby player, has died at the age of 97 (Picture: Ian Georgeson)
THE death of Easton Roy – following a short battle with myeloid leukemia – closes the book on one of the folk heroes of not just Scottish, but world rugby. Easton played his final game of rugby, a sport he only took up during wartime RAF service, aged 21, to celebrate his 96th birthday, in 2019. His plans to mark his 97th birthday with a game this year were scuppered by the Covid-19 lockdown.
He was a legend and an inspiration in the game, the ultimate rugby enthusiast, dubbed: "The Oldest Winger In Town," when the mighty CNN television service despatched a camera crew to Stirling to film that 96th birthday game and to see him mark the occasion with a try.
Easton gave 75 years to rugby, where, for all the fame of his later life, he was simply "a rugby player," far happier on the field getting stuck-in than in the committee room. He thoroughly enjoyed the social side of the game from start to finish.
He was born in the Cambuskenneth district of the town, but spent most of his life after marriage in Cambusbarron. On leaving school, he went straight to work for his father in the family tarmac-laying business before he was called-up to do his bit in the Second World War.
Easton was due to be posted to the Far East but he swapped postings with a friend whose wife was about to give birth to his first child and as a result of this he had what some would consider "a good war," spent in the Bahamas. Here, he said the most excitement they had was when the base had to be evacuated during a hurricane.
While serving in the Bahamas he took up boxing, a sport he showed a great aptitude for; then, on the encouragement of a Welsh colleague, he started playing rugby as a prop.
Demobbed, he returned to the family business, met and married Sarah, and joined Stirling County RFC.
Back then, however, rugby was not his only sport, he rowed with the Riverside club in Stirling and was a member of their coxed four which won a Scottish rowing championship.
Gradually, however, rugby took over as his main sporting pursuit.
He was a member of the County first XV for 27 years, long before they had even moved to Bridgehaugh and become the force in the game which the club is today.
He dropped out of the first team, but continued to play and to encourage others in the club's "social XVs" – and, when County didn't have a game, or he wasn't picked, Easton would scout around for a game somewhere, also turning out for local clubs such as Bannockburn and Grangemouth.
When "Golden Oldies rugby" started, he was one of the enthusiastic older guys who were delighted to still be able to play. This code of rugby has a colour coding on shorts, according to the age of the player and while the real veterans such as Easton generally play in purple shorts and are not supposed to be tackled, this was not a protocol which Easton used.
Even in his last game, which coincidentally was on the occasion of his 96th birthday, he was getting stuck-in and not averse to being tackled. He also marked that landmark game by scoring a try.
One career highlight for him was when the Golden Oldies World Cup was held in Stirling in 2008, and Easton gave the opening speech on behalf of the players. That event, in Stirling Castle, with the Corries on-hand to sing Flower of Scotland, was a memory he cherished. His family were also touched to receive a message of condolences from an Argentinian club who had befriended Easton during that tournament.
Away from rugby, he was a very-keen and enthusiastic gardener, growing fruit and vegetables and a collection of roses of which he was particularly proud. Easton and Sarah, who passed away in 2016, had three daughters – Christine, Sheila and Ellen, who survive him along with his four grandchildren and two great-grandchildren.
The SRU also marked the passing of this legendary figure, Scottish Rugby interim chairman John Jeffrey saying: "Easton was the embodiment of why so many of us love rugby. Just because he reached a certain age, there was no reason for him to turn his back on the fun and camaraderie that are part and parcel of our game.
"On behalf of Scottish Rugby I send my sincere condolences to all his family and many friends at Bridgehaugh and beyond. He was the ultimate champion of our game."