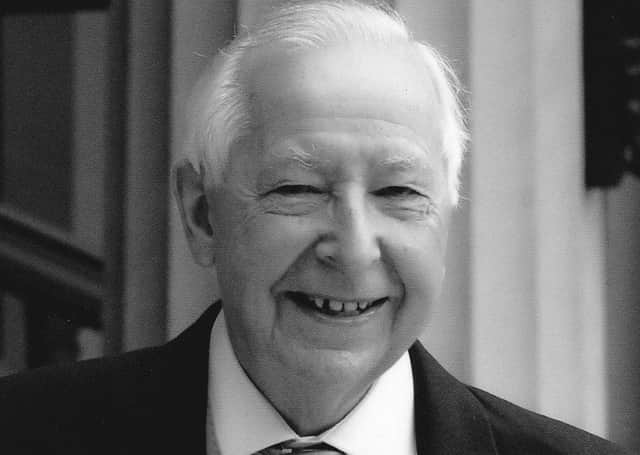 Theologian Bill Shaw has died at the age of 92
Rev Professor D. W. D. (Bill) Shaw, theologian. Born: 25 June, 1928 in Edinburgh. Died: 14 July, 2020 in Edinburgh aged 92
Bill Shaw was Scotland's most senior theologian. A gifted sportsman and professional solicitor who turned to the ministry of the Church of Scotland, he exercised leadership roles in the Divinity faculties of Edinburgh and St Andrews.
Born in Edinburgh in 1928, the youngest of six siblings, Bill was schooled at Edinburgh Academy and Loretto. He graduated BD from New College, Edinburgh in 1960, having earlier worked as a partner in the legal firm Davidson Syme WS, following degrees in modern languages in Cambridge and law in Edinburgh.
After serving as assistant minister at St George's West Church under Murdo Ewan MacDonald, he returned in 1963 to New College – the home of the Faculty of Divinity – as a lecturer, later becoming Dean of the Faculty and College Principal. In 1979, he was appointed to the Chair of Divinity at the University of St Andrews, where he also served as Dean of the Faculty of Divinity and Principal of St Mary's College, thus completing a unique double.
A talented mountaineer, golfer, and squash player, Bill combined academic with athletic prowess. He was Scottish Amateur Squash Champion for three consecutive years (1950–52) and scaled the Matterhorn in 1958. He played golf regularly into his 80s and served as Chaplain to the Royal and Ancient Golf Club of St Andrews (1984-2006).
His academic achievements include publication of two fine and accessible volumes Who is God? (1963) and The Dissuaders (1978). He could communicate effectively without over-simplifying his subject, often displaying a quiet wisdom in his critical judgements and in opening up dimensions of a problem that we might not have noticed.
Although affirming traditional doctrinal positions, he often developed these with a plastic reshaping. Never allied to any single theological party, he remained his own man, finding value in a range of positions. His readers, and perhaps Bill himself, regretted that he did not publish more.
As a Dean in both Edinburgh and St Andrews, he quickly gained a well-earned reputation as a brilliant administrator, renowned for keeping cool in trying times and for his exemplary chairing of meetings – it was hard to behave badly while Bill was in charge. And his wide legal expertise was increasingly sought by the judicial commission of the Church of Scotland.
He chaired charitable trusts, and also made substantial private financial contributions to Scottish universities and to individuals in need, under an anonymous trust. He gave Croall Lectures in Edinburgh (1983) and Robertson Lectures in Glasgow (1992), and was a Visiting Fellow at Fitzwilliam College Cambridge. In America he was a Visiting Professor in Texas, not to mention a squash champion once again.
Awarded honorary degrees by the Universities of Glasgow (1991) and St Andrews (2005), he also received the OBE (2009) for charitable services. In retirement, he became the founding editor in 1994 of Theology in Scotland, a journal intended to bridge the gap between the academy and the church.
Bill spent some of his earlier years in Canada where he was evacuated during the war. He remained an intrepid traveller almost to the end of his life. While still an assistant minister, he was appointed by the World Presbyterian Alliance as their ecumenical observer at the opening session of the Second Vatican Council in 1962. An accomplished linguist, he learned some Italian and immersed himself in the business of the Council. With his gift for socialising, he came to know many of the leading conciliar figures and often spoke of the evenings they spent in a local hostelry. Since the owner had prohibited any nun from entering his premises, they named it the Bar Nun. Along with Hans Küng and Joseph Ratzinger (Pope Benedict XVI), Bill was one of the last survivors of Vatican II.
Notwithstanding his many achievements and the wide appeal of his lecturing and preaching, Bill is remembered above all for his gift of friendship. Graeme Auld, one of his students and a successor as Principal of New College, writes that a "quietly generous hospitality was my enduring experience of Bill".
Students gladly recall evening study groups in his Murrayfield home to discuss contemporary novels, after which a lavish supper would be served. Others were offered pastoral support in the midst of a crisis. Impoverished undergraduates would sometimes be told by the Faculty Office that they had been awarded a bursary from an anonymous source, little knowing that this was Bill himself. Another student tells us of how she was quietly provided with funds to contest a difficult legal case.
Letters from Bill brought carefully thought through, immensely helpful counsel. Years later, numerous acts of kindness are recalled with gratitude. Bill once said that amongst the happiest moments of his life was finding friendship where he least expected it.
In his years of retirement, based once more in Edinburgh, he maintained a busy schedule of travel, weekly visits to St Andrews, speaking engagements, and lunches with former students at the New Club. He regularly attended Cramond Kirk, where his minister, Very Rev Dr Russell Barr, comments that although Bill was his former teacher, he remained forever grateful to be considered his student.
In 1996, Bill was honoured by the publication of A Festschrift – The Presumption of Presence. His former colleague Professor Alec Cheyne wrote a moving appreciation, concluding with these reflections: "As those who know him best will testify, Bill is not an easy person to thank. But at least this once he must accept our gratitude and affectionate admiration, not only for his scholarship and his awesome competence in so many fields, but also for those other qualities which in the last analysis surely matter as much, or even more: his kindliness, his eirenic spirit, and his Christian grace."
We offer our condolences to Bill's extended family to whom he remained close throughout his remarkable life. A memorial service is planned once the current restrictions are lifted