The former US president's flagship property at Turnberry accounted for the vast majority of the losses at £14.7m, marking the eighth consecutive year it has been in the red under his ownership. The annual losses nearly trebled from 2020, when the company was £5.2m in the red.
His inaugural resort in Aberdeenshire lost more than £696,000, down from losses of £1.3m the previous year. Since it was incorporated in 2005, it has never turned a profit. Indeed, since Mr Trump took ownership of both resorts, their losses have mounted year on year and now stand at more than £76m, with none of his firms paying anything in corporation tax over that timeframe.
An analysis of the accounts by The Scotsman also found that since 2020, Trump's Scottish businesses received more than £3.8m in public money via the UK government's job retention scheme, introduced as an emergency measure to help employers pay their workers' wages if they were unable to work during the pandemic.
The accounts, which were due to be published weeks ago, show Golf Recreation Scotland, the parent company of Turnberry, is reliant on intercompany loans worth more than £131m, up from £113m in 2020. Trump International Golf Club Scotland Limited, the firm behind Trump's resort in Balmedie, Aberdeenshire, continues to draw on a £40.6m interest free loan from Mr Trump directly.
It has a rolling repayment term of one year and one day, and requires Mr Trump to give 12 months' written notice of any request for full or partial repayment. Both companies are ultimately controlled by the trustees of a Florida state grantor trust in Mr Trump's name.
The latest filings show Golf Recreation Scotland's turnover more than doubled from £6.7m in 2020 to £13.1m the following year, with the company reporting a group operating profit of almost £1.1m before depreciation, foreign currency exchange losses, and "exceptional items".
However, once those other factors were taken into account, Turnberry, a four-time host of golf's prestigious Open championship, posted its second highest annual losses under Mr Trump. According to the accounts, some £9.7m was lost via foreign currency exchange rates, with £3.9m of losses attributed to depreciation of its tangible assets. A further £2.1m was paid out by Mr Trump's firm as part of a franchise termination payment, which allowed it to exit from a long-term franchise agreement with the Marriott hotel group, meaning it is now run solely under the Trump Hotels brand.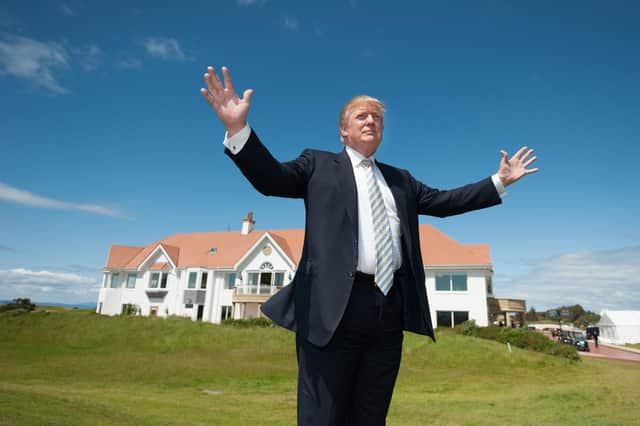 The accounts also reveal Trump Turnberry received more than £932,000 in grants in 2021 via the UK Government's job retention scheme. It received £2.3m through the initiative in 2020. Mr Trump's company in Aberdeenshire received more than £580,000 over the two-year period.
Turnberry was heavily criticised by the RMT union and ethics groups during the pandemic for claiming the furlough funding while making scores of redundancies. At the time, Mick Cash, the union's general secretary, described it as a "scandal" that breached the principles of the job retention scheme.
The accounts for SLC Turnberry Limited, Turnberry's operating firm, and a subsidiary of Golf Recreation Scotland, showed a loss for 2021 of £3.7m on turnover of £13.1m. In a strategic report accompanying the Golf Recreation Scotland accounts, Mr Trump's second son, Eric, admitted Britain's departure from the European Union had taken its toll.
"Brexit has impacted our business as supply chains have been impacted by availability of drivers and staff, reducing deliveries and the availability of certain product lines," he explained. "Prices have increased from additional freight and import duty charges.
"Staff availability has been a challenge from a combination of wage inflation with retail and logistic sectors increasing wages to attract staff due to increased business levels. Indirectly the staffing pool has been reduced, with lack of access to European staff for businesses in general resulting in greater demand for the individuals previously available to the resort."
Ironically, his father praised Brexit during a visit to Turnberry in 2016, describing it as a "great thing" the people of the UK had "taken back their country".
Eric, executive vice-president of the Trump Organisation, also noted the hotel at Turnberry was closed for the first three months of 2021 due to the pandemic, but had returned to "pre-Covid levels of trading since" with a "significant increase in staycation bookings".
He expressed confidence "the future of the resort is strong," and said the Trumps remained "fully committed" to the property, with "future plans set to enhance the resort further". It is unclear what those plans are or when the Trumps intend to pursue them.
The family has spent years pursuing an expansion of Turnberry, with the latest scheme envisaging a "world-class" coastal retreat based on swathes of farmland Mr Trump acquired during his purchase of the South Ayrshire resort in 2014.
Blueprints drawn up by architects hired by Mr Trump's firm proposed hundreds of luxury properties, leisure facilities and shops by the Firth of Clyde coastline. The masterplan claimed the development would provide "permanent tranquillity and respite", while also helping to meet what it described as "an ever increasing demand for investment opportunities".
But in 2020, South Ayrshire Council said the land in question was not zoned for housing, with no plans to change its status under a revised local development plan. In January last year, meanwhile, reporters at the Scottish Government's planning and environmental appeals division said neither the Trump Organisation nor its representatives had advanced a case to show a recognised housing shortfall in the area, and provided "no evidence" around the need for retirement housing.
Elsewhere, the accounts show the Turnberry resort saw the average number of persons employed during the year rise from 289 in 2020 to 333 in 2021. However, the firm's outgoings on wages and salaries fell over the same period, down from £7.5m to £6.7m. The average number of employees at Trump's Aberdeenshire resort fell from 28 to 23, with the wage bill dropping from £1.49m to £1.45m.
The filings also reveal both companies no longer use the services of auditors Johnston Carmichael, with the work now carried out by the Limerick branch of BDO.