Jennie Lee: From miner's daughter to trailblazing MP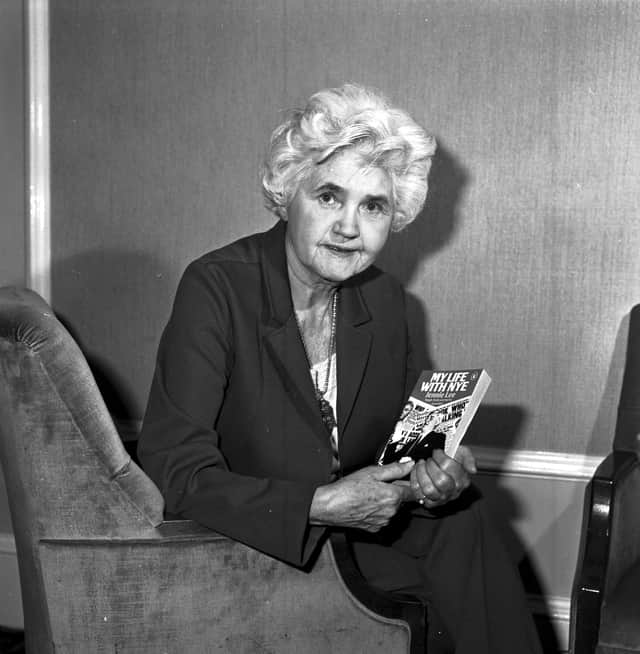 When Jennie Lee was born in the Fife pit village of Lochgelly in 1904, the chances of her growing up to become an MP were zero. Although her father and grandfather, both miners, were politically active, there was one seemingly insurmountable barrier to a career in politics - women did not have the vote and could not stand for election.
That all changed while Jennie was a pupil at Beath High School. In 1918, women aged 30 and over were granted the right to vote and Constance Markievicz became the first female British MP in history that same year - but as a Sinn Fein member she declined to take up her seat. The following year Nancy Astor won a by-election for the Conservatives in the Plymouth Sutton constituency and a new era was born.
Jennie was watching on with interest. By then she had joined her father and grandfather in becoming a member of the Independent Labour Party (ILP) and taking a keen interest in workers' rights. She hoped to attend university, but as a working class woman there was only one realistic option open to her - to become a trainee teacher.
A five year period at the University of Edinburgh followed, where her studies were largely paid for by bursaries. Upon graduation in 1927, she was already a well-known speaker in Labour circles across the central belt of Scotland. This relative fame led to the Shotts branch of the ILP to nominate Lee - then aged 24 - as a candidate for a 1929 by-election in the North Lanarkshire constituency.
The seat was a mixture of rural areas and towns dominated by heavy industry and was last won by the Unionists, the forerunners to the Scottish Conservatives. Their candidate, Lord Scone, was the son of the Earl of Mansfield - a world far removed from Lee's Fife upbringing.
The youthful candidate triumphed with a majority of 6,578. The Scotsman of March 23, 1929, reported "while a Socialist victory was expected, the majority obtained by the young lady far exceeded even her own expectations". Addressing a crowd of cheering supporters, Lee said she hoped the result would lead to a "war on poverty" and confidently predicted a majority Labour government would soon take power. It would take a further 16 years to come true.
The new MP arrived at Westminster as the youngest member of the House of Commons. Her maiden speech ignored the convention of avoiding controversy and was a direct attack on Winston Churchill's budget proposals, which she described as "a mixture of cant, corruption and incompetence." The speech was well received, with Churchill himself offering his congratulations outside the chamber.
Lee held the seat at the General Election called in May 1929 but was defeated two years later as a Conservative and Unionist landslide wiped out many Labour members. A former MP by the age of 26, she spent several years contributing articles to left-wing publications as well as undertaking speaking engagements across Europe and North America.
In 1934 she married Nye Bevan, the miner's son who would later serve as minister for health in Clement Attlee's post-war government. Having both grown up watching miners endure crushing defeats in labour disputes, she later wrote: "We were both now pinning our hopes on political action. We were eager to test to the full the possibility of bringing about basic socialist change by peaceful, constitutional means." Bevan helped persuade Lee to drop her long-held commitment to the ILP and join the Labour party instead, which she did in 1944.
She returned to the Commons in 1945 as MP for Cannock in Staffordshire, a seat she held until 1970. Lee served as minister for the arts in Harold Wilson's government of 1964-70 and played a key role in the establishment of the Open University. Adult education was a passionate interest. She once proclaimed it should be should be more than "dowdy and mouldy... old-fashioned night schools ... hard benches".
In 1970 the miner's daughter was created a Life Peer and took the title of Baroness Lee of Asheridge. Her remaining years in politics were spent writing a well-received biography of her late husband, who died in 1960, as well as attending regular debates in the House of Lords.
Lee died in 1988, aged 84.