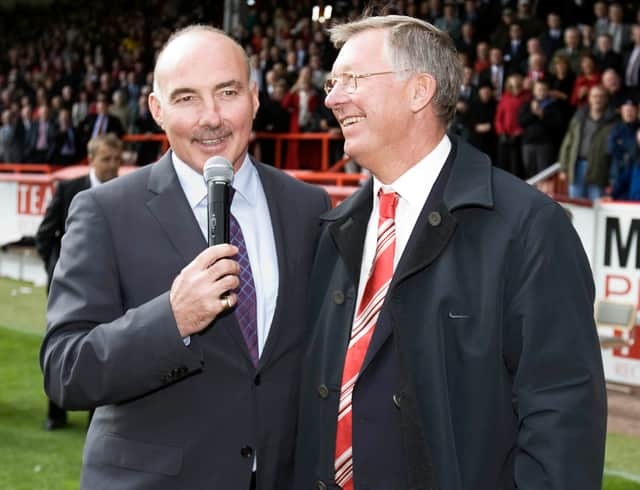 Scotland's third most successful club have had a plethora of iconic characters walking through the door at Pittodrie throughout the years. We pick a selection of the most influential.
The former full-back made over 300 league appearances for the Dons during a 13-year spell, and would surely have tallied more had he not served during the First World War. Colman was also Dons' captain for a number of years and, after retirement, returned to the club in the 1930s to work as a coach. His methods have since been regarded as revolutionary for the time, as he was one of the first coaches to concentrate on what players were doing with their legs, working with them to help master technique.
In order to do this, Colman came up with an idea that would modernise the way in which managers and coaches watched football games. It's an invention which remains to this day: dugouts. Unlike modern day dugouts, which are sometimes at ground level or slightly above, Colman had his slightly below ground so the coaches could concentrate on players' lower halves. The little trenches also included shelter so notes could be made about individual players during the match.
Aberdeen, and the game of football, has a lot to thank him for.
Dick Donald and Chris Anderson
The pair were chairman and vice-chairman, respectively, during the greatest period in Aberdeen's history. From 1976 to 1990, the club enjoyed a remarkable run of success. Starting with the capture of the 1976 League Cup, Aberdeen would win 13 major honours in 14 years. In the club's other 103 years of history, they've collected only six trophies.
Anderson was viewed as a visionary of his time. Having been forced into early retirement, the former Aberdeen wing-half would later take a place on the club's board, which he balanced with his work as secretary of Robert Gordon Institute (later Robert Gordon University). He was viewed as the driving force behind a lot of the club's success, including the hiring of Alex Ferguson and the adaption of Pittodrie into Britain's second all-seater stadium.
As for Donald, he may have received criticism from the fans and media for the notoriously frugal manner in which he ran the club, even at the height of their powers, but there's no doubt he was a hugely influential figure at Pittodrie. A former Aberdeen player himself, he served on the club's board of directors for an astonishing 44 years until his death in 1993. Before he passed, the recently constructed Beach End stand was named in his honour.
Though his worldwide legacy was built at Manchester United, it's not the sole reason he's considered the greatest manager there ever was. United are the biggest club in English football. It gives a manager a certain advantage in dominating his opposition even if, in fairness, two world class managers and David Moyes have struggled so far to replicate the success since Ferguson's retirement. But the real reason he's the greatest of all time is because he oversaw a golden age of football at not one, but two clubs.
Though the foundations were laid by Ally MacLeod and Billy McNeill, it would be Ferguson who took the club into the stratosphere in terms of success for a Scottish club outside of the Old Firm. He won the first of three titles in his second season, ending 14 years of domination by Celtic and Rangers at the top of the table. Aberdeen would win a further two titles under his leadership, going back-to-back in 1983/84 and 1984/85. Those triumphs would come after the single most memorable night in the club's history, as Aberdeen defeated the mighty Real Madrid to win the 1983 Cup Winners' Cup final.
By the time he left for Old Trafford, Ferguson would amass three championships, two European trophies (adding the Super Cup to the CWC triumph), four Scottish Cups and one League Cup.
Described by Ferguson as the "best penalty box defender in the world", Miller would be named as the greatest Aberdeen player of all time by the club's fans in a 2003 poll. The club captain and stalwart during the club's heyday, Miller would rack up 12 major honours and two player of the year awards across his 18 years as a player at Pittodrie. For a footballer who played his entire career for a club outside of Glasgow, it's a phenomenal record.
Added to his habit of trophy collecting was the 65 caps he won for Scotland. Along with Aberdeen team-mate Alex McLeish, they provided a solid backbone for both club and country, and kept top class players like Alan Hansen out of the starting XI at international level. The pair would eventually be included in an all-time Scotland selected XI voted by the fans in 2010.
Miller would later go on to manage Aberdeen for a three-year spell. He would lead the team to two cup finals and two second place finishes in the league table, but was sacked in February 1995 as the Dons struggled in the face of relegation. He returned to join the Aberdeen board in 2004 and was appointed as the director of football development in 2011.
This may seem like a classic case of recency bias, but if Aberdeen are to continue in the same manner they are now, by challenging for European places each and every season, then McInnes' legacy in the club's history will be assured. And that's regardless of whether he stays on as manager for much longer.
Aberdeen were on their knees when McInnes took over. Though there were a couple of successful seasons under Jimmy Calderwood, and one under Ebbe Skovdahl, for the most part the Dons battled the threat of relegation rather than fight for a place in Europe. It didn't seem to matter what they did, they just couldn't lift themselves out of a funk that was bordering on two decades long when McInnes walked through the door.
In one season he transformed their fortunes and the culture around the club in general. Aberdeen finished third in his first full season, second the following two campaigns, and look favourites to do so again this time around. Not to mention, he guided them to their first piece of silverware in 19 years when they defeated Inverness Caley Thistle in the 2014 League Cup final.