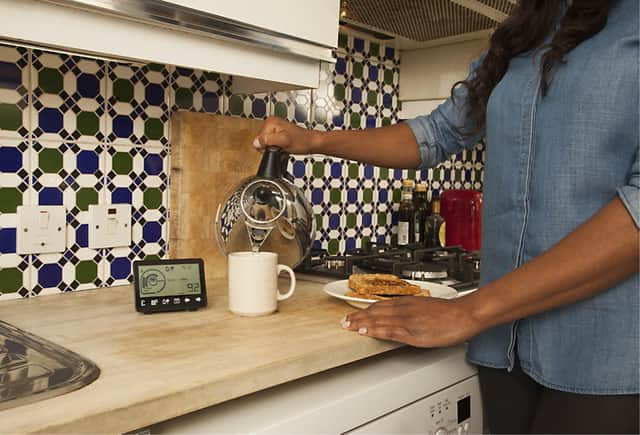 An alteration to or absence of regular behaviours, such as making the first cuppa of the day, could indicate that all is not well with an individual living alone
Arms lazily stretch out, accompanied by a long, gratifying yawn. Legs slowly move out of bed and shuffle their way through to the kitchen and the start of another day.
The kettle is flicked on to boil for a brew – a morning ritual for so many, with radio or TV news playing in the background, informing the nation of what is happening across the world.
No matter. A cup of tea solves everything, or so the old saying goes.
That may not be entirely accurate, of course, but it transpires that it might be a bit closer to the truth than some may have thought, thanks to some quite dramatic advances in the use and understanding of technology.
The simple, very British, task of making a cuppa could very well turn out to be among the unlikeliest of ways to support our healthcare system.
A new report released by 2020health, an independent social enterprise think tank, highlights how energy usage patterns from smart meter data could – with consumer consent – help the NHS to improve care for people living alone with serious health conditions, making it easier for them to live independently in their homes for longer.
The report suggests that energy usage patterns from smart meter data could be used as a non-intrusive way to understand the daily habits of people with illnesses including dementia, Parkinson's and depression. Irregularities in these patterns could alert relatives or healthcare workers that the individual concerned may need additional support.
If unusual behaviour were to be detected, an alert would be automatically raised and sent to a family member, careworker or doctor to respond. Not only could this provide professionals with important insights into the health of the patient, but it could also allow family and friends to act as 'first responders' to possible low-risk health concerns. This could alleviate pressure on social and healthcare systems and ease the burden on carers.
Boiling a kettle shows a spike in energy use. If this were to be observed later in the morning than the norm, it might indicate underlying issues of insomnia, pain or memory problems.
At the other end of the day, any fluctuation or increased energy use late in the evening or at night may suggest the 'sundowning' syndrome, which is often a sign of progression from the early stages of Alzheimer's disease to a more serious deterioration.
More urgently, if someone doesn't use any of their appliances at all, that might suggest that the occupant has suffered a fall, a stroke or the onset of some other acute illness.
It is estimated that there are more than 850,000 UK citizens living with dementia. By 2040, this number is predicted to have reached 1.6 million – a near doubling of the proud individuals affected, a huge rise in the heartache for them and their families, and a massive increase in the resources needed to help support them.
Often, families racked with guilt struggle on, bemused by what is happening. And when the load gets too much, when it is clear that a care home might, in fact, be a more suitable environment for an individual's protection, it is the independence of character and self that is finally, reluctantly and bitterly, surrendered.
Yet in the near future, it need not now be inevitable. Under-heating of homes, for example, could also potentially be detected by smart meters, another sign of health issues or other pressures, such as fuel poverty, which can result in environments that could make physical or mental health conditions worse.
Smartphones and computers are already being utilised in improving care structure. This is often called telehealth – the harnessing of technology to deliver convenient, cost-effective and accessible support.
The rollout of smart meters is already progressing to create a more resilient energy system, help build a cleaner Britain and give consumers control over their energy use. But it can also become a vital, large-scale form of telehealth, with data providing valuable insights.
Positive knock-on effects include the ability for more people to self-manage their conditions at home and remain independent, a potential reduction in hospital stays by allowing for early discharge, and a lessening dependency on primary health care and GPs.
It might also help alleviate pressure on carers themselves, providing some reassurance that a safety net of sorts is in place.
The 2020health report included research commissioned by Smart Energy GB, gathered from 4,000 respondents by One Poll. It showed that six in ten questioned – or 61 per cent – agreed that having smart healthcare technology in a loved one's home would give them more peace of mind.
A further two thirds (67 per cent) agreed that non-intrusive remote health technology could help people caring for those with dementia still living in their own home, with nearly three-quarters (72 per cent) believing that tech has the potential to change the way we live and care for ourselves.
Countries such as Japan are already using such technology in health care, something that has an increasing focus here in the UK with its aging population.
It is hoped with the roll out of technology, telehealth will see smart meters play a key role in helping vulnerable people to stay at home rather than move to care homes.
If the independence of people can be preserved for longer, if the worry and strain is lifted a little from their friends and families, then the next time the kettle boils it might be for two cups to be poured together.
Smart Energy GB is the organisation tasked with informing Britain about the benefits of smart meters. To find out more about smart meters, contact your energy supplier or visit smartenergygb.org
This article was paid for by Smart Energy GB. Smart Energy GB is the organisation tasked with informing Britain about the benefits of smart meters.